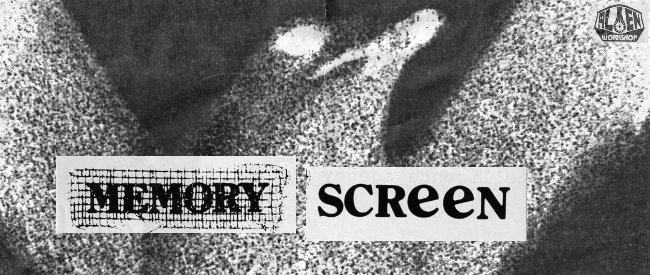 MEMORY SCREEN
Dir. Alien Workshop, 1991
USA, 44 min.
On VHS
TUESDAY, JUNE 10 – 8 & 10 PM
ONE NIGHT ONLY! WITH CHRIS CARTER & DUANE PITRE!
Celebrate an awesome video and Alien Workshop's beginnings with AW co-founder Chris Carter (coming from Ohio!) & original AW pro Duane Pitre (coming from New Orleans!) Chris and Duane will be on hand for a Q&A following the 8PM show.
Spectacle is pleased to present a rare screening of MEMORY SCREEN (1991), skateboard company Alien Workshop's video debut featuring the team's first group of skaters: Bo Turner, Duane Pitre, Neil Blender, John Pryor, Rob Dyrdek, Scott Conklin, Steve Claar and Thomas Morgan. Founded in 1990 in Xenia, Ohio by Chris Carter, Mike Hill and Neil Blender, Alien Workshop embodied an oddball, DIY alternative to the SoCal-based industry in the early 90s. AW's later videos would include TIMECODE (1997), PHOTOSYNTHESIS (2006), MINDFIELD (2009) and the Life Splicing series (2011 – ).
MEMORY SCREEN is not your "typical skate video." It blends low-fi skate footage with abstract and quixotic non-skating segments (much of it shot on Super8), all to an impossibly good soundtrack featuring lesser known tracks by J Mascis, Dinosaur Jr., Pain Teens, Worked World, Eddie Boy and Toxic Death Sentence.
"…If you have an artistic side you just might appreciate it. The big problem with this vid is the lengthy non-skating parts. If you were at an indie film fest it would be great, but it's a little much at times. The skating parts are very worthwhile with quality footage of the entire team, but they are a little short and will have you screaming for more only to wander into some montage footage of an old guy hobbling across the street." – Kosh Guido, Skim the Fat. Thanks Kosh, that's exactly it!
I asked artist/skater/librarian Andru Okun, an old friend from college who first showed me the movie, to share his thoughts on MEMORY SCREEN:
My own MEMORY SCREEN testimonial goes back to the early 2000's, total teenage skate rat shit. I had an older friend who kicked me down some old skateboarding videotapes. I don't remember which videos exactly. I think there were some old Powell-Peralta videos and an original copy of Stereo's TINCAN FOLKLORE, which pretty much changed my life at that time, but I think that the bulk of what I received were dubbed on one of those six-hour VHS tapes, the kind that lets you put the most amount of footage at the lowest possible quality onto one tape. These old, poorly-dubbed VHS skate videos served as my cultural capital in the world of skateboarding message boards. I started trading VHS with strangers over the internet, sending and receiving tapes through the mail. People would list all the titles they had, most of which were more likely than not already dubbed at least a few times already, and trade back and forth. You could PM NorthwestThrashDad and be like, "Hook me up with a six-hour VT with all the old Girl videos, the old Life flick, and throw in Video days but cut out the vert part." A little while later a tape would arrive in the mailbox. You might turn on the TV in the living room to find a super-fuzzed out Sean Sheffey in a version of A SOLDIER'S STORY that was a dub-of-a-dub-of-a-dub but it didn't really matter. It was more about just building up a collection at that point. A collection which now sits, I think, in a large, busted cardboard box in my parent's attic, a treasure chest of obsolete plastic artifacts my Dad probably already threw away by now, THE SEARCH FOR ANIMAL CHIN ending up in a landfill.
I was four-years old when MEMORY SCREEN came out. A decade later I finally saw it, stuck somewhere in the middle of one of those six-hour skate video marathon tapes I had. Seriously, it's been almost another ten years since I've last seen it. I do remember that the thing that made it stick out from all the other skateboarding videos I'd seen is that it didn't have very much skateboarding in it. It was less of a skateboarding video than it was an art film with some skateboarding it, which was totally confusing to me at the time. Of course, now I'd rank my experience of watching MEMORY SCREEN right up there with finding Mark Gonzales in a "Transworld," skateboarding inside of a museum in Germany dressed in an all-white fencing suit. Skateboarding was for weirdos, or at least it felt like it at that time. Now it seems like it's as much for jocks as any other mainstream sport and the only thing sillier than fully-formed adults pushing around on tiny pieces of wood are the people that write about it. It's a skate video, you know? How much can you really say here? As much as I'd like to claim that I'm writing about MEMORY SCREEN as this vivid artistic expression and not just some skateboarding video, that would be like saying I read Thrasher for the articles. Everybody knows skateboarders can't read.
😉
Special thanks to Alien Workshop, Chris Carter, Mike Hill, Duane Pitre, Chris Grosso and Neil Brown. Also check out http://www.chromeballincident.blogspot.com/ for excellent interviews & posters (from which our graphics are cut-ups).