I make bitter films. I hate mainstream society.
This January, Spectacle brings you two brutally honest documentaries from Japanese master Kazuo Hara. These intimate films present two unflinching portraits: one of the artist (and his failed love life) himself, and another of the horrors of World War II, 40 years later. Preceding the culture of reality TV and selfies by several decades, Hara puts a mirror up to himself, and his culture, without imposition or expectation.
Special thanks to Tidepoint Films
---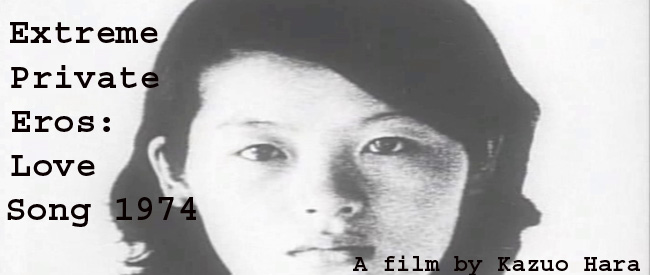 EXTREME PRIVATE EROS: LOVE SONG 1974
Dir. Kazuo Hara, 1974
Japan, 98 min.
In Japanese with English subtitles
TUESDAY, JANUARY 7 – 10:00 PM
SUNDAY, JANUARY 12 – 5:00 PM
MONDAY, JANUARY 27 – 10:00 PM
Shot over several years, Extreme Private Eros: Love Song 1974, a documentary about Hara's ex-lover was a clarion call against a historically reserved Japanese culture. The film follows Miyuki Takeda, Hara's ex and father of his son, as she navigates new relationships (first with a woman, and then with an American GI in Okinawa), raises her son, and explores life in 1970s Japan as an outspoken feminist. But the film isn't just a portrait of the vulnerabilities of a radical feminist single mother, in a time when that wasn't heard of; Miyuki often takes the opportunity of being filmed by her ex to let loose with what she really thinks about him as a partner, as a lover, and as a filmmaker.
As well as a portrait of two complicated, damaged people, the film is a portrait of Okinawa as a dysfunctional city, damaged by two decades of American military presence. Hara films the GI bars and the underage prostitutes that frequent the bars for business. Hara takes a detour into the life of a 14-year-old "Okinawa girl" Chichi, whose life converges and diverges from Miyuki's story in intriguing ways.
Released around the same time as the groundbreaking PBS series An American Family (and predating the similarly-themed Sherman's March by a decade), Extreme Private Eros takes a long, hard look at gender roles, romantic relationships, and what it means to be a family in 1970s Japan. Hara's out-of-sync sound and hand-held photography are disorienting and intimate at the same time, giving the feel of an experimental film to a film with very real content. The results are bitter and sometimes hard to watch, but always compelling.
---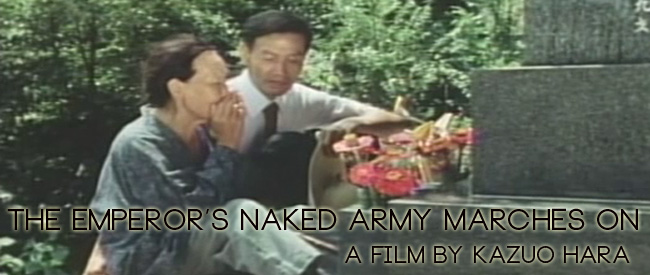 THE EMPEROR'S NAKED ARMY MARCHES ON
Dir. Kazuo Hara, 1988
Japan, 122 min.
In Japanese with English subtitles
TUESDAY, JANUARY 7 – 7:30 PM
SUNDAY, JANUARY 12 – 7:30 PM
MONDAY, JANUARY 27 – 7:30 PM
[TRIGGER WARNING: Wartime violence and atrocities]
The Emperor's Naked Army Marches On is a more plainly political, but no less revealing, portrait of Japan since World War II. Kenzo Ozukaki was tireless in his campaign against the commonly held idea in Japan that Emperor Hirohito was not responsible for war atrocities during World War II, even getting arrested in the process. Ozukaki ambushes former soldiers into giving him the answers that he is obsessed with finding. His obsession is unsettling; even people who agree with him politically seem unwilling after a certain point to stand in solidarity with Ozukaki, as his methods get more outrageous, and eventually violent.
The film became surprisingly popular in Japan, earning Hara the New Director Prize from the Directors Guild of Japan (and only 16 years after his first film Goodbye CP!) and drawing relatively large crowds for such controversial and alienating subject matter. Errol Morris has put The Emperor's Naked Army Marches On in his top 5 films of all time, high praise from a master of the documentary film (Michael Moore likes it too, if that's more your speed). Through the entire movie, Hara remains a silent witness to Ozukaki's increasing fanatacism and devotion to the only version of the truth he can possibly accept; but when is silence irresponsible? When are those in charge responsible for things they let happen? When is inaction morally indefensible?