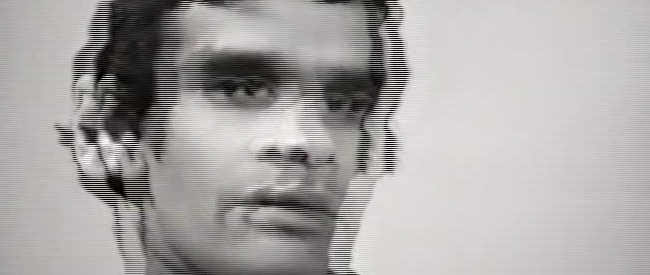 "Since its invention, film has seemed destined to make history visible. It has been able to portray the past and to stage the present. Film was possible because there was history. Almost imperceptibly, like moving forward on a Möbius strip, the side was flipped. We look on and have to think: if film is possible then history too is possible."
Harun Farocki, born 1944 in Germany-annexed Czechoslovakia, has made over 90 films in his over-40 year career. Working around the same time as New German Cinema directors such as Fassbinder, Schlöndorff, and Wenders, Farocki strayed away from the popular narrative-feature style of the time. Closer in style and content to directors like Alexander Kluge and Helke Sander—who sought not to make political films but to make films politically—Farocki developed an essay approach, making collages of found, archival, and observational footage to investigate how images and their technologies constitute the conditions for seeing ourselves.
This series focuses on Farocki's critique of the integrated spectacle (not the Spectacle) and its mediation of all social relations by images. These four films range in tone from the deadly serious to the comically absurd, at times simultaneously. No matter the specific subject matter, Farocki seeks to estrange the spectator from the spectacle through a process that is always pedagogical, but never pedantic.
---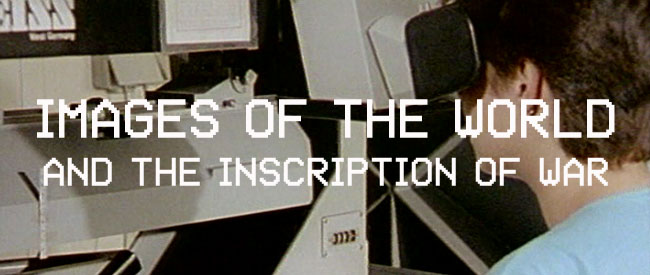 IMAGES OF THE WORLD AND THE INSCRIPTION OF WAR
Dir. Harun Farocki, 1989
West Germany, 75 min.
In English and German with English subtitles
MONDAY, JANUARY 13 – 7:30 PM
THURSDAY, JANUARY 30 – 7:30 PM
The most explicit essay-film of the series, Images of the World explores the dichotomy between looking and seeing. The film begins with aerial photographs of German landscapes from 1944 taken by American bombers searching for industrial bombing targets. It is not until decades later that the CIA unearths these photographs from their dusty files to discover that the American bombers had inadvertently taken a comprehensive survey of Auschwitz. The American bombers, able to immediately see their war targets, were unable to recognize the true atrocities occurring on the ground. While Auschwitz was photographed in 1944, it was not seen until the 70s.
---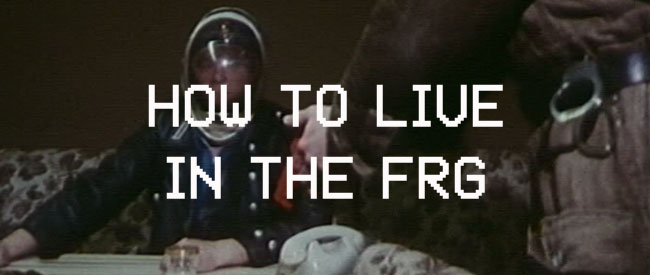 HOW TO LIVE IN THE GERMAN FEDERAL REPUBLIC
Dir. Harun Farocki, 1990
West Germany, 83 min.
In German with English subtitles
WEDNESDAY, JANUARY 15 – 7:30 PM
THURSDAY, JANUARY 16 – 10:00 PM
In How to Live, Farocki filmed various 'vital-living' training and instructional lessons performed in West Germany, right before reunification with the East. Using such lessons as facilitating a birth to purchasing life insurance, Farocki orders these lessons in a loosely chronological order, beginning with birth and ending with death. At times dark, How to Live occasionally leads to a dryly-comedic reading of the detachment the instructors feel towards such real-world subjects.
---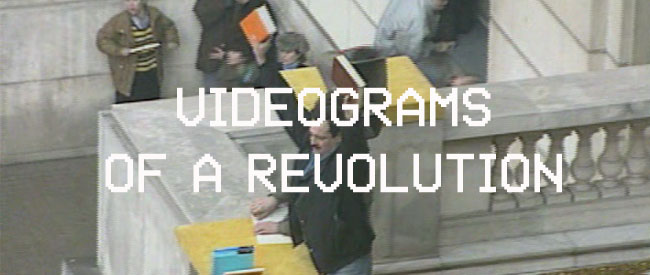 VIDEOGRAMS OF A REVOLUTION
Dir. Harun Farocki & Andrei Ujica, 1992
Germany/Romania, 90 min.
In English, German & Romanian with English subtitles
SATURDAY, JANUARY 11 – 7:30 PM
SATURDAY, JANUARY 25 – 7:30 PM
Compiled of over 125 hours of found footage, amateur videos, and "official" television coverage–not to mention footage from the occupied Bucharest-TV station–Videograms of a Revolution carefully reconstructs and pieces together the events leading up to the uprising that overthrew Nicolae Ceausescu, the dictator of Romania in 1989. By combining official and marginal accounts of the revolution, Videograms shows how the camera is not only a tool for recording history, but an integral part in creating it.
---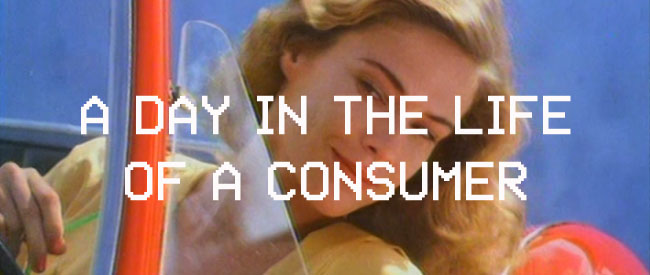 A DAY IN THE LIFE OF A CONSUMER
Dir. Harun Farocki, 1993
Germany, 44 min.
In German with English subtitles
THURSDAY, JANUARY 16 – 7:30 PM
WEDNESDAY, JANUARY 29 – 7:30 PM
In this highly conceptual piece predating the existence of the "supercut" by a number of years, Farocki pieces together every moment of a typical day, from dawn to nightfall, using only television advertisements. While '80s and '90s German commercials are hilarious—and definitely not intentionally—taken out of context and streamed seamlessly together, they reveal the unsettling oppressiveness and mania of a consumer-driven society.