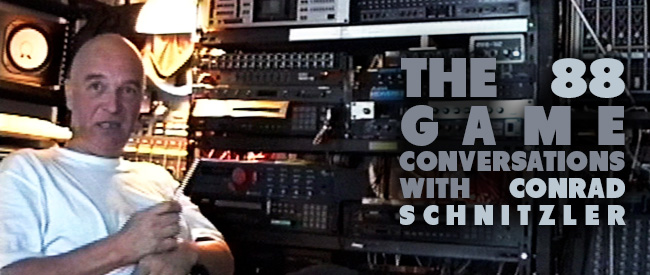 THE 88 GAME – CONVERSATIONS WITH CON
Dir. Gen Ken Montgomery, 1993/2012
USA, 60 min.
With:
PREMIER CON/TACT
Dir. Julien Perrin, 2009
France, 12 min.
SATURDAY, SEPTEMBER 12 – 7:30 PM
WEDNESDAY, SEPTEMBER 16 – 10:00 PM
SUNDAY, SEPTEMBER 20 – 7:30 PM
After the interest and enthusiasm around CON-MYTHOLOGY and CON-MEDITATIONS in August, we thought we'd extend the Conrad Schnitzler vibe with THE 88 GAME – CONVERSATIONS WITH CON, a rarely-screened documentary by CON-MYTHOLOGY organizer (and CON friend and collaborator) Gen Ken Montgomery. Based solely off of an interview conducted by Montgomery at Schnitzler's Berlin studio in 1993, the hour-long work focuses on hearing from Schnitzler himself. At first speaking about THE 88 GAME, a "computer-assisted piano CONcert performed remotely," the CONversation expands to Schnitzler's own reflections on his massive career and the thoughts and philosophies behind his work. CON fanatics (and anyone interested in experimental music and sound art) will be thrilled to dig in deep here – an informal but intensive look into the mind of one of the greats. The work is paired with PREMIER CON/TACT, another documentary short on Schnitzler.