FRIDAY, OCTOBER 2 – MIDNIGHT: 555
FRIDAY, OCTOBER 9 – MIDNIGHT: THE UNDERTAKER AND HIS PALS
FRIDAY, OCTOBER 16 – MIDNIGHT: HEADLESS EYES
FRIDAY, OCTOBER 23 – MIDNIGHT: MARLEY'S REVENGE: THE MONSTER MOVIE
Since the dawn of time, Spectacle has long been carried on the backs of many a supporter. It's kind of like that poem Footprints that hung in your grandma's dorm room. Or better yet, it's like an ant farm. A cool ass ant farm that shows the best movies you've ever seen. To be blunt–Spectacle wouldn't and couldn't exist without the often jaw-dropping amount of love we receive from filmmakers, distributors, cinephiles, and (of course) our audience.
In 2011, we held our first ever horror marathon (and last ever sci-fi marathon). Over the course of the next 4 years the marathon would play host to some incredible titles both old and new while laying waste to brains both old and new. Whether you stopped by for the full 12 (sometimes 14) hours or just came for one movie (or maybe you're the those two dudes who showed up at 2am after the first one who thought it started at midnight instead of noon)–we say thank you.
To celebrate half a decade of marathons we present GHOSTS OF SHRIEK SHOWS PAST. The following titles are hand picked one from each past year to lead into The Fifth Annual Spectacle Shriek Show this year on October 24th. Without the generosity, kindness, and confidence of the following presenters (and others too numerous to cover in this brief post) we wouldn't be where we are today.
South Third Street Forever.
---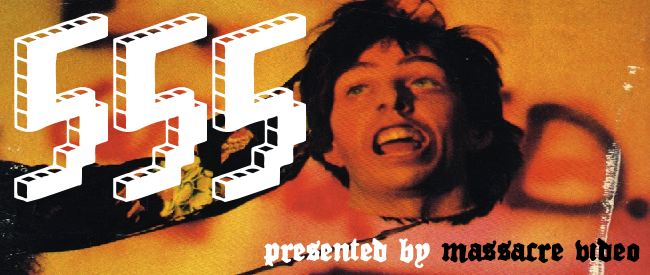 Massacre Video presents: 555
Dir. Wally Koz, 1988.
90 min, USA.
FRIDAY, OCTOBER 2 – MIDNIGHT
From The First Annual Spectacle Shriek Show. (2011)
A hippie killer with a sex-fueled, murderous bloodlust is on a rampage and he's brutally murdering innocent young couples! A nationwide trend of killings with the same m.o. happens to catch the eyes of Detective Haller and Sergeant Connor. Every five years, within five days of each other, the killer strikes! Now it's up to Haller and Connor to find out who is behind these grisly murders. Who is this crazed, blood thirsty hippie? And more importantly, what is the significance of the third 'five'?
Written by Roy Koz and directed by Wally Koz, this rare SOV splatter-classic has recently been given the royal treatment by Massacre Video with a DVD, special edition DVD, and an already eBay fodder clamshell.
---

Lunchmeat VHS Fanzine presents: THE UNDERTAKER AND HIS PALS
Dir. T.L.P. Swicegood, 1966.
63 min, USA.
FRIDAY, OCTOBER 9 – MIDNIGHT
From The Spectacle Shriek Show II. (2012)
Two degenerate café owners cook up a depraved alliance with a demented Undertaker and run amok through town on their motorcycles, hacking up hot dames and cleaving craniums. Select portions of the corpses are served up as daily specials at the café and The Undertaker gets to bury the leftovers. But when a pair of local detectives smell something fishy afoot, the trio's reign of terror runs into some trouble.
One of Lunchmeat Publisher and Editor-in-Chief Josh Schafer's all-time favorite flicks, this pioneering pitch black comedy is a kitschy slice of pure drive-in delirium that plants its tongue firmly in cheek, then bites it off and spits it out onto a sizzling hot plate ready for you to enjoy. Once you've ingested the wacky slab o' cinema cheeze that is THE UNDERTAKER AND HIS PALS, you'll never get the taste out of your mouth!
Dig it!
---

Spectacle Midnights presents: HEADLESS EYES
Dir. Kent Bateman, 1971.
78 min, USA.
FRIDAY, OCTOBER 16 – MIDNIGHT
From The Third Annual Spectacle Shriek Show. (2013)
You know how it is for starving artists, right? I mean, look at your clothes. Anyway, it used to be even harder! So hard that some of them turned to a life of crime. This is especially true in the case of Arthur Malcolm. Down on his luck, Arthur is caught robbing an apartment and loses his eye in the process. Once he's healed he's out on the streets and, brother, he is HEATED. Arthur sets about on a mad killing spree, gouging out the eyes of his victims with a spoon. He collects the eyes for his artwork, you see. This continues for some time with mixed results.
This film was directed by Kent Bateman, father of Jason and Justine, in the streets of a now long gone version of NYC. According to this film, it was a time when a hooker would approach a man covered in blood in the middle of the day in order to turn a trick. The good old days. In addition to this movie being totally batshit insane with a FIERCE mutant soundtrack, it's a veritable snapshot of a city as nasty as they come. The performances are hammy and intense, like Easter dinner in a mental institution.
Not to be missed!
---

Horror Boobs presents: MARLEY'S REVENGE: THE MONSTER MOVIE
Dir. Jet Eller, 1989.
83 min, USA.
FRIDAY, OCTOBER 23 – MIDNIGHT
From The Fourth Annual Spectacle Shriek Show. (2014)
"I don't know about you, man, but I'm still huuuuungry."
Two bozos get picked up by a gang of vigilantes out to scrub the streets of scum after mistaking the men for drug smugglers. The problem is they're actually smuggling in their aunt and uncle. The four are whisked away to the local island where they murder all the other drug smugglers. You know what though? None of this even matters because once they get to the island things get really out of hand. Zombies rise from the grave, a giant hell monster shows up, and the vigilantes aren't too pleased either. How will anyone escape this island alive?
Another marathon mainstay and VHS monolith, Horror Boobs has been providing not only marathon fare but midnight fodder at Spectacle for over a decade![citation needed] This years entry is…well, something special indeed.
Featuring a completely new transfer and other goodies. If you saw this at the marathon last year, you still haven't truly seen it. A house favorite and rare treat!