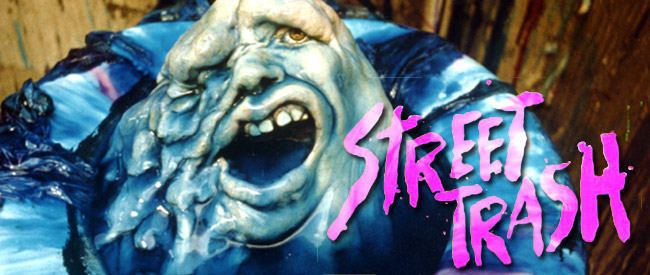 STREET TRASH
Dir. J. Michael Muro, 1987.
91 min. USA.
FRIDAY, JULY 26 – 7:30 PM
One show only! Writer/producer Roy Frumkes in attendance for discussion, rare shorts, and more!
We've been hearing a lot about how hot it is. In fact a lot of folks are saying it's so hot they're gonna melt. Well, you talked and we listened. We know we were looking at our phones, but we assure you we were listening.
This sweltering heat wave's gotta break sometime, right? Well til it does, join us for an evening with professor, producer, director, root beer fiend, and friend of the theater Roy Frumkes for an evening that almost literally drips off the screen!
Roy will once again be in attendance to regale us with tales of his storied career and of a New York gone by. If you've not been to one of these events, you are truly missing out.
Up first – a favorite of all of us at Spectacle (and probably everyone who has ever seen it) – a very special presentation of the unfinished ice cream gangster masterpiece – SWIRLEE. James Lorinz (STREET TRASH, ROBOCOP 3, FRANENHOOKER) and David Caruso (SESSION 9, KING OF NEW YORK, CHINA GIRL) star in this lost send up and monument to latex mask effects as they turn up the heat, try to find love, and butt heads and cones with a vicious crime lord.
Then we proudly present the new HD transfer of a Brooklyn staple – STREET TRASH!
A liquor store owner decides to sell of some old stock he found in the basement – Tenafly Viper. At a buck a bottle, it's too good to pass up. Unfortunately for for the local homeless population, Viper's got a mean hangover. So mean, you dissolve from the inside out. Can a no-nonsense cop surrounded by nonsense get to the bottom of this caper before it all runs down the drain? Peppered with visually stunning ooze, scenery chewing characters, flying penises, depitations, a jazzy synthy soundtrack, and every color of the rainbow!
Beat the heat with Spectacle and Roy Frumkes as we celebrate the gooey classic filmed in a Greenpoint of yesteryear, STREET TRASH in dazzling, dripping, high definition! Bring your Q's for Roy to A and settle in for another unforgettable evening.