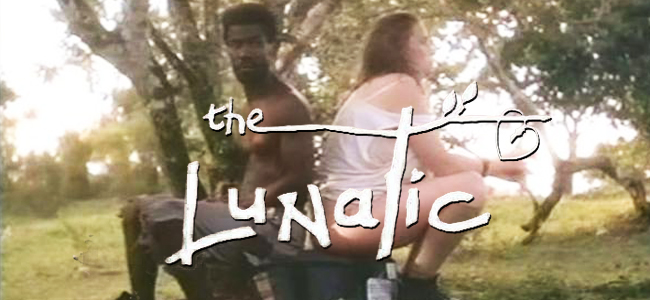 THE LUNATIC
Dir. Lol Creme, 1991
Jamaica, 93 min.
English
Special thanks to producer Paul Heller
FRIDAY, AUGUST 2 – 7:30 PM
WEDNESDAY, AUGUST 14 – 10:00 PM
SATURDAY, AUGUST 24 – 7:30 PM
"'Me no want see no pum-pum loosen water before me eye!' the madman sobbed." – Arthur Winkler, The Lunatic
Aloysius, a happy-go-lucky outcast who lives in the gnarly cradle of a talking lignum vitae tree, meets a sex-crazed German tourist named Inga who takes over his pastoral life with her "pum pum" and its power. Together they form a laid back sexual homestead and eventually add another man in the mix. The three get into all kinds of inconsequential subplots including a cricket match, and an attempted burglary, all leading up to a climactic Courtroom Scene.
"An off-beat, droll saunter underneath the Jamaican Sun." – TV GUIDE
Adapted from the novel by the Jamaican author Arthur Winkler, THE LUNATIC is the only feature film by British musician and music video director Lol Creme, who is most well known for his work in the bands 10cc and Godley & Creme, and for his videos for New Romantic bands like Wang Chung and Duran Duran. It is one of the earliest examples of a feature made by a music video director.
Creme's videos were hits because of their use of surprising process-based effects, such as the face-shifting dissolves in the Godley & Creme video for "Cry".
http://www.youtube.com/watch?v=KxtPRF6NG7I
THE LUNATIC does not incorporate any of these means of stylization. Although there is persistent synth-reggae high up in the sound mix, Creme does not seem otherwise interested in capitalizing on music video aesthetics in his feature, but approaches the film as an exercise in combining dramatic narrative, sex comedy slapstick, and folkloric storytelling. All of this results in what feels like a made for TV movie from Mars.