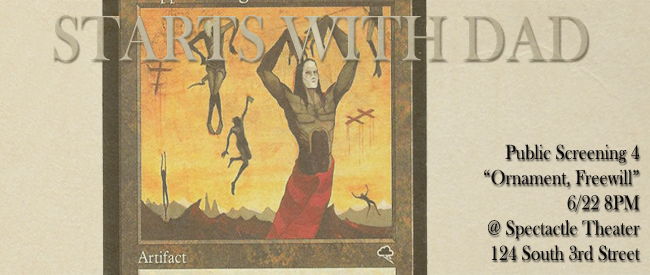 Starts With Dad presents:
ORNAMENT, FREEWILL
SATURDAY, JUNE 22ND – 8PM
ONE NIGHT ONLY!
Starts With Dad is a loose group with two goals: shoot something, show something. No need to be a filmmaker, an artist, or an actor. It's all about the impulse to create, no matter how unprofessional.
It begins with a random passage of Aleister Crowley's 777. This sets the theme. Get assigned a group, or put together your own. Go out and shoot something. Two months later, show something. Don't stress details. Leave it rough. Just keep it coming.
You can see previous Starts With Dad films here. You will find human tissue obsessed housewives, artful pooping, scorned lovers, horny TV repairmen, deicidal squirrels, time travelers, juice cleanses, choreographed eggs, claymation testicles, jump rope gurus, manic-depressive chefs, self-shots, blatant plagiarism, and lots else besides.
If you'd like to make something for our next screening contact Will(wswelles@gmail.com) for additional details.
Or just come and watch all the somethings.