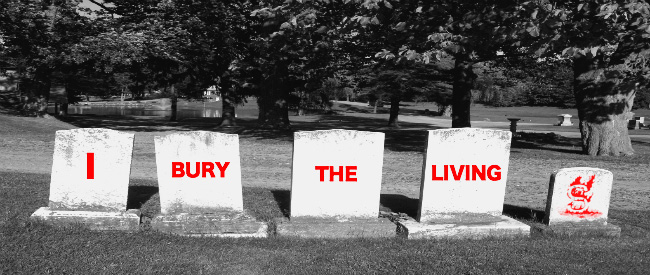 Spectacle MANDATORY MIDNIGHTS presents:
I BURY THE LIVING
Dir: Albert Band, 1958.
76 min. USA.
FRIDAY, JUNE 14TH – MIDNIGHT
ONE NIGHT ONLY!
Albert Band contributed so much to the world of B-movies, not least of all his two sons, the Romulus and Remus of low budget genre cinema throughout the 80s and 90s, Charles and Richard Band. Long before Parasite, Re-Animator, Ghoulies, Puppet Master and the Full Moon video store onslaught of the 90s and 2000s, there was I BURY THE LIVING, a taphophilic delight starring Richard Boone (Have Gun Will Travel and the voice of Smaug in the 1977 Rankin & Bass version of The Hobbit)  and directed by the head of the Band bunch, Albert.
I BURY THE LIVING plays like an E.C. horror comic come to morbid life. A new caretaker at the Immortal Hill Cemetery begins to believe he holds the power of life and death in his hands. When the pins used as grave markers on the ominous cemetery map appear to predict the deaths of those around him. Is it merely coincidence or are sinister forces at work?
A tense and atmospheric descent into madness, I BURY THE LIVING is a lean, low budget treat with art direction that's equal parts Man Ray and poverty row.  A must for lovers of great B movies and creepy cemeteries!