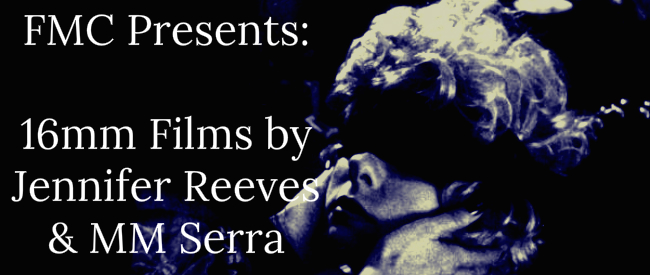 The Film-Makers' Cooperative Presents:
16MM FILMS BY JENNIFER REEVES & MM SERRA
1995-2002.
Approx. 43 min. USA.
FRIDAY, JUNE 28TH – 8PM
ARTIST IN PERSON!
ONE NIGHT ONLY!
Spectacle is proud to welcome back MM Serra to present an evening's worth of rarely seen queer art-core on 16mm from the Film-Makers' Co-op's archives.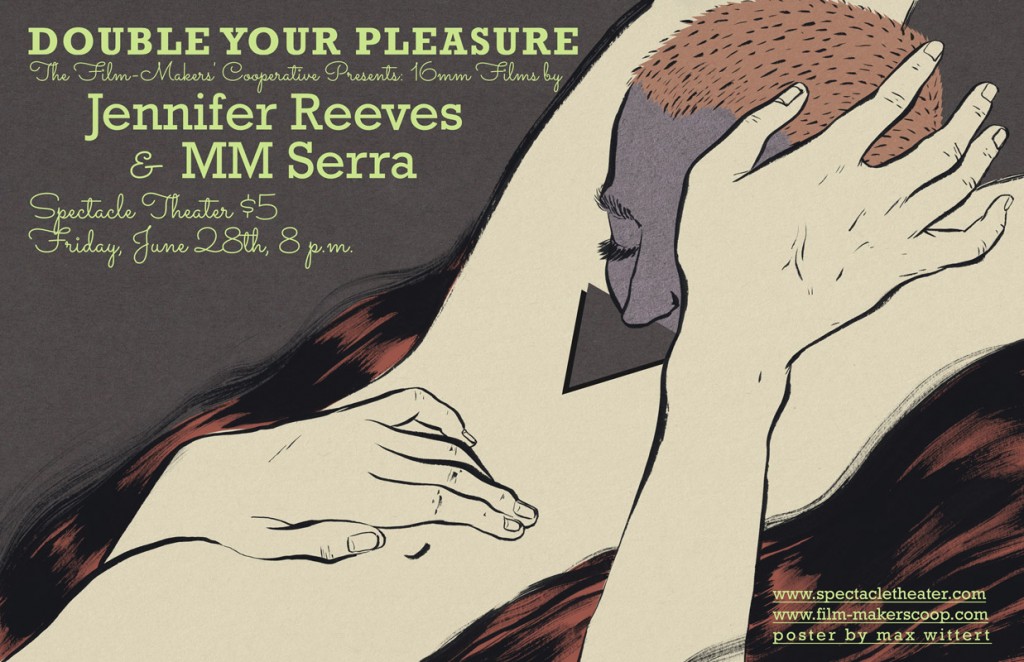 ---
THE GIRL'S NERVY
Dir: Jennifer Reeves, 1995.
5 min. USA.
Cut, pasted, painted and cracked film frames. A rhythmic play of flickering film elements.
SOI MEME
Dir: MM Serra, 1995.
6 min. USA.
An erotic dance performance by Goddess Rosemary; soundtrack by Zeena Parkins.
DARLING INTERNATIONAL
Dir: Jennifer Reeves & MM Serra, 1999.
22 min. USA.
In noir New York, a metal worker's femme fantasies are explored. Starring Jennifer Reeves and MM Serra.
"An evocative work whose sexual sadomasochistic scenario, grainy visual texture and layered soundtrack render it highly tactile, fairly begging to be touched." -Shannon Kelly, Sundance Film Festival
FEAR OF BLUSHING
Dir: Jennifer Reeves, 2001.
6 min. USA.
7200 painted frames flash by "suggesting a cinematic free-association." Recognizable shapes flirt with the eye behind color and a textured veil.
DOUBLE YOUR PLEASURE
Dir: MM Serra, 2002.
4 min. USA.
w/ sound by Jennifer Reeves
Part of the "Ad It Up" series of commercial parodies, and an homage to Andy Warhol's Kiss. Starring Jennifer Reeves.
---
Jennifer Reeves is a New York-based filmmaker working primarily on 16mm film. Reeves was named one of the "Best 50 Filmmakers Under 50" in the film journal Cinema Scope in the spring of 2012. Her films have shown extensively, from the Berlin, New York, Vancouver, London, Sundance, and Hong Kong Film Festivals to many micro-cinemas in the US and Canada, the Robert Flaherty Seminar, and the Museum of Modern Art.  Reeves has made experimental films since 1990. She does her own writing, cinematography, editing, and sound design. Her subjective and personal films push the boundaries of film through optical-printing and direct-on-film techniques. Reeves has consistently explored themes of memory, mental health and recovery, feminism and sexuality, landscape, wildlife, and politics from many different angles.
MM Serra is an experimental film/videomaker, curator, author, and Executive Director of the Film-Makers' Cooperative, the world's oldest distributor of independent media. She has produced, directed and edited more than fourteen works. Her own films, as well as her curated programs, have been screened at the Museum of Modern Art, the Whitney Museum of Art, the Centre Pompidou, Cinematheque Francais, the London Film Festival, the Berlin International Film Festival, and the Oberhausen International Short Film Festival. Her most recent piece, BITCH BEAUTY, premiered at the 2011 New York Film Festival. Titillating, sumptuous, and always subversive, Serra's short films focus on alternative cultures and intimate moments. They are simultaneously eye-opening and awe-inducing. Whether creating documentary portraits or colorfully dynamic exposés, Serra never fails to go where you would least expect.
The Film-Makers' Cooperative is the oldest and largest archive and distributor of independent and avant-garde films in the world. Created by artists in 1961, as the distribution branch of the New American Cinema Group, the collection holds more than 5,000 films, videos and DVDs. The FMC is an active non-profit organization that hosts screenings and workshops for the public. MM Serra has been its Executive Director since 1991.