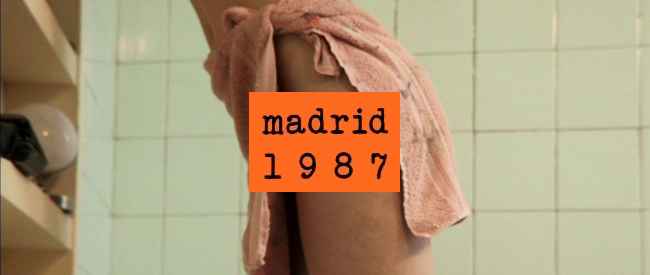 MADRID, 1987
Dir: David Trueba, 2011.
104 min. Spain.
In Spanish with English subtitles.
THURSDAY, JUNE 13TH – 8PM
ONE NIGHT ONLY!
Presented by Pragda as part of their CINEART Spain series. Pragda is a film distribution company created to promote, disseminate, and maintain the legacy of Spanish and Latin American cinema through unique cultural initiatives.
On a hot summer day in a vacant Madrid during a period of social and political transition in Spain, Miguel, a feared and respected journalist, sets up a meeting in a café with Ángela, a young journalism student. He takes her to a friend's studio. His intentions are clearly sexual; hers are less clear. Chance events force them together for more time than they would have chosen, locked in a bathroom, naked, without the possibility of escape. Removed from the outside world, the pair, who represents polarized generations, is pitted in an unevenly matched duel involving age, intellect, ambition and experience. The political and social context of the period provides the background to the power shifts that continually take place between them over twenty-four hours.
OFFICIAL SELECTION – 2012 SUNDANCE FILM FESTIVAL