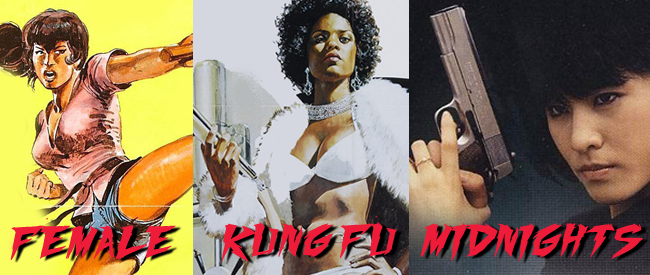 FEMALE KUNG FU MIDNIGHTS
In conjunction with our summer-long screenings of The Street Fighter Trilogy, we present three female-centered kung fu flicks in our midnights section that prove they can hit as hard as Chiba!
Starting with the direct spinoff SISTER STREET FIGHTER, continuing on with the blaxsploitation/kung fu hybrid TNT JACKSON, and concluding with the hyper-kinetic 'Girls With Guns'landmark FIGHTING MADAM, these films represent some of the best in female-driven kung fu-sploitation.

---

SISTER STREET FIGHTER
Dir: Kazuhiko Yamaguchi, 1974.
86 min. Japan.
In Japanese with English subtitles.
SATURDAY, JUNE 15TH – MIDNIGHT
ONE NIGHT ONLY!
Etsuko Shihomi IS Tina Long, a martial arts master seeking revenge on drug lords who kidnapped her agent brother. With the help of dojo partner Sonny Chiba (who pops in for a brief cameo), she breaks into the drug lords's compound and must plow through a legion of henchmen, including a group of Thai kickboxers called the "Amazon Seven"-  in order to get to the bottom of the dungeon lair to fight the boss and save her brother.
Released immediately after THE STREET FIGHTER became an international success, SISTER STREET FIGHTER saw Japanese film giant Toei create a successful spinoff that eventually lead to multiple 'Sister' sequels of varying quality and success. The original, much like THE STREET FIGHTER itself, remains the best of the bunch.
---

TNT JACKSON
Dir: Cirio H. Santiago, 1974.
72 min. USA.
COMING IN JULY!
A staple of the early 70s drive-in circuit, TNT JACKSON was schlock producer kingpin Roger Corman's attempt to cash in on the blaxsploitation craze and remains a fitting example of the kung fu craze muscling its way into every 70s genre.
Martial arts expert Diana 'TNT' Jackson travels to Hong Kong to search for her brother's killer. She soon discovers an underworld heroin smuggling operation that may lead her to the murderer.  Will she karate chop her way through an army of henchmen and come face-to-face with her brother's assailant?
Starring afro-haired ass-kicker Jean Bell (the first African American Playmate) in a script originally written by legendary character actor Dick Miller (before Corman had it rewritten), the film makes zero attempts at production values and plot imagination (essentially the same setup as SISTER STREET FIGHTER) but does features a criminal amount of funky 70s wardrobes, cheesy kung-fu 'whooshes', and a completely illogical topless fight scene that ranks at the top of exploitation's most gratuitous, trashy moments.
If Pam Grier is too expensive, then you best call TNT Jackson!
https://www.youtube.com/watch?v=yRS7Bxx_62s
---

FIGHTING MADAM
(aka Angel, aka Iron Angels, aka Midnight Angels)
Dir: Raymond Leung & Teresa Woo, 1987.
93 min. Hong Kong/Taiwan.
In Cantonese/Mandarin with English subtitles.
FRIDAY, AUGUST 23 – MIDNIGHT
An Eastern 80s riff on 'Charlie's Angels,' FIGHTING MADAM features a team of secret agents known as 'The Angels' attempting to take down an evil international narcotics organization posing as a mega-coroporation.
Produced at a crossroads for Hong Kong cinema between traditional kung fu and modern action, FIGHTING MADAM defined the 'Girls With Guns' sub-genre: an incredibly popular series of action films with all-female leads.
The simple plot setup is merely a template to work off for some of the most intense and insane set-pieces in all of action cinema. Featuring opium field battles, samurai sword clashes on speed bikes, ski-masked assassinations, fiery car crashes, reckless helicopter shootouts, and enough bare-knuckle brawling to fill 20 films, FIGHTING MADAM reaches unprecedented, operatic levels of expertly choreographed mayhem.
As we close out our summer-long tour of kung fu cinema, we salute what is surely one of the most batshit-crazy action films to ever emerge from Hong Kong.