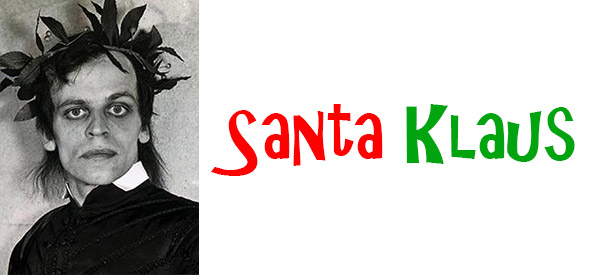 TWO MOVIES! ONE NIGHT ONLY!
This December, Santa Klaus is Coming to Town — but instead of presents, he comes bearing DEATH.
For one night only, we revisit two stellar Kinski jams that previously played as midnights. In the gothic western AND GOD SAID TO CAIN, Kinski plays the angel of death personified: a man wrongfully sentenced to prison labor camp who returns to reign vengeance upon the wealthy land baron who framed him. And in the Edgar Wallace adaptation CREATURE WITH THE BLUE HAND, Kinski plays dual roles (!) as a pair of demented twins (!!) in a haunted castle stalked by a serial killer with a steel blue claw (!!!).
If Jesus gave us nothing else, at least we might appreciate that his birth would, 2013 years later, provide fodder for this delicious pun that inspired a night of can't-miss screenings.
---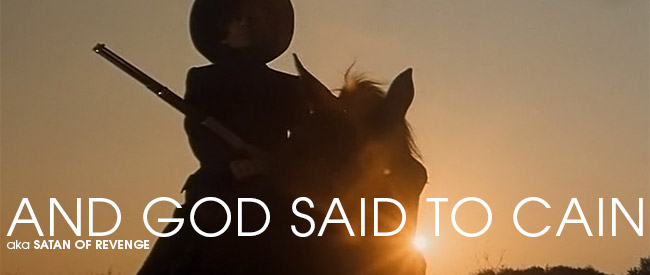 AND GOD SAID TO CAIN
aka Satan of Revenge
Antonio Margheriti, 1970.
96 min. Italy/West Germany.
In German with English subtitles.
MONDAY, DECEMBER 9 – 7:30 PM
In this macabre spaghetti western, the Duke of Delirium, Goth Kinski, gives a rare, heroic leading role as a man released after ten years of wrongful incarceration in a prison labor camp. Once sprung, he meanders his way back to town to get revenge on the men who framed him — one of whom has since become a wealthy and politically powerful land baron with dozens of hired guns on the payroll. And then Klaus Kinski kills all of them.
The plot may be traditional, but the movie is anything but: AND GOD SAID TO CAIN is notorious as of the darkest spaghettis ever made, and closer in tone to Italian horror films of the period than traditional westerns. It's the most accomplished picture of underrated director Antonio Margheriti, best known for gothic horror films like CASTLE OF BLOOD and THE LONG HAIR OF DEATH. CAIN is an effortless synthesis of the two genres: in a largely wordless performance, Kinski assumes an almost phantasmagorical aura, and eerie shootouts take place under moonlight and in churches and candlelit quarters. The film's baroque, blazing climax — think the of funhouse shootout of THE LADY FROM SHANGHAI restaged in Hell — validates the film's German title, SATAN DER RACHE — "Satan of Revenge."
Though AND GOD SAID TO CAIN frequently languishes in washed out transfers in YouTube andpublic domain purgatory, tonight we'll show a pristine digital transfer with the German-language soundtrack that preserves Kinski's original spoken dialog.
---

CREATURE WITH THE BLUE HAND
(aka The Bloody Dead)
Dir: Alfred Vohrer, 1967.
84 min. West Germany.
In German with English subtitles.
MONDAY, DECEMBER 9 – 10:00 PM
The proto-giallo classic in its original, uncut German-language version!
Klaus Kinski stars twice-over as a pair of possibly evil twins, one of whom— but which?— has recently escaped from an institution for the criminally insane. Coincidentally, a mysterious caped killer begins stalking his estate, clutching victims one-by-one in the grip of its BLUE STEEL CLAW!
Director Alfred Vohrer is perhaps the greatest, and certainly one of the most prolific, practitioners of the krimi film, which became the primary influence on the giallo explosion. Creature with the Blue Hand is adapted from the work of Edgar Wallace and full of byzantine twists and insane red herrings while being just as lurid and Gothic as its Italian progeny.
In the U.S., it became a cult favorite though late-night television broadcast in the 1970s, dubbed into English and alternately chopped for violence or padded out with additional gore from unrelated movies. This evening we present the full, untouched German-language version, which totally slays.