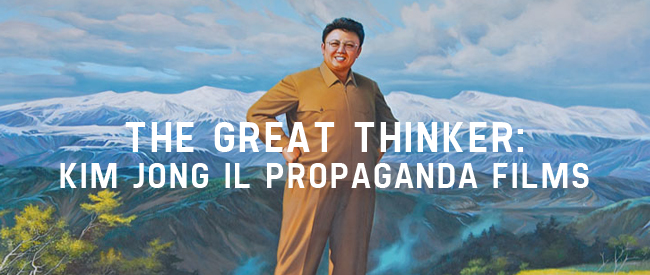 PlasticMountainMajesty presents:
The Great Thinker: KIM JONG IL PROPAGANDA FILMS
Director: Kim Jong Il, North Korea
Appx. 100 min.
FRIDAY, NOVEMBER 29 – 8:00 PM
According to the computer that narrates these films, Kim Jong Il was a transformative, modernizing leader of North Korea.  He kept the "US imperialists" in check and brought a cultural revolution to N Korea and the world! KJI encouraged N Koreans to "take one thousand steps when a normal man would take one". (??) …never mind the restrictions on freedoms of expression, travel, and press, forced labor camps, a medieval prison system, public executions, re-education camps, etc…
These films set the bar for bizarre dictator hype films!
Two films in the program:
 
The Great Thinker and Leadership of Korea.  One is a history of KJI with lots of archival footage of a young chain smoking Kim, looking cool and changing the world.  The other is a fellow North Korean's praising essay film of KJI with many more of KJI's achievements outlined.
Ready for parody and PhD's.