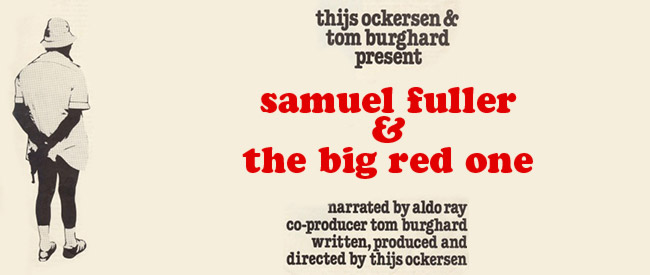 SAMUEL FULLER AND THE BIG RED ONE
Thys Ockersen, 1979.
Netherlands. 75 min. (+ 50 min. Secret Screening!)
In English.
Presented by Screen Slate and programmed by Cullen Gallagher.
Visit Screen Slate for an exclusive interview with Thys Ockersen!
MONDAY, AUGUST 12 – 8:00 PM
New York Premiere in Celebration of Samuel Fuller's 101st Birthday! Followed by another mind-blowing Samuel Fuller rarity from 1990 (50 min.)
Originally made for Dutch television and never commercially released in the United States either theatrically or on video, Thys Ockersen's SAMUEL FULLER AND THE BIG RED ONE (1979) will be makes its New York Premiere here at Spectacle.
Ockersen's documentary is an invaluable record of one of cinema's greatest figures at work on his magnum opus—a unique and deeply personal WWII epic grounded in Fuller's own wartime experience landing on D-Day. On the beach, behind the scenes, and on the front lines, Ockersen's film is a gritty and enlightening portrait of an artist at work at the peak of his career. As electric, charismatic, poetic, and tough as any of the characters from his films, Fuller is his own best leading man. Also featuring interviews with Lee Marvin and Mark Hamill, SAMUEL FULLER AND THE BIG RED ONE is a fond tribute to the director, and a perfect way to celebrate the memory of Fuller, who would be turning 101 this August 12th.
Afterwards, we'll screen one of Samuel Fuller's final works — an insane rarity you won't want to miss.
Special thanks to Thys Ockersen.