WEDNESDAY, SEPTEMBER 18TH
CRISIS IN THE CREDIT SYSTEM and SELF-CAPITAL at 8 PM
POPULAR UNREST at 10 PM
ARTIST IN ATTENDANCE
ONE NIGHT ONLY
"& Other Works" is a series of screenings focusing on film and video from contemporary artists organized by C. Spencer Yeh. "& Other Works" is an informal communal viewing experience, away from the white walls and passwords.
For September we welcome artist Melanie Gilligan, writer and director (and editor and etc). Originally deployed online in episodic form, &OW brings you these three tales of crisis, self, and unrest – uninterrupted. We'll take care of clicking "play next" – you just sit back and enjoy. Gilligan will be present this evening and available for questions, should you have any.
In case you couldn't tell from the titles, the primary inspiration and subject matter of these works is our contemporary capitalist economic system. Choosing to dramatize instead of document inserts subjective loops within that vast and obtuse tangle of snakes and ladders – when we receive information, we process with all our defenses and criticality; when we see stories, we can't help but search for a niche or foothold. Gilligan borrows frames and devices from popular media to build an accessibility, but retains license to break free from the expectations binding more commercial attempts basted with similar info-sauce (neither Margin Call nor Wall Street: Money Never Sleeps depicts a floating computer graphics cube speckled with disembodied limbs).
SELF-CAPITAL
Dir. Melanie Gilligan, 2009.
UK. 24 min.
English.
No more is this evident than with Self-Capital, in which an individual named "Global Economy" undergoes extensive psychological evaluation and experimental therapy. Having recently experienced a traumatic breakdown, we follow Global Economy from her initial diagnosis, through sessions and body-actualizing exercise, to the final prognosis (for now). The same actor portrays all roles, flattening any figurative reading of casting decision and gender portrayal, not to mention a certain, uhhh, economy in filmmaking ;-).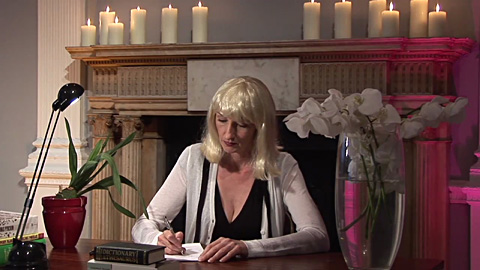 CRISIS IN THE CREDIT SYSTEM
Dir. Melanie Gilligan, 2008.
UK. 38 min.
English.
"A major investment bank runs a brainstorming and role-playing session for its employees, asking them to come up with strategies for coping with today's dangerous financial climate. Role-playing their way into increasingly bizarre scenarios, they find themselves drawing disturbing conclusions about the deeper significance of the crisis and its effects beyond the world of finance. Crisis is the result of extensive research and conversation with major hedge fund managers, key financial journalists, economists, bankers and debt activists." – courtesy of the artist
You could call Crisis in the Credit System a dark comedy, except that the scenarios and lingo are expressly presented intact – there is no need to embellish or satirize to elicit the type of nervous laughter in the face of total madness. With alarming prescience, Crisis was in production during, and released shortly after the collapse of financial services firm Lehman Brothers in 2008.
POPULAR UNREST
Dir. Melanie Gilligan, 2010.
UK. 71 min.
English.
"Popular Unrest is a multi-episode drama set in a future not so different from the present, that is shaped by the convergence of capital, biopolitics and 'big data'. The film explores a world in which the self is reduced to physical biology, directly subject to the needs of capital. Shot in London with a cast of twelve main actors, the film's form is partly inspired by David Cronenberg's 'body horror' and American television dramas CSI, Dexter and Bones, where reality is perceived through a pornographic forensics of empirical and visceral phenomena." – courtesy of the artist
The vision of futuristic society in Popular Unrest doesn't front as allegory or parody, as other dystopian media visions are often served; the results are intentionally literal and stifling. Detaching the caustic docudrama that drives Crisis in the Credit System, Popular Unrest foregrounds Gilligan's own speculations on the issues and themes her work is concerned with; she carves the players and the pieces, and fixes the game played. We realize that as fantastical as the teams and rules are, they are no more unreasonable than the working myths constructed to parse the overwhelming systems of economic exchange in our actual times. On top of that,
Here's the checkboard and pawns of Popular Unrest – "The Spirit" is the ruling belief system, the force by which people are divined. "The Spirit" is a cloud, the inevitable accumulation and deification of society's collective material and economic aspiration. People work, and any extracurricular activity is regulated to support the ability to work. The individual has no choice but to become mercenary, as individual worth is increasingly defined in isolation. However, eco-systemic chaos despises status quo, so the see-saw is seated with two inexplicable phenomena. There's "groupings," in which strangers congregate and bond due to an unidentifiable urge to meet with one another. Then, as counterbalance to these mysterious love-ins, there's a mysterious floating knife that murders people without warning or apparent reason.
Melanie Gilligan is an artist and writer born in Toronto in 1979. She currently lives in London and New York and works in a variety of media including video, performance, text, installation and music. Gilligan completed a BA (Hons) Fine Art at Central Saint Martins in 2002 and was a Fellow with the Whitney Museum of American Art's Independent Study Programme in 2004/5. She has presented solo exhibitions at institutions including Chisenhale Gallery (London), Kölnischer Kunstverein (Cologne), Transmission Gallery (Glasgow), The Banff Centre, (Banff), Franco Soffiantino Gallery (Turin), Justina M. Barnicke Gallery (Toronto), and VOX centre de l'image contemporaine (Montreal). In 2008, commissioned by Artangel Interaction, Gilligan released Crisis in the Credit System, a four-part fictional mini drama about the recent financial crisis. Gilligan has taught widely in Europe and North America, and has appeared in numerous group exhibitions worldwide, including Manifesta 8 (Murcia, Spain) in 2010. Her writings on art, politics and finance have appeared in magazines such as Artforum, Texte zur Kunst and Grey Room and in recent volumes such as Canvases and Careers Today(Sternberg Press) and Intangible Economies (Fillip).