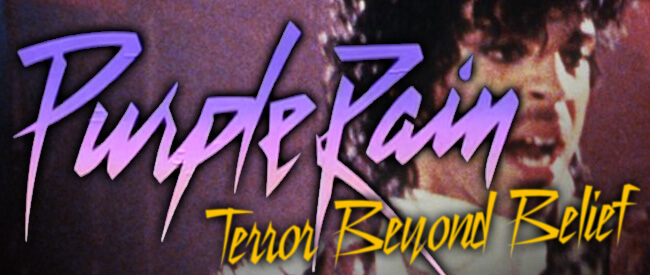 PURPLE RAIN: TERROR BEYOND BELIEF
dir. John Wiese, 2014.
USA, 90 min.
English
FRIDAY AUGUST 5 – screening at 7:30 PM
UNIVERSAL PREMIERE – ONE NIGHT ONLY – artist in person!
ADVANCE TICKETS HERE
Having brought to our audience such spectacular single-work détournements like THE SHINING FORWARDS AND BACKWARDS and TOUGH GUYS, we are now pleased to premiere Los Angeles-based artist John Wiese's 2014 effort PURPLE RAIN: TERROR BEYOND BELIEF.
Described by Wiese himself as "a new edit of PURPLE RAIN where Prince murders Apollonia and gets away with it," PR:TBB shines a darker shade of purple on the "greatest music movie of them all." If "Darling Nikki" was all it took for Tipper Gore to start the PMRC, one wonders what PR:TBB might have done for the MPAA.
Unlike other works of appropriation which selectively reorganize "bites" into a new decontexualized construct, PR:TBB pushes an existing, diegetic act of violence a few cinematic degrees further, and then lets the third act play through (albeit without Apollonia's presence). This is PURPLE RAIN as you have seen it before (yet not).
Also check out an evening of Wiese's original video works at Anthology Film Archives the night before, on Thursday August 4th – http://anthologyfilmarchives.org/film_screenings/calendar?view=list&month=08&year=2016#showing-46090
BIO:
An artist and composer living in Los Angeles, John Wiese is a highly respected figure, both in contemporary sound art as well as the international experimental music underground. Wiese is also known for his influential grind/noisecore band Sissy Spacek, extreme electronics unit LHD, and for numerous collaborations. He is also an accomplished visual and graphic artist, with a long list of international exhibitions and printed materials.