SWEET LOVE, BITTER
(aka IT WON'T RUB OFF, BABY!)
Dir. Herbert Danska, 1966-68
USA, 93 min.
SATURDAY, AUGUST 6 – 7:30PM
THURSDAY, AUGUST 11 – 10:00 PM
THURSDAY, AUGUST 25 – 5:00 PM
TUESDAY, AUGUST 30 – 7:30 PM
Adapted from John A. Williams' novel Night Song, Herbert Danska's SWEET LOVE, BITTER is a one-in-a-million collaboration, long overdue for a new audience (to say nothing of a gourmet, bells-out restoration or rerelease.) An unrecognizable version of stand-up comedian Dick Gregory – author of the incendiary memoir Nigger – stars as Richie "Eagle" Stokes, a brilliant, self-destructive sax player unmistakably modeled after Charlie Parker. The narrative originates, however, with David Hillary (Don Murray, of BUS STOP and THE HOODLUM PRIEST): a white academic who's fallen into vagrancy after the death of his wife in a car accident. David and Eagle hit it off at the pawn shop, and become fast friends – eventually, David is entrusted with a paltry service position at Eagle's nightclub of residency, owned and operated by his increasingly weary friend Keel (Robert Hooks).
Danska's screenplay (cowritten with Lewis Jacobs) also probes Keel's relationship with his girlfriend Della (Diane Varsi), a white woman frustrated by his insecurities about their taboo relationship. One of the film's remarkable psychic digressions sees him paralyzed by the blown-up image of Della on a movie screen; he runs up to her and becomes a thumbnail-sized silhouette, while Eagle – the bane of Keel's day-to-day existence, and a continuous threat to the solvency of his nightclub – enters screen right. Keel's subplot reveals a trace of SWEET LOVE's utopian pathos: that a movie about a black man enduring impotence with a white girlfriend could even get made, let alone distributed by a major studio, in the American 1960s. Eagle's heroin problem slowly creeps to the fore, while David – well-intentioned but obviously far less brilliant than his friend – manages to put some semblance of his life back together, in no small part due to the fact of his whiteness.
When David walks into the esteemed halls of a university to apply for a teaching position, the film jaunts into another remarkable detour. Eagle accompanies him, received like a foreign dignitary, receiving a battery of "intellectual" (read: square) questions about jazz from the button-down faculty. Eagle passes a joint around to lighten the mood, managing to say more in a few words than all his surrounding academics put together. It's a moment of levity that can't last, as evidenced by a decisive encounter with a bigoted police officer (played by Bruce Glover, father of Crispin) back in the harsh sunlight of the exterior real world – an event that runs the risk of exposing the meager sum value of Hillary's liberal comradery. This is a race-relation film about the warts-and-all experience of New York bohemia, whose politics fly in the face of everything Stanley Kramer's then-lauded "message pictures" stood for; interracial solidarity appears, while not impossible, held hostage at every turn.
In his own right, Danska is a director ripe for rediscovery: His Last Poets documentary RIGHT ON! (1971) chronicled the birth of what would become hip-hop, and his world-wise MAURICE SENDAK & ALL HIS WILD THINGS (1986) predated the Spike Jonze treatment by nearly three decades. Sadly, he effectively disowned SWEET LOVE – his filmmaking debut, and only work of fiction – after the producers bestowed it the sleazier title IT WON'T RUB OFF, BABY!, reshuffled his narrative flow, and chopped out 20 minutes centering on a supporting character played by THE LANDLORD's Carl Lee – based loosely (perhaps not loosely enough?) on Miles Davis. The resultant film descended into obscurity after being buried in a tawdry small-release circuit, and the three principals walked their separate ways. But even if Danska's original cut is indeed lost to the ages, SWEET LOVE, BITTER makes for a powerful and profound glimpse at the Sixties most American films would still prefer not to talk about – backed by a woozy jazz score that alternates between honey and dereliction, by the great pianist and arranger Mal Waldron.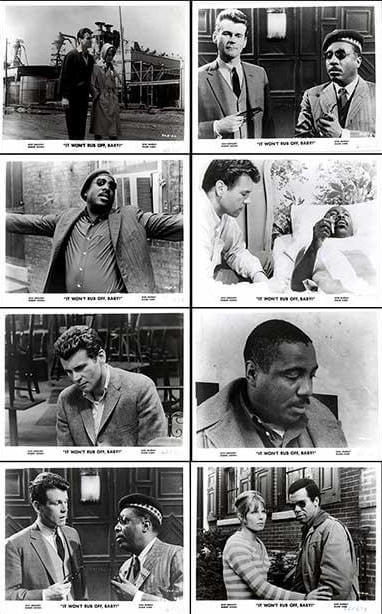 "Incisive, sensitive probing of America's racial hang-up. Quietly grips with a rare ring of truth and realism – the kind of independent film America needs." – William Wolf, Cine
"Dick Gregory plays with surprising conviction and considerable realism, and now adds movie stardom to his other attainments… In real life he is an active, effective leader in the movement for social equality; he is a witty and engaging entertainer; he is also, as this film proves, a remarkably talented actor." – Hollis Alpert, Saturday Review
"Assaying the role of a high flying jazz sax master vaguely patterned after the late Charlie 'Byrd' Parker, on a skittering and doomed downslide oiled by the twin devastation of drugs and booze, Gregory turns in a vigorous and fascinating non-performance." – Variety
"A brilliant, provocative, frank film." – New York Amsterdam News
"Gregory gives a terrifying performance." – Brendan Gill, The New Yorker