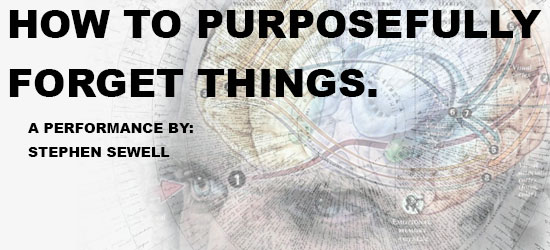 HOW TO PURPOSEFULLY FORGET THINGS.
Performance by artist Stephen Sewell, 2014
USA, approx. 90 min.
MONDAY, NOVEMBER 10 – 8 PM
WEDNESDAY, NOVEMBER 12 – 8 PM
How to Purposefully Forget Things. is a performance lecture/self-help seminar intended to empower individuals with the knowledge required to willfully forget. Taking a cue from a WikiHow article of the same name, the performance combines multi-media presentation, audience participation, and humor to consider the role that absence plays in our everyday lives, memory as a form of architecture, and the function of images and technology in constructing and reinforcing memory. Documentation of the performance will be used for the production and release of an instructional DVD and web series.