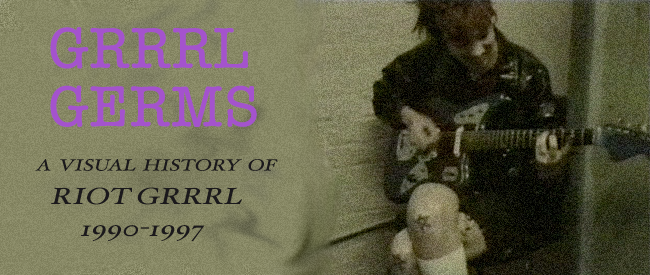 "What is Riot Grrrl?" filmmaker Lucy Thane continually asks the fans, zinesters, and musicians profiled in her 1993 film IT CHANGED MY LIFE. By that point the term had taken on a ubiquitous, undefinable life of its own: derided by the media, twisted by its detractors, and worshiped by an increasingly large cultural movement of young women in the US and UK. While originally coined by Olympia, WA-based zinesters and musicians Tobi Vail (Bikini Kill) and Molly Neuman (Bratmobile) to describe the core network of politically-minded punk women in Olympia and DC, Riot Grrrl in its truest sense describes any do-it-yourself creative outlet of feminist fury: from cut-and-paste zines to punk shows to the grainy, politically-charged Pixelvision and 16mm visual subversions of the underground female and queer filmmakers of the era.
GRRRL GERMS (named after Molly Neuman and Allison Wolfe's zine; itself titled after a Bratmobile song) is meant as a tiny offering of these works, from incandescent early films such as Sarah Jacobson's I WAS A TEENAGE SERIAL KILLER (featuring music by Heavens to Betsy) to shorts from members of Miranda July's chainletter tape collective Big Miss Moviola to raw and energetic archival footage. These films encompass the noisy irreverence of one of the most prolifically angry and influential artistic movements in recent decades.
---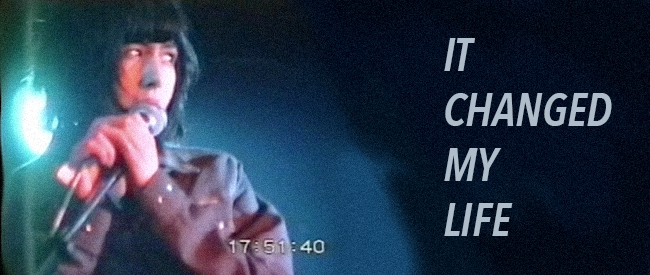 IT CHANGED MY LIFE
Dir. Lucy Thane, 1993.
UK. 25 mins. + 90 min of additional footage
5/13 7:30 PM
SUNDAY, MAY 1 – 5:00PM
FRIDAY, MAY 13 – 7:30PM ** SKYPE INTRO W/ FILMMAKER **
TUESDAY, MAY 17 – 7:30PM
MONDAY, MAY 23 – 10:00PM
With unlimited access and uncanny instincts, filmmaker Lucy Thane chronicled Bikini Kill and Huggy Bear's 1993 UK tour/media circus with a stockpile of borrowed film equipment. Capturing around twenty-four hours worth of candid interviews, concert footage, and heated discussions with fans in venue bathrooms, Thane artfully distilled the footage into a twenty-five minute film that encapsulates the international breadth and fiery division of the Riot Grrrl movement. The raw tapes from which the final product was culled are equally rich historical documents featuring appearances by Courtney Love, Catcall Records' Liz Naylor, and The Raincoats, among others. Spectacle is pleased to premiere a selection of footage from these rushes – recently digitized by the Fales Collection at NYU – along with the film.
---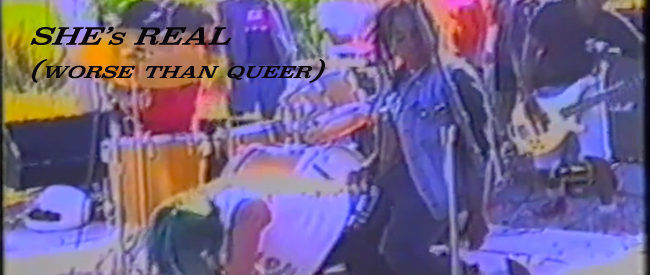 SHE'S REAL (WORSE THAN QUEER)
DIr. Lucy Thane, 1997.
UK. 50 mins.
WEDNESDAY, MAY 4 – 10:00PM
FRIDAY, MAY 13 – 10:00PM
TUESDAY, MAY 17 – 10:00PM
THURSDAY, MAY 26 – 10:00PM
Lucy Thane's 1997 follow-up to IT CHANGED MY LIFE probed the idea of subcultures-within-subcultures: specifically the artists and bands that made up the Queercore scene, such as Toronto's Fifth Column. SHE'S REAL is a testament to the necessity of inclusiveness within a political movement, and how the queer musicians within Riot Grrrl gave voice to thousands of young women.
---
GRRRL LOVE AND REVOLUTION and WOMEN'S PUNK ART MAKING PARTY
WEDNESDAY, MAY 4 – 7:30PM
SUNDAY, MAY 15 – 7:30PM
SATURDAY, MAY 28 – 7:30PM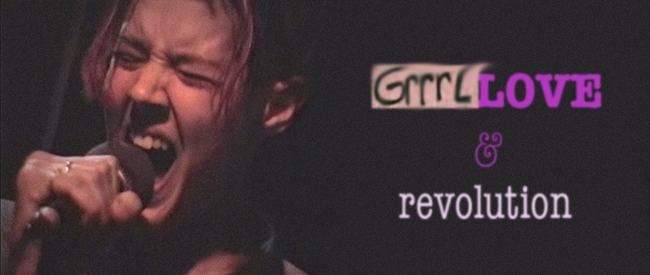 WOMEN MAKE MOVIES PRESENTS: GRRRL LOVE AND REVOLUTION
Dir. Abby Moser, 2011.
US. 42 mins.
Shot between 1993 and 1996, filmmaker Abby Moser documented the New York City chapter of the Riot Grrrl movement. The resulting film is a portrait of the intense frustrations of the time: Riot Grrrl chapters nationwide had attempted to distance themselves from their misrepresentation in the mainstream media by cutting them off completely. GRRRL LOVE AND REVOLUTION is an important archival document of the meetings, punk shows, and events that occurred during this time of cultural flux — when an underground network founded in the name of grrrl solidarity suddenly became a sensationalized international movement.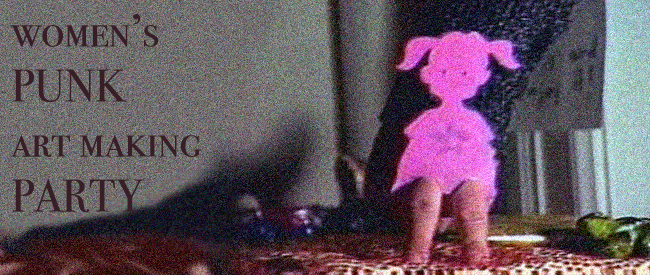 WOMEN'S PUNK ART MAKING PARTY
Dir. Mary Billyou, 1996.
US. 33 mins.
A documentary in which a group of young women meet for an art-making party. Located at The Beehive Collective in Washington, DC, six individual episodes are loosely interspersed, allowing each participant a chance to represent themselves. Included: a feminist stripper preparing for work, a puppet show, and a music video.
---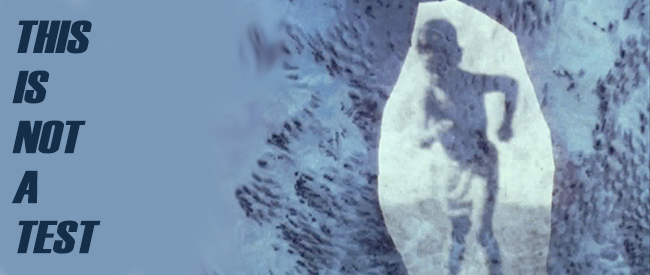 THIS IS NOT A TEST: SHORTS 1990-1998
TRT – 88 minutes
SATURDAY, MAY 7 – 10:00PM
THURSDAY, MAY 19 – 7:30PM FILMMAKERS IN PERSON!
MONDAY, MAY 23 – 7:30PM
Feeling dejected and misunderstood in her overwhelmingly male college film program, Portland artist Miranda July began distributing open calls for female film work within Riot Grrrl zines nationwide. She would then compile all of the submissions, record them to VHS, and send them back to the filmmakers as a chainletter tape entitled "Big Miss Moviola." The work is fresh and surprising – most often from young burgeoning filmmakers struggling to find solidarity and companionship within their artistic communities. The tapes included work by artists such as Mary Billyou and K8 Hardy, who drew inspiration from the early '90s work of underground filmmakers Jennifer Reeves, Sarah Jacobson, Sadie Benning, G.B. Jones, and others. This program documents the evolution of that filmic movement: from the disruptive, violent, and often hilarious early films to the irreverent experiments of the videotape age.
BUTCH PATROL
Dir. Myra Paci, 1990.
US. 2 min.
TRANSELTOWN
Dir. Myra Paci, 1992
US. 19 min.
FLOW
Dir. Mary Billyou, 1995.
US. 5 mins.
ANTS IN HER PANTS
Dir. K8 Hardy, 1998
US. 5 mins.
MONSTERS IN THE CLOSET
Dir. Jennifer Reeves, 1993.
US. 14 mins.
I WAS A TEENAGE SERIAL KILLER
Dir. Sarah Jacobson, 1993.
US. 27 mins.
Special thanks to Kristen Fitzpatrick and Women Make Movies, Lucy Thane, Lisa Darms and the Fales Collection at NYU, Sam Green, Myra Paci, Mary Billyou, K8 Hardy, Tara Mateik and Jennifer Reeves.