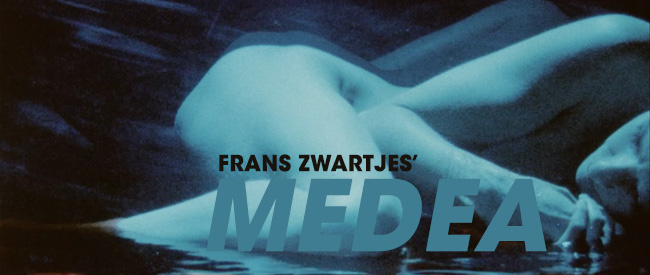 FRANS ZWARTJES' MEDEA
Dir. Frans Zwartjes, 1982.
Netherlands. 46 min.
In Dutch with English subtitles.
also screening:
FRAGMENTS
Dir. Frans Zwartjes, various.
Netherlands. 9 min.
THURSDAY, FEBRUARY 4 – 8:00 PM

All images courtesy of EYE Filmmuseum.

Spectacle Theater is excited to host a screening of Frans Zwartjes' lost classic MEDEA, introduced by Zwartjes' collaborator and producer, Schtinter.
Unseen since 1989, when it was screened in New York by Susan Sontag, MEDEA is Frans Zwartjes' adaptation of Euripides' tragedy, originally produced for stage by the actresses Josee Ruiter and Canci Geraerdts. This is one of several screenings in the U.S.A. through February, presenting a newly restored copy of the film, in association with purge.xxx and EYE Filmmuseum.
Zwartjes is largely known for the stream of voyeuristic, sexually charged and hugely influential experimental films he made in the 1960s and 70s. Hailed by Susan Sontag as "the most important experimental filmmaker of his generation," Zwartjes is also a painter, craftsman and musician: a polymath who defies categorization.
The feature will be preceded by 'film fragments' (FRAGMENTS), a selection of never-before-seen cinema sketches by Zwartjes, and soundtracked by recent purge.xxx releases of Zwartjes' music (copies of The Teacher and Zwartjes X Schtinter will be available on the night).
Schtinter is an independent filmmaker and programmer based in Athens and London. He works with "film as liberating application in the margins in search of the proper world," and can be found at http://purge.xxx