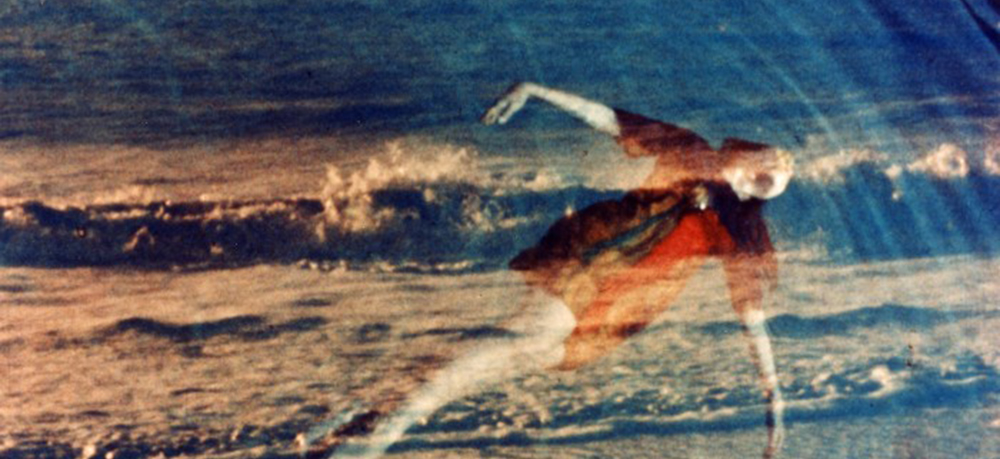 SATURDAY, FEBRUARY 20 – ALL DAY
only at stream.spectacletheater.com
This February, Spectacle is proud to host New York City's first-ever film retrospective of interdisciplinary German artist Dore O., featuring a rare screening of her breakthrough work KALDALON on 16mm film.
Trained as a painter, O. was cofounder of the Hamburger Filmschau, alongside with her husband and collaborator Werner Nekes. For all the psychedelia of her early work, subsequent films are rigorous in refractory experimentation: rear-projections, double-impositions, repeated frames and breathtaking lunges of the handheld camera, which seems bolstered as much by raw impulse as it does by any guiding principle of onscreen organization. O.'s work establishes its own space-time linearities, then argues them against each other–sometimes content with a mild flicker, a closing or opening aperture or a flurry of blunt smears. This is a playful and often freefalling visual poetics, best left to wash over you pure and analyzed later (or better yet, not at all.)
"Landscape exists only as a view through windows and doors, individual images are in opposition to themselves, growing closer together or dissolving into each other. Besides compressed images, the breaking of spaces and of course time, there are shots which have been left undoctored. Attraction, amalgamation, and removal of half of the image with the goal of a sensual topology are the principal formal means of the chosen language. One image devours the other." —Dore O.
Special thanks to Dore O. and The Filmmakers' Co-op.
---
PROGRAM ONE
JÜM-JÜM. 1967. 11 min. Co-directed with Werner Nekes.
ALASKA. 1968. 16 min.
LAWALE. 1969. 28 min.
Total running time: 55 min.
MONDAY, FEBRUARY 1 – 7:30 PM
WEDNESDAY, FEBRUARY 10 – 7:30 PM
THURSDAY, FEBRUARY 18 – 10:00 PM
TUESDAY, FEBRUARY 23 – 10:00 PM
Starring a very young Dore O., JÜM-JÜM centers on a single frame: a girl sitting on a swing, billowing from one side to the other against a static tri-color painting of, indeed, a gigantic, hand-painted phallus. The film derives its syntax from its editing, timed to Nekes & O.'s auditory textures–which sound, alternatingly, like pots and pans being banged together, and/or a sped-up audio track of a child giggling. Shorn from these simple filmic materials, JÜM-JÜM is the first of many works by Dore O. that abound in suggestion while defying easy lateral (or literal) interpretations.
Described only by its maker as "an emigration film", ALASKA marks a startling declaration of intent: post-Freudian and anti-dialectical, smacking of intimacy while it declines even the meagerest sketches of a concurrent plot. Dore O's camera cautiously tracks structures and partitions before centering its field of vision on an ebbing tide at magic hour. The beach's lapping waves grow more discomfiting as flashes of still-and-moving reminiscences are intercut, often held tantalizingly out of focus. ALASKA's soundtrack–a rising and falling string section, as steady as it is erratic–allows the entire film to hang as one long moment of semi-conscious suspense. Shots are not juxtaposed so much as shot lengths.
Both LAWALE and ALASKA use their editing schemes to create points of contact and departure, frustrating accommodating narratives until the images have no choice but to plateau–say, a young woman floating adrift in the ocean in ALASKA, an elderly relative playing piano in LAWALE. In the latter film, scenes of familial life pile up with Fassbinder-ian tidiness, only occasionally thrown against moments of internal reprieve or looseness of the outward-facing frame. If ALASKA was intimate, LAWALE is (for the rigor of its language of remembrance) the far more explicitly autobiographical film: the unwillingness to remember, the inability to forget.
"The austere images in LAWALE tell more about the completely individual process of a young woman's emancipation than whole novels do." –Peter Steinhart, Rheinische Post, 1969
"I almost became addicted to these pictures, but they were not sufficient to dispel the gloom." –Wilhem Roth, Filmkritik, November 1969
---
PROGRAM TWO
KALDALON. 1970/1. 45 min.
BLONDE BARBAREI. 1972. 25 min.
FROZEN FLASHES. 1976. 30 min.
Total running time: 95 min.
WEDNESDAY, FEBRUARY 3 – 10:00 PM
THURSDAY, FEBRUARY 11 – 10:00 PM
TUESDAY, FEBRUARY 23 – 7:30 PM
PURCHASE TICKETS HERE
ONE NIGHT ONLY ON 16MM FILM!
WEDNESDAY, FEBRUARY 17 – 8:00 PM
WEDNESDAY, FEBRUARY 17 – 10:00 PM
PURCHASE TICKETS HERE
Shot on a trip to a spectacular glacial lagoon in Iceland, KALDALON broadly expands the the scenographic overtures of O.'s first films while teasing out new subtexts of control and romance, bathing the viewer in gorgeous images that nonetheless fail to linger quite long enough. It's rumored that the film began as an attempt to recapture the Northern Lights on celluloid – but it's also the first of O.'s shorts (since JÜM-JÜM, anyway) to use wall-projection as its own technique of superimposition. The camera works here as birdlike spectator, fastidious indexer, topographical scanner and – with two discrete shots uneasily sloped together in the frame's center – as a remarkable simulacra for human eyesight.
Shot in black and white but sepiatoned in post-production, BLONDE BARBAREI represents a partial test-run for what would become KASKARA, again engaging notions of spectatorship – albeit shrouded in far darker context this go-round. A camera tenuously considers the world outside its paneled apartment windows, foregrounding a woman's silhouette (Dore's?) in its reluctant and never-voyeuristic sweeps of the lens.
FROZEN FLASHES is O.'s first film in total silence, again taxonomizing (you could almost say taxidermy-ing) disparate moments – here, a sequence of insinuating and, indeed, frozen poses, flash-photographed in erstwhile darkness – to probe the role of the static image in the barely-conscious. Finally, BEUYS – co-directed, again, with Nekes – is a ten-minute long, single-shot portrait of Joseph Beuys, begging the question of verisimilitude often left unaddressed (to say the least) in O.'s other works.
"KALDALON is simply one of the most beautiful pieces of 'personal' filmmaking I've ever seen, but I don't want to limit it to a particular category, because it is also very much a film about film, and the processes which make it up." – Tony Reif, Vancouver Cinematheque
"Perhaps coming closest of her works to the Brakhage aesthetic, KALDALON is a very beautiful and complete work." — Jonas Mekas, The Village Voice
"Yes, the windows are factory windows, each consisting of many various glass panes which accounts probably for an association of church windows. But as in a church, it is the closed-in atmosphere, the sadness, the tendency to move slowly, that counts. "So that BLONDE BARBAREI is a metaphor, for the life certainly of a woman (but then of men too?), lives imprisoned in the worlds around them, bourgeois marriage, bourgeois professions, everything that looms above & around us, 'inescapably." — Andreas Weiland, Filmmaker's Co-op
---
PROGRAM THREE
KASKARA. 1974. 21 min.
BEUYS. 1981. 11min. Co-directed with Werner Nekes.
BLINDMAN'S BALL. 1989. 35 min.
Total running time: 71 min.
FRIDAY, FEBRUARY 5 – 7:30 PM
MONDAY, FEBRUARY 15 – 10:00 PM
SATURDAY, FEBRUARY 20 – 7:30 PM
THURSDAY, FEBRUARY 25 – 7:30 PM
KASKARA retains the freedom that marked ALASKA's underside, with little-to-none of the nausea – but the film additionally "builds" on the questions of kinship and memory haunting O.'s earlier work via its exercised myopia, making it a game of pictures: how many ways can one look at a house (including views outside from within)? If KALDALON mediated its images by their means of acquisition – the airplane, the car, the boat, the river, the screen – KASKARA is content to divide and unite the same constituent fields of preexisting space, all but exhorting viewers to do the same while contemplating their own surroundings (domestic or otherwise).
BLINDMAN'S BALL again implements the glassy refractions of O.'s early work, using the filmmaker's signature double-exposures as discrete narrative idioms unto themselves. The appearance of a front-projected "screen" for memories within the bigger frame is a form of vindication for the nameless victim and his nurse. Other reminiscences are stirred into tactility by unexpected turns in whatever exists of the film's drama, so the tearing of a piece of fabric guides the eponymous Blindman into a queasy reverie about childhood haircuts. If this is O.'s bleakest work yet, it's also the most resplendent in its rear-view on internalized trauma and repressed memory, assigning specific colors and optical procedures to the kinds of haptic memories rarely distilled into the moving image.
"KASKARA is less a synthetic than an antithetical work: it poses the window as the way out, as a promise of space and peace. Each half, in a play of reflections and multiple exposures, seems to be an echo of the other." — Dominique Noguez, L'art Vivant, February 1975
"Beuys speaks about his conception of art for ten minutes with his face pointed at the wall, his back to the camera. This radical, simple form appears fully adequate for the film's topic. There were, however, vociferous protests by the audience…The question appears to be mainly of a rhetorical nature, in which way Beuys could have come closer to meeting its subject's works. More briefly, more precisely, unelaborated does not seem to be possible – a great artistic film." — Info-Medium, 1981
---
PROGRAM FOUR
CANDIDA. 1991. 45 mins.
XOANAN. 1994. 11 mins.
EYE-STEP. 2000. 25 mins.
Total running time: 81 min.
SUNDAY, FEBRUARY 7 – 7:30 PM
MONDAY, FEBRUARY 15 – 7:30 PM
FRIDAY, FEBRUARY 19 – 7:30 PM
WEDNESDAY, FEBRUARY 24 – 7:30 PM
SUNDAY, FEBRUARY 28 – 5:00 PM
Perhaps O.'s most expansive production yet, CANDIDA is an adaptation of Frans Masereel's 1920 woodcut-novel "The Idea". The story concerns the form of a woman (Jara Bernardes) – whether she's concocted from scratch like Maria in Fritz Lang's METROPOLIS, or merely raised in darkness, remains open to interpretation – thrown from her prison-like domicile, only to make a crazed sprint for the city. O. introduces her eponymous heroine first as an object of patriarchal lust: naked in a glass reflection, painted over – literally! – one brush-stroke at a time by her scraggly-haired creator. Next we see him facing a wall, which the film transforms into a window with its next cut: a handheld perspective out a high-up apartment building. The frame tilts sideways, upside-down, pans down to the street and back up to the brick structure, as if weighing the camera's own sense of gravity against its dizzying surroundings. O. cuts back to the wall/window, but this time with a superimposition of Candida hanging over the "edge" – again, these filmic devices leave much to the viewer's imagination – arms flailing in slow motion.
Exterior, again: the image de-escalates from one floor to the next in a soothing drop, and cuts back to the now-completed superimposition: overladen with the sound of a cartoonish slide whistle, Candida flails her limbs, the camera pirouetting around her, and we realize we're watching Bernardes wriggle, prostrate, on a floor someplace. Bound by rising and falling synthesizer leitmotifs, her story is told almost entirely in these kinds of stripped-down, exploded modernist tableaux. Swallowed and spit out by the cityscape (embodied in both swarms of rapacious dudes, and transient location footage from Hamburg/Paris/Bahia/Vienna/NYC), Candida finds solace ultimately in the multiplication of her own image – not merely persisting, but ultimately dominating. As ever, O.'s forever loosening and tightening multiple exposures carry their attendant compositions far beyond simple equations of montage.
More description-defying still is XOANAN, O.'s portrait of the painter Afrane Adje Twumm. Fabric finds another onscreen metaphor for the plastic arts, wherein bodies and walls are draped in cloth, doubling back on the hazy double-projected daydreams of ALASKA. O. trains her camera on a body of water as it passes the promenade, capturing idling youths and passing families as specks of silhouette crossing the film's unnamed territory, bound only by rocks at the screen's bottom and the sky above. EYE-STEP – the latest work in the program – traces a series of forever-winding staircases like liminal excerpts from an endless memory-spool, asking the viewer which spaces their eyes may have taken for granted along the ambling path. Scored to a lilting, plaintive accordion tango with no apparent beginning, middle or end, the frame tiptoes from suicidally vertiginous to borderline-sacrosanct in the space of a few beats, before circling back to retrace its steps yet again.