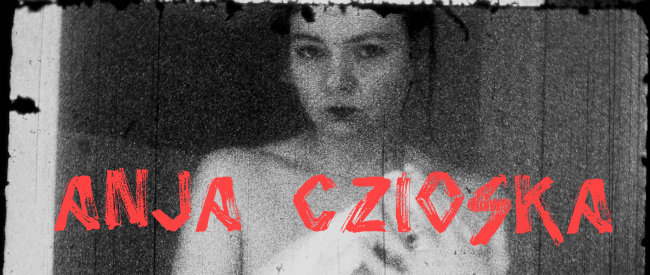 FMC PRESENTS FILMS BY ANJA CZIOSKA
Dir. Anja Czioska, 1991-1997
USA/Germany, approx. 46 min, 16mm
ONE NIGHT ONLY!
SATURDAY, MARCH 22 – 7:00 PM
16mm projection! Presented by the Film-Makers' Cooperative, with an introduction by FMC Director MM Serra.
Anja Czioska, born 1965, is a German-born filmmaker, performance artist and curator. She was a student at Städelschule Frankfurt under Kasper König and Peter Kubelka, and is co-founder and co-director of the Kunstverein Familie Montez, an important institution of the contemporary art scene in Frankfurt.
This program of shorts will be comprised of thirteen films Czioska made between 1991 and 1997. Moments of everyday life captured not unawares, but performed provocatively for the camera. The films, all under eight minutes, most shot on Super-8 and some hand-developed, have a common theme of nakedness; not only literally. They are unpretentious and unabashedly running over…
The Film-Makers' Cooperative is the largest archive and distributor of independent and avant-garde films in the world. Created by artists in 1961, as the distribution branch of the New American Cinema Group, the Coop has more than 5,000 films, videotapes and DVDs in its collection.
SHIWA (1991) S-8 blown up to 16mm, b/w, sound, 3 min.
Music is Ataypura by Yma Sumac. "You can see light film… and maybe a wonderful naked body." -AC
FILM SCRIBBLES: BIRGIT SHOWER, LONDON (1993) S-8 blown up to 16mm, b/w, silent, 3 min.
"Birgit takes a shower with an old thing that is normally used to boil water." -AC

FILM SCRIBBLES: FÜẞE IM MEER (FEET IN THE SEA) (1992) S-8 blown up to 16mm, b/w, silent, 3 min.
"You can see feet and hands in the North Sea water. It comes and goes in a poetical way." -AC
FILM SCRIBBLES: IM GRAS (IN THE GRASS) (1994) S-8 blown up to 16mm, b/w, silent, 3 min.
"Anja wears only a rubbermask in the grass." -AC
FILM SCRIBBLES: SHOWER, ROTTERDAM (1991) S-8 blown up to 16mm, b/w, silent, 3 min.
"Debut shower. The camera on a tripod on the 'timer' and I move very slowly so that the viewer has the impression that something is wrong." -AC
FILM SCRIBBLES: DACH (ROOF) (1994) 16mm, hand-developed, b/w, silent, 3 min.
"Roofs of San Francisco. This is the filming of a friend, Inga and myself sunbathing and playing with the camera." -AC
FILM SCRIBBLES: DUSCH (SHOWER) (1994) 16mm, hand-developed, b/w, silent, 3 min.
"This is the same type of movie that achieved in Rotterdam in 1991. I tried to film me while I took a shower, but the mist and fog are overriding factors." -AC

FILM SCRIBBLES: UNTERWASSER (UNDERWATER) (1994) 16mm, hand-developed, b/w, silent, 3 min.
"I shot from the water holding my camera in hand. The film is projected upside down, so that you feel that I drink all the water around me. Some movies make me look like a dead person in the water, others show me trying to catch my breath." -AC
JONAS MEKAS, FRIDAY 13. OKT. 1995 NYC (1995) 16mm, b/w, silent. 6 min.
"Jonas, Birgit and Anja take a trip to the Brooklyn Bridge. Taxi driving, beer buying, drinking, doing funny things and dancing. It was a nice afternoon." -AC
BOLERO (1995) 16mm, color, sound. 7 min.
Music is Bolero by Ravel. "Timo is Sybille. They get married. Romantic film performance-dance in a gravel pit." -AC

PRINCESS MARINA (1996) 16mm, color, sound. 3 min.
Music is Marina by Rocco Granata. "Marina eats a carrot. Marina is a Princess. Marina is naked." -AC

ION DANCE (1997) S-8 blown up to 16mm, b/w, silent. 3 min.
"Ion Garnica is a dancer of the Frankfurt Forsythe Ballet. It's a naked dance improvisational performance only for the camera." -AC
ION SHOWER (1997) S-8 blown up to 16mm, b/w, silent, 3 min.
"Ion Garnica, sweaty after dancing, takes a shower." -AC