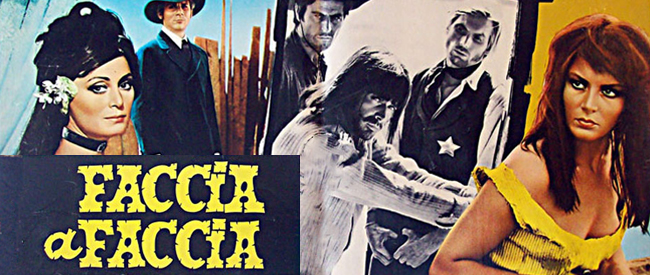 FACCIA A FACCIA
a.k.a. Face to Face
Dir. Sergio Sollima, 1967
Italy and Spain, 107 min.
In Italian and Spanish with English subtitles.
SATURDAY, APRIL 19 – 10:00 PM
MONDAY, APRIL 28 – 7:30 PM

Sergio Sollima is less well known in the US than the other two Sergios who made their names in spaghetti Westerns in the 60s, namely Sergio Leone with his DOLLARS trilogy and Sergio Corbucci with DJANGO, but his work resonated strongly in Italy and provided the leftist militants there with some of their iconography.
Between 1966 and 1968 Sollima directed his "political trilogy," which comprises LA RESA DEI CONTI (The Big Gundown), FACCIA A FACCIA (Face to Face), and CORRI, UOMO, CORRI (Run, Man, Run). All three star Tomas Milian, whose other work in the genre includes films by Corbucci and Giovanni Fago. Fago's morality western VENGEANCE IS MINE was part of Spectacle's Unearthed Spaghetti Western Treasures series last September, and this April we strike another tragically overlooked motherlode.
FACCIA A FACCIA stars Gian Maria Volonté (better known for his work with Elio Petri in INVESTIGATION OF A CITIZEN ABOVE SUSPICION and THE WORKING CLASS GOES TO HEAVEN and with Sergio Leone in A FISTFUL OF DOLLARS and FOR A FEW DOLLARS MORE) as Brad Fletcher, a Texan history professor teaching in Boston during the Civil War. Because of his illness (tuberculosis mixed with impotent intellectualism) he has to move back south. After his return, he is kidnapped by Bennett, a dark, mustachioed bandit played by Tomas Milian, who takes him to his commune, Pietra di Fuoco—home to all kinds of outcasts of "modernity and reality." Bennett is the chieftain of this band of the expropriated. After Fletcher takes charge in Bennett's absence, the people of Pietra di Fuoco eventually end up rejecting Fletcher's proselytizing intellectual authority.
Although Bennett is a similar character, Milian doesn't reprise his role of Cuchillo from the trilogy's other two installments. Cuchillo (Spanish for 'knife') became an unwitting third-world proletarian hero, elevated to the level of Che Guevara by the militants of Lotta Continua, Italy's premiere amorphous leftist street-fighting force of the 60s and 70s, whose flags bore the image of his face.
With a score by Ennio Morricone and "authentic period detail with a baroque expressionist vision," FACCIA A FACCIA is not to be missed.