FRIDAY, APRIL 4: LADY FRANKENSTEIN
SATURDAY, APRIL 5: HOW AWFUL ABOUT ALLAN
FRIDAY, APRIL 11: LEGEND OF THE EIGHT SAMURAI
SATURDAY, APRIL 12: AMERICAN HUNTER
FRIDAY, APRIL 18: GHOUL FRIDAY
SATURDAY, APRIL 19: ARGOMAN
FRIDAY, APRIL 25: WEREWOLF IN A GIRLS' DORMITORY
SATURDAY, APRIL 26: NINJA VENGEANCE
---
LADY FRANKENSTEIN (AKA La Figlia di Frankenstein)
Dir. Mel Welles, 1971
Italy, 94 min.
FRIDAY, APRIL 4 – MIDNIGHT
LADY FRANKENSTEIN (Mel Welles, 1971) from Spectacle Theater on Vimeo.
Dr. Frankenstein (Joseph Cotten) obviously raised his daughter Tania Frankenstein (Rosalba Neri under the name Sarah Bey) right, as she's taking over the family business in this take on the classic tale with extra grave robbing, extra nudity and nice performances from Franco fave Paul Muller and the always crazy Mickey Hargitay! Director Mel Welles provides gothic style to spare: secret doors, gloomy castles, mad science, romantic liasons, and of course The Monster, who (of course) gets loose and goes on a killing rampage. What really sets this film apart from either Universal or Hammer takes on this theme is Neri in one of her greatest performances, turning from coquettish to nightmarish on a dime, always calling the shots and pulling the strings. Spectacle is delighted to show the longest available copy, completely uncensored. Fans of 70s Italian period horror will find a lot to love here.
---
HOW AWFUL ABOUT ALLAN
Dir. Curtis Harrington, 1970 (TV).
USA. 73 min.
SATURDAY, APRIL 5 – MIDNIGHT

[Warning: the available DVD-rip that we will be presenting is transferred from a tape copy and is, well… very 'nostalgic' looking.]
"For some inexplicable reason, this tele-feature is but rarely accorded the respect it merits. In point of fact, it is a most accomplished, gripping, and well acted affair, from the days when a "Made for TV" movie, could still boast performers, writing, and technical credentials of the first water.
The story is an intense, psychological study of a young man suffering from hysterical blindness following the death of his professor father in a fire. Set in a large, shadowy, Victorian house, this very Gothic story hinges on the sibling rivalry between the young man and his spinster sister, both of whom blame themselves, in different ways, for their father's demise. Eventually, the young man's sanity begins to give way, in the face of a series of inexplicable hauntings, which may, or may not be supernatural. Only the denouement will tell.
With its pronounced subtext of repressed, family guilt, the film has literary antecedents in the work of Shirley Jackson, Walter De La Mare, and Nathanial Hawthorne.
Starring a cast of major (big screen) movie and stage actors, this film has everything that is conspicuously absent in current television: an excellent musical score, evocative photography, muted lighting, accomplished art direction, an interesting premise and script, intelligent dialogue (gasp!) and a very good sense of pacing.
Add to that a baseline story that improves on the novel upon which it was based (yes I read it) and you have a viewing experience very different from the "Made for TV's" of today, which are—I'm told, since I don't watch them—an endless stream of tedious, politically correct, AIDS, Anorexia, and spouse abuse victim propaganda studies—I believe the catch phrase is "victim of the week" stories.
All in all, "How Awful About Allan" serves as a sad reminder of what was still artistically possible in the world of commercial television, in the not too distant past."
-Guest summary by 'BrentCarleton', IMDb member since December 2003
---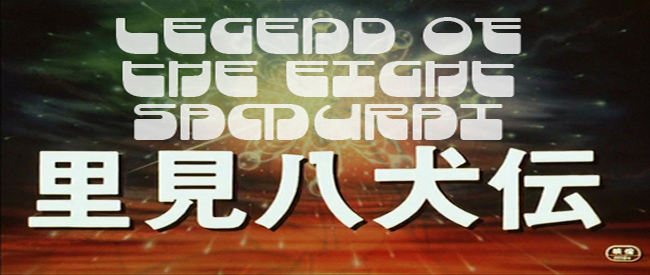 LEGEND OF THE EIGHT SAMURAI
Dir. Kinji Fukasaku, 1983
Japan, 136 min.
In Japanese with English subtitles
FRIDAY, APRIL 11 – MIDNIGHT
"At long last, our dream of vengeance shall come true."
If SAMURAI REINCARNATION left you wanting more, you're in luck, as Kinji Fukasaku, Hiroyuki Sanada and Sonny Chiba reunite for LEGEND OF THE EIGHT SAMURAI. Based on the novel Nansô Satomi Hakken-den by Kyokutei Bakin, the film takes off in different directions (we don't actually have eight samurai, more of a rag-tag crew) but provides action aplenty as eight crystals from the corpse of a princess lead to eight fighters who join forces to defeat an evil witch-queen. Gorgeous fight scenes, sugary English power ballads, flying centipedes, haunted temples, bathing in blood, zombie fighters and more, more, more! If you're looking for a serious docudrama about feudal Japan you're out of luck (sorry IMDB reviewers) but for anyone who enjoys high adventure on a grand scale, LEGEND OF THE EIGHT SAMURAI is an extravaganza of action, effects, costumes and stunts sure to satisfy the midnight crew.
---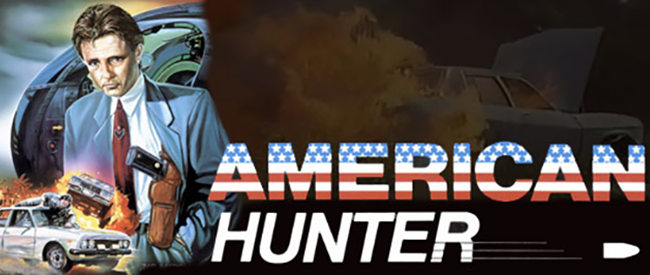 AMERICAN HUNTER
(aka Lethal Hunter)
Dir. Arizal, 1988.
Indonesia. 92 min.
In Indonesian dubbed into English with Japanese subtitles.
SATURDAY, APRIL 12 – MIDNIGHT
Starring Christopher Mitchum, son of Robert Mitchum and 2012 Republican candidate for California Congressional District 24's United States House of Representatives seat.
Christopher Mitchum returns for what might be the purest expression of mysterious Indonesian action director Arizal's shoot-'em-up aesthetic as Jake Carver, an "agent" whose self-described occupation is to "fight bad guys." In AMERICAN HUNTER, Carver battles a multifariously evil organization over a piece of microfilm to unspecified ends. Highlights include a jeep driving off the side of one skyscraper into the window of another, a three-way motorcycle/pick-up truck/train chase, a baby being run over by a car crashing through the side of a supermarket yet miraculously surviving, an eight minute helicopter chase, an awkwardly clothed shower sex scene, one house explosion, one castle explosion, dozens of car explosions, male bondage and electrocution, and a fist fight inside a dungeon full of what appears to be cardboard boxes overflowing with shredded paper. Bill "Super Foot" Wallace stars as the bad guy whose nefariousness is conveyed through his variously keeping pet falcons and monkeys on his shoulder, and Peter O'Brien drops in for an unlikely hench villain turn as a businessman who gets the shit kicked out of him then has his legs run over then crashes through a brick wall on the hood of a car. Approximately ten of the 92 action-packed minutes have been described.
---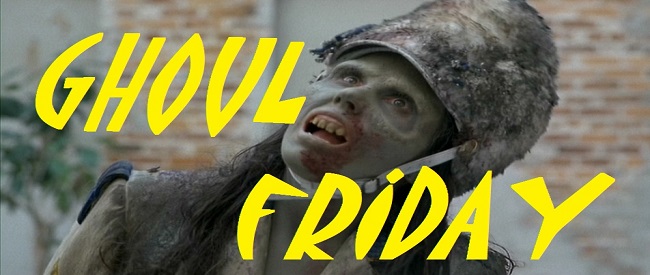 GHOUL FRIDAY
A Series of Short Films Celebrating the Supernatural!
Dir. Various
Approx. 90 min.
FRIDAY, APRIL 18 – MIDNIGHT
On this day a gazillion years ago, after the Romans pulled some Takeshi Miike-style ultraviolence on Him, the Baby Jeebuz was ressursusitated and came back as Zombie Jesus, Undead Son of God! (Or something along those lines; the story's open to interpretation…)
Spectacle presents a soul-stealing selection of seldom-seen supernatural shorts to shatter your sanity and send shivers down your spine. Not to mention deliver some laughs, too! In a 90 minute program, highlighting 22 films—from 4 seconds to 14 minutes in length—ranging from bittersweet to surreal to side-splitting, these movies unleash fiends, ghosts, vampires, psychos, spirits, sorcerers, hobgoblins, yokai, demigods, mutants, madmen and a host of other creepy-crawly critters!
In tonight's shorts, along with a slew of hungry zombies, Cthulhu will be there, joined by ferocious feline phantasms, a singing frog, Count Dracula, an eel girl, a tell-tale heart, even Death herself! And you just might learn the secret history of the world, courtesy of the stone heads of Easter Island…
And zombies, lots of zombies. In his excellent 2011 textbook War, Politics and Superheroes: Ethics and Propaganda in Comics and Film, Marc Di Paolo of Oklahoma City University writes, "One of the appeals of the zombie… is that they give angry Americans something to shoot at…. Since the pleasure provided by killing a zombie [sic] is escapist and regressive, it offers little hope of any real solution to such abstract problems."
But what Professor Di Paolo misses is that the lack of a "real solution" adds to the delicious frisson that the hordes of the flesh-eating dead are truly unstoppable and will always win, thus granting us the sweet release of that unexplored dimension of the afterlife.
An international mix of films, made in a blood-splattered kaleidoscope of styles, GHOUL FRIDAY features many unknown, unseen and uncanny short films, and a couple you might know all too well—from your nightmares! Bwah-hah-hah-HAH! Tonight's show has adaptations of masters like Poe and Lovecraft, while also showcasing some of the best contemporary artists fascinated with the macabre and unholy. There's even Slenderman, the new meme-monsters stalking the kids!
---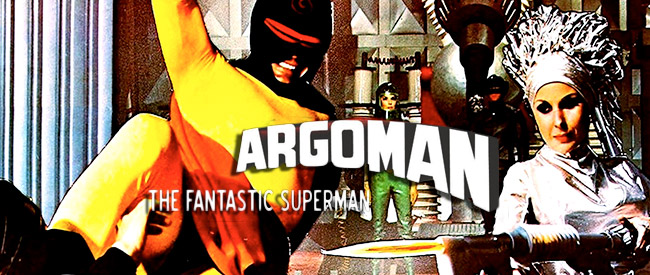 ARGOMAN
aka THE FANTASTIC ARGOMAN
aka ARGOMAN THE FANTASTIC SUPERMAN
aka THE INCREDIBLE PARIS INCIDENT
Dir. Sergio Grieco (as "Terence Hathaway"), 1967
Italy, 92 min.
In English.
SATURDAY, APRIL 19 – MIDNIGHT
ARGOMAN (Sergio Grieco as "Terence Hathaway", 1967) from Spectacle Theater on Vimeo.
This April, Spectacle is pleased to unleash one of its long-hidden midnight treasures: ARGOMAN THE FANTASTIC SUPERMAN. The batshit cousin of swingin' sixties psych-thriller DANGER: DIABOLIK, and a likely inspiration for AUSTIN POWERS, ARGOMAN is so awesomely weird and hilarious that it is truly unclear whether the film is intended as parody. Like Diabolik, Argoman is a cross between superhero and supervillain and 100% superstud — a Batman-style Playboy vigilante, real name "Sir Reginald Hoover," who lives in a high tech-pad decked with leopard-print everything and an endless supply of supergadgets and suspended sex beds at his disposal. He is also totally psychic, and one of his best moves is extending his palm really intensely and thinking "kill each other!" really hard until his opponents, such as the Chinese army, kill each other. And solving problems by cleverly levitating objects into new positions. He is also really great at psyching out giant cardboard robots and killing them, too.
In this, the first of one adventures, Argoman comes up against the vaguely amphibious and diabolical Jenabell, alias The Queen of the World, infiltrating to heart to enter her secret lair — or is it the other way around? Due to ARGOMAN's excellent screenplay, you will be guessing until the very final moments, abetted by one of the great Italian lounge-cheese soundtracks. Indeed, ARGOMAN is the best superhero since Val Kilmer.
FREE ADMISSION FOR ANYONE WHO COMES WEARING AT LEAST 60% SPANDEX!
---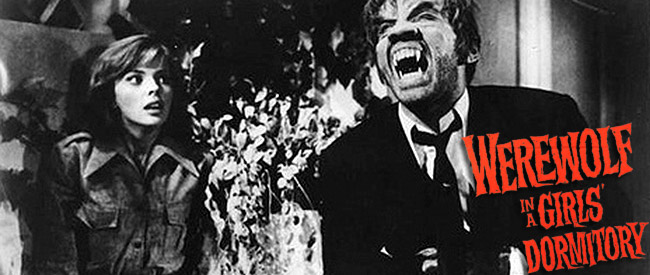 WEREWOLF IN A GIRLS DORMITORY
(aka: LYCANTHROPUS)
Dir. Paolo Heusch, 1961
Italy, 83 min.
FRIDAY, APRIL 25 – MIDNIGHT
"Mary has a marvelous ability for always being in trouble."
Spectacle Midnights are about to give going back to college the old college try. There's a ghoul in school and it's a wonder anyone can even get a quality education amidst all the blackmail, seduction, and carnage.
A new professor, with a murky past, arrives at school for troubled girls outside of a quiet little town besieged by wolf attacks. On his first night there, a young girl is savagely torn apart just outside of the school. With the mile long suspect list growing ever shorter as the stack of bodies grows taller, the film – penned by the legendary scribe Ernesto Gastaldi (The Long Hair of Death, The Horrible Dr. Hitchcock, Torso, My Name is Nobody, Your Vice is a Locked Room and Only I Have the Key, The Case of the Bloody Iris, etc.) this film keeps you guessing til the end. Featuring a snappy theme song and a soundtrack peppered with bassoons and flutes and presented UNCUT with footage TOO SHOCKING FOR SIXTIES CENSORS!
"I saw. You're a beast not a man my dear so go to the Devil.
I haven't done anything.
I haven't done anything."
---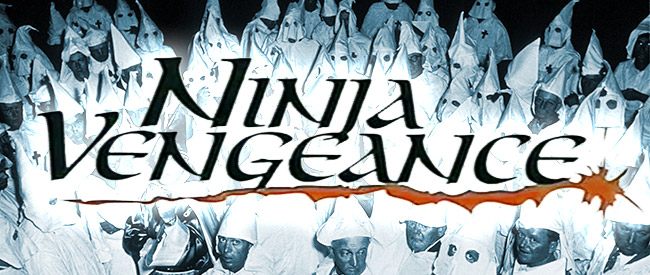 NINJA VENGEANCE
Dir. Karl Armstrong, 1992
USA, 87 min.
Screening directly from glorious VHS! Feel the fuzz!
SATURDAY, APRIL 26 – MIDNIGHT
[Trigger Warnings: Racial slurs and violence]
What's so funny about fists, love, and understanding? In NINJA VENGEANCE: everything. Part anglicized martial arts extravaganza, part ineptly intentioned racesploitation picture, NINJA VENGEANCE is like a mix between THE INTRUDER and SAMURAI COP, and every bit as glorious as that tease suggests.
Chris is a young stud from Wyoming breezing through the small Texas town of Maynard on his way to "a seminar" when his bike ("one'uh those foreign jobs") breaks down. The local racists look kindly upon Chris's aryan disposition, but when he encounters the entire police force in Klan outfits murdering the town's educated young black man, he unleashes his righteous ninja fury on them, and they get super pissed and put him in jail. As if bars could hold a ninja trained on the beaches of Wyoming, and who packs throwing stars, ninja rope, and how-to paperbacks called "Ninja" and "Jujitsu" when he travels! Is it too much to hope that the movie might climax with two white people, one of them in a sheriff's outfit, karate fighting in front if a giant burning cross? NO.
NINJA VENGEANCE reflects everything that is wonderful and terrible about the early 90's obsession with shopping mall-style karate, and also what happens when a bunch of karate champions from Texas try to make a movie about racism. (Uh, let alone a bunch of a karate champions from Texas trying to make a movie, period.) The result, while undeniably earnest and progressive in its intentions, is also flagrantly backwards in execution. Like, if you're going to make an anti-racist movie, you might not want to give characters names like "Mike's white friend" and "Mike's black friend," to say nothing of the problematic westernization of martial arts. As an added bonus, the film has a punchdance-worthy power rock theme song by the same Brad Rushing who is also credited as second unit director of photography. A very talented bunch, and a shame that somehow pretty much no one involved in this movie went on to do any others ever.
Tonight's screening will be presented from VHS, the way god fuckin intended.