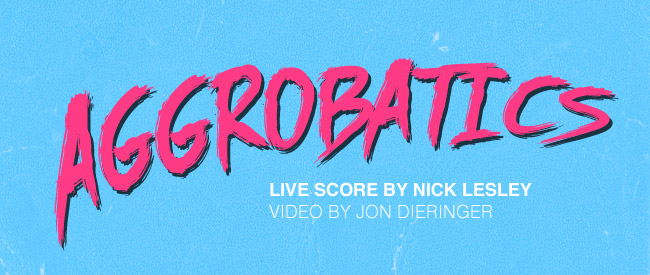 AGGROBATICS
A LIVE SCORE BY NICK LESLEY
VIDEO BY JON DIERINGER
2014. 40 min.
ENCORE PERFORMANCE!
WEDNESDAY, JUNE 25 – Sets at 8 PM & 10 PM


GET STOKABOKA WITH SOME SHRALPING AGGROBATTICS ON FOFFING MACKERS. IN THAR!
Despite torrential rains, our premiere performance/screening of AGGROBATICS was a huge hit. For those unable to attend, stranded by the weather, or looking to mainline a second (or third) trip, we're pleased to offer this special encore show.
For this very special evening, Spectacle is pleased to welcome Nick Lesley (Necking, Alien Whale, Gunung Sari, Felicia & Coctopus, Oma Yang, Prsms) for a unique live score experience. AGGROBATICS comprises a live performance by Lesley and Jon Dieringer's two-channel flickerfilm mashup of dueling street surfers and wave riders from the films Thrashin' (1986) and North Shore (1987). Astute Spectatoes will note these are essentially the same film, only one is ostensibly about skateboarding, and the other, surfing. But essentially, they are both really about the romantic notion of a dim forecast of limited options pitched against endless sunsoaked yearning to be free and fuckin' ride. And to make it with babes. In its mind-mashing synaptic rush and ecstatic synthesis of sound and screen, this is what AGGROBATICS articulates. Consider it brain candy on waves and wheels.
TRIGGER WARNING: Tonight is not for anyone afraid of big hair, killer waves, high-hip swimwear, headbands, pastels, and, above all, intensely flashing images thereof.