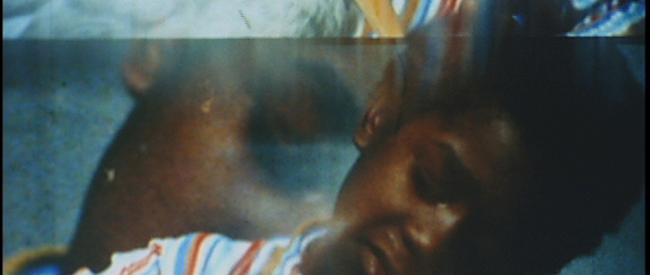 ONE NIGHT ONLY! FILMMAKER IN ATTENDANCE!
SATURDAY, APRIL 19 – 7:30 PM
Artist and experimental filmmaker Kelly Spivey recombines layers of found footage and original material through contact and optical-printing to create rhythmic, complex and exquisitely hand-crafted films. For this one-night-only special event, Spivey will present her work in-person on 16mm, super8mm and video.
Spivey's careful gathering of found imagery and sounds, her stop-motion and paper cut-out animations, and her meticulously constructed loop-based soundtracks feel like journeys through the heart of collage itself. Her films explore themes like class, gender roles and science, but by constantly redirecting our attention back to film's physicality and textural weight, they also thoughtfully contemplate filmic images, in general, about class, gender roles and science, among other things. The feeling of simultaneity is thrilling and strikingly evocative.
STEIN'S COW
Dir. Kelly Spivey, 2000
USA, 3 min, super 8mm
Stein's Cow is a short experimental animated film using Xerox cut-outs. Stein's Cow is a visual play on the usage of the word "cow" in Gertrude Stein's love poetry. Theorists believe Stein used the word "cow" symbolically in place of the word "orgasm" in her writing. Was this an attempt at hiding the lesbionic nature of her writings, or a playful, inventive re-assignment for the somewhat medical sounding "orgasm?"
WHY YOU WERE BORN
Dir. Kelly Spivey, 2001
USA, 6 min, super 8mm
A Kodachrome super 8 animation that utilizes found images delicately cut from magazines from the 1940s-70s. A hand-held camera creates agitation and a frenetic frame speed penetrates women's roles shown in advertising, shattering them and offering humorous feminist solutions.
KEEP UP WITH MEDICINE
Dir. Kelly Spivey, 2001
USA, 3 min, super 8mm
Animating vintage advertising images cut from magazines, this film makes a connection between gender roles, societal pressures and our need medicate. Getting shots, popping pills, and curing ills are practices examined and put under the micro-lens of my super 8mm camera. The results of this medical exam are alternative routes to health and wellbeing.
WHAT IF THE WORLD LOVED CELLULITE?
Dir. Kelly Spivey, 2000
USA, 6 min, super 8mm
Join a familiar icon in a world where the beauty ideal has taken a turn. Dimpled thighs and rounded bellies are what this doll is after. How will she attain her desired physique? What's a skinny girl to do? Find out how this broad finds happiness in this animated short originally shot on super 8 kodachrome.
POOR WHITE TRASH GIRL: CLASS CONSCIOUSNESS
Dir. Kelly Spivey, 2003
USA, 6 min, 16mm
A semi-autobiographical animation based on the life of a poor white girl who lives amidst Fisher Price Little People.
ME, MYSELF & I
Dir. Kelly Spivey, 2003
USA, 3 min, 16mm
Using paper dolls, magazine cutouts, and vintage valentines, this film plays with ideas of metamorphoses, gender variance, narcissism, and, somewhat subliminally, President George W. Bush.
MAKE THEM JUMP
Dir. Kelly Spivey, 2009
USA, 11 min, 16mm
Optically printed from snippets of discarded educational films including a bullfrog-jumping contest, a story of a child in a Harlem project who finds an abandoned duck, and a girl whose best friend is a cow. Repetition, time and sound manipulation, and not least of all – humor, all reside within the film frames of this project. Inspired by the Rachel Carson quote: "It is a wholesome and necessary thing for us to turn again to the earth and in the contemplation of her beauties to know the sense of wonder and humility," the film digs frame-by-re-photographed-frame for the underlying, yet now tenuous beauty in nature and our awkward, yet increasingly poignant relationship with animals.
A VISUAL GUIDE TO PHYSICAL EXAMINATION
Dir. Kelly Spivey, 2011
USA, 6 min, 16mm
Contact printed using an amateur machine, the Uhler Cine Printer, this film was created using spliced loops of my own camera original film mixed in with found footage film that describes how to give a breast exam. The audio was also printed from found optical sound loops. All of this footage was handprocessed and solarized. The result is a semi-horror-meditation on the gender binary and negative/positive space.
FISH UNDER DELANCEY
Dir. Kelly Spivey, 2006
USA, 26 min, 16MM
"Traveling from Flushing to Manhattan via the subway, as well as throughout NYC, I became entranced by the tile murals that line many subway platforms. The tunneling of the subways through bedrock and beneath the city, the people who ride the subway, the sound of a screeching train, and the slogan, "If you see something, say something" inspired this stop-motion, eavesdropping, dreamlike journey film. The film also follows the poet and writer Eileen Myles on parts of the journey."
Individual film descriptions courtesy of Kelly Spivey.