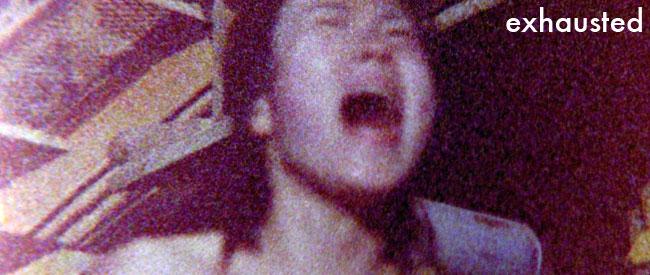 EXHAUSTED
Dir. Kim Gok, 2008.
USA. 128 min.
Korean with English subtitles.
FRIDAY, JULY 12 – 7:00 PM
FRIDAY, JULY 19 – 7:00 PM
TUESDAY, JULY 30 – 10:00 PM
An unnamed pimp and semi-retarded prostitute live in a dive apartment on the outskirts of a destitute, unnamed, post apocalyptic South Korean city. They have a domestic routine of sorts, eating cheese sticks and porridge, and taking walks along a dirt- and industry-strewn beach that inevitably turn into fights. Occasionally they post signs that read "We have girl". Eventually a homely young woman takes notice of the prostitute's powerlessness, and after one of many escape attempts on the part of the whore, rescues her from her provisional refuge among trashed tires on a beach. But she too has intentions for the young woman that prove to be the most degrading and disturbing of all.
TRIGGER WARNING – Graphic Sexual Violence.