See also our July J.R. BOOKWALTER Midnight Series!
SATURDAY JULY 13th
TNT JACKSON
Dir: Cirio H. Santiago, 1974.
72 min. USA.
A staple of the early 70s drive-in circuit, TNT JACKSON was schlock producer kingpin Roger Corman's attempt to cash in on the blaxsploitation craze and remains a fitting example of the kung fu craze muscling its way into every 70s genre.
Martial arts expert Diana 'TNT' Jackson travels to Hong Kong to search for her brother's killer. She soon discovers an underworld heroin smuggling operation that may lead her to the murderer.  Will she karate chop her way through an army of henchmen and come face-to-face with her brother's assailant?
Starring afro-haired ass-kicker Jean Bell (the first African American Playmate) in a script originally written by legendary character actor Dick Miller (before Corman had it rewritten), the film makes zero attempts at production values and plot imagination (essentially the same setup as SISTER STREET FIGHTER) but does features a criminal amount of funky 70s wardrobes, cheesy kung-fu 'whooshes', and a completely illogical topless fight scene that ranks at the top of exploitation's most gratuitous, trashy moments.
If Pam Grier is too expensive, then you best call TNT Jackson!

---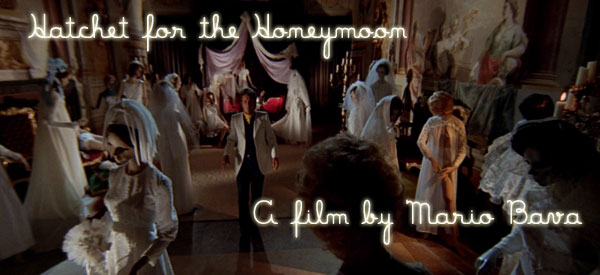 SATURDAY JULY 20th
HATCHET FOR THE HONEYMOON (Il rosso segno della follia)
Dir. Mario Bava (1970)
88 min.
English dub (no subtitles)
Mario Bava was never one to stick to the rules, even rules he invented himself. Often overlooked due to the lack of murder mystery elements (the killer is revealed at the beginning of the film),Hatchet For The Honeymoon sidesteps giallo tropes in place of dark satire on Italian high society and supernatural elements, all among the backdrop of Bava's trademark visual style. Stephen Forsyth's portrayal of a wealthy bridal shop owner driven to murder has since been compared regularly to Christian Bale's performance in American Psycho — while it may not be the gorehound's favorite Bava film, it's perfectly suited for fans of urbane sharp-dressed psychopaths as well as baroque late 60s set pieces. Newly remastered in high-definition from the 35mm print, the film has never looked better, as Bava is both director and cinematographer and the film shows his trademark use of color and symbolism in every frame.
---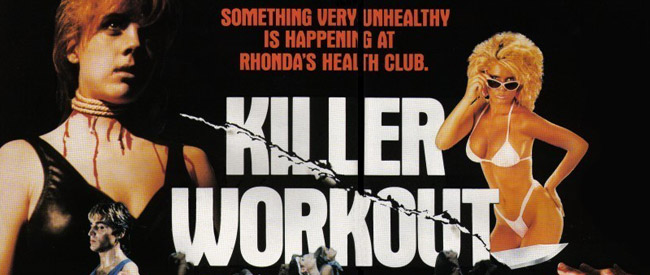 SATURDAY JULY 27th
MANDATORY MIDNIGHTS (aka MIND CURFEW)
presents
KILLER WORKOUT
David A. Prior, 1987
USA 85 min.
English
Feeling left out? Can't find common ground with your kids during those long, awkward dinners of meatloaf and self-loathing? Criminally unversed in the works of David A. Prior? Missing all those CANDY SNATCHERS references around the water cooler? Be honest, would you even be able to recognize an INTREPIDOS PUNK if you saw one?
Feeling woozy, it's getting dark, this is the end…
NOT QUITE.
The Spectacle Presents MANDATORY MIDNIGHTS (aka Turkish Netflix)! Fall in love for the first time or all over again with the best of Spectacle Midnights! Every month The Spectacle is showcasing one of our beloved midnight classics like ROCK N ROLL HOTEL, KILLER WORKOUT, HOLOGRAM MAN and so many MORE!!! Don't yawn your way through another screening of Rocky Horror, half heartedly throwing rice and lip syncing through tears of boredom. Come get kicked in the chest by the AMERICAN HUNTER and lose a quart of blood to a BLOODSUCKER FROM OUTER SPACE!
You haven't seen a Spectacle Midnight until you've seen it twice! Come Get Weird and Stay Weird at MANDATORY MIDNIGHTS!
THIS MONTH…
Summer is here and it's time to feel the burn with KILLER WORKOUT.
The 1980s will always be remembered more or less for two major contributions toward the betterment of humankind: the slasher film and aerobic exercise-AND NOW MANDATORY MIDNIGHTS HAS BOTH. It took the genius of prolific, high-octane filmmaker David A. Prior(Sledgehammer, Deadly Prey) to make it happen! KILLER WORKOUT is a one stop, high impact cardio assault sure to turn your flabby midnight grey matter into a chiseled mental six pack.
After a freak tanning bed accident kills her sister, Rhonda decides to open Rhonda's Workout- a fresh and fun aerobics studio where the buff get buffer and the beautiful get beautiful-er…that is until they start getting dead! There's a killer loose and it's up to a grizzled, world weary Detective (David James Campbell) to stop the maniac before Rhonda's out of customers. What follows is a game of cat and mouse with more twists than a Zumba class, and an ending that you won't ever forget!
KILLER WORKOUT is more insane and high energy than P90x and it's got the infectious throbbing soundtrack and pelvises to ensure you'll never look at your Bowflex the same way again. This is the ultimate oiled up, tanned, toned, aerobic slasher film with a message: hitting the gym can be hazardous to your health.
Come get RIIIIPPPPEEEDD at THE SPECTACLE, only at MIDNIGHT!