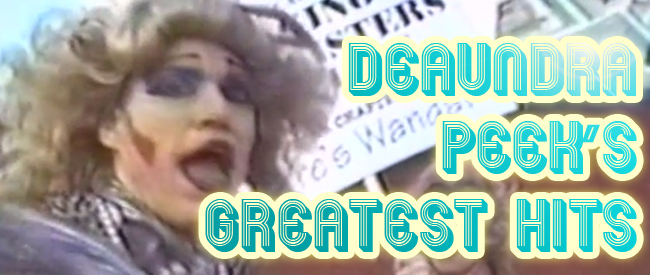 DeAUNDRA PEEK'S GREATEST HITS
Dir. Dick Richards, 1988-2004.
USA, 93 minutes.
In English.
FRIDAY, JUNE 10 – 7:30 PM
SATURDAY, JUNE 25 – MIDNIGHT
THURSDAY, JUNE 30 – 10:00 PM
DeAundra Peek (Rosser Shymanski) was the first of a long line of singing sisters featured regularly on Atlanta public access television to break apart from her kin and garner her own exclusive public television show. Produced by FUNTONE USA (producers of RuPaul's earliest film and music ventures), the character of DeAundra is a perpetual sixteen-year-old musical prodigy and teenage southern belle broadcasting weekly from the community room at Odum's All-Doublewide Mobile Homes Court in Palmetto, Georgia and featuring DeAundra's favorite songs, original music videos, fashion tips, community news and recipes, and providing a broadcasting platform for the era's queer entertainers.
Beginning broadcast in 1988, the DeAundra Peek's Teenage Music Club show would come to see several different permutations and name changes over the years, until it ended broadcast in 2004, but not before seeing a stage show, a string of musical singles, two commercially released music video compilation tapes, and a feature in the Whitney Museum of American Art. Accessing the FUNTONE archives, we will be presenting a curated retrospective of the DeAundra Peek Teenage Music Club though its various iterations to provide a capsular look at an artist's legacy in queer public access television.