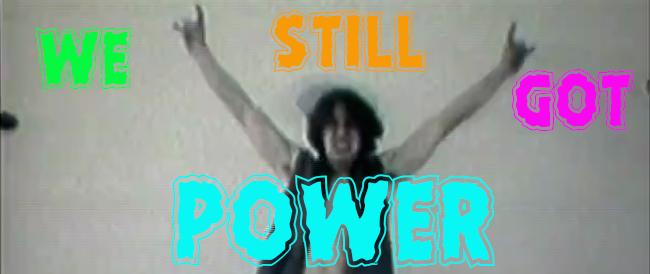 WE STILL GOT POWER: THE FILMS OF DAVE MARKEY
David Markey has sustained a truly independent career in the shadow of Hollywood and against the backdrop of corporate America for over three decades. As a filmmaker, photographer and musician, Markey brings together underground music, experimental cinema and contemporary culture in a direct and insightful way. His body of work is also historically significant, representing a unique record of the punk scene in Southern California throughout the 1980's and into the 1990's. His indefatigable DIY aesthetic continues to drive him, as well as inspire a new generation of filmmakers, musicians and artists, and Spectacle is proud to present a selection of his films, from his earliest shorts to the 2008 festival favorite THE REINACTORS.
---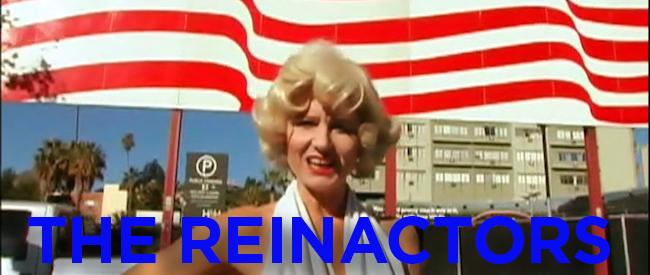 THE REINACTORS
Dir. Dave Markey, 2008.
USA. 96 min.
In English.
FRIDAY, JUNE 3 – 7:30 PM
TUESDAY, JUNE 7 – 10:00 PM
THURSDAY, JUNE 23 – 7:30 PM
A documentary feature about the exploits and misadventures of film character impersonators and celebrity look-a-likes on Hollywood Boulevard over the span of a year. Freddy Krueger works alongside Superman, Marilyn Monroe, Shrek, Lucy, Batman, and Borat. Competing Chewbacca's, Spidermen and Captain Jack Sparrow's vie for a spot on the limited real estate of The Walk Of Fame. These street characters have big dreams of breaking into the big-time, in the meantime they forge a living one-dollar at a time, posing for photos with tourists. These characters are literally right out of the movies, yet the unforeseen drama of the people underneath the make-up threatens to eclipse the bizarre array of Hollywood film icons they appropriate. Director David Markey says, "THE REINACTORS plays like a great-depression era Hollywood classic retold for the new millennium. It's also a film about the cutthroat nature backstage and behind the scenes of show business. An American Idol on crack, if you will."
---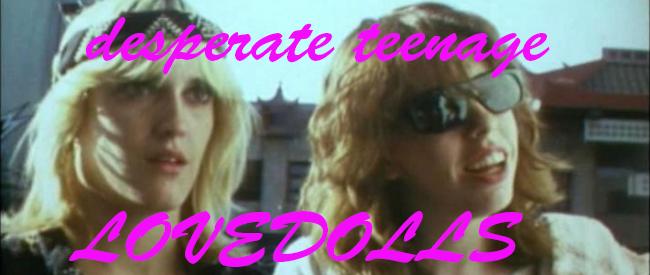 DESPERATE TEENAGE LOVEDOLLS
Dir. Dave Markey, 1984.
USA. 50 min.
In English.
FRIDAY, JUNE 10 – MIDNIGHT
TUESDAY, JUNE 21 – 10:00 PM
"In the way good punk music inspires you to form a band, David Markey's DESPERATE TEENAGE LOVEDOLLS makes it seem easy and fun to make your own movie." —L.A. Weekly
DESPERATE TEENAGE LOVEDOLLS was received as an instant cult classic when first released on the Los Angeles punk underground in 1984. Since then, the no budget super 8 film has gained international and aboveground praise. Bunny, Kitty, & Patch (Hilary Rubens, Jennifer Schwartz, & Janet Housden) are three teenage runaways who form the hottest all-girl band of all-time, The Lovedolls. Their meteoric rise to the top from a drug addled street life in Hollywood comes not without a price, thanks to sleazy rock manager, Johnny Tremaine (Steve McDonald). Rival all-girl gang The She Devils and their leader Tanya Hearst (Tracy Lea) have it in for our heroes, as do annoying mothers and psyche ward doctors. The film also features Jeff McDonald, Phil Newman, Vicki Peterson, Annette Zilinskas & Dez Cadena. Directed by David Markey, the saga is continued in the 1986 sequel LOVEDOLLS SUPERSTAR.
---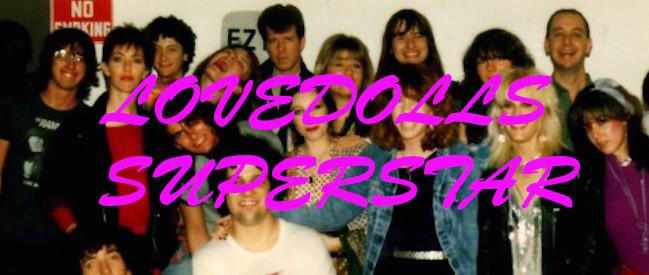 LOVEDOLLS SUPERSTAR
Dir. Dave Markey, 1986.
USA. 90 min.
In English.
SATURDAY, JUNE 11 – MIDNIGHT
SUNDAY, JUNE 19 – 7:30 PM
The 2004 restored Directors Cut of the 1986 sequel to DESPERATE TEENAGE LOVEDOLLS, LOVEDOLLS SUPERSTAR which features the return of the beloved all-girl band The Lovedolls from their untimely demise. Patch Kelley (Janet Housden) is now Patch Christ, the leader of a religious cult who rescues Kitty Karryall (Jennifer Schwartz) from a boozy, wasted life. They recruit Sunset Boulevard hooker Alexandria "Cheetah" Axethrasher (Kim Pilkington) to replace the murdered Bunny Tremelo (Hilary Rubens). Rainbow Tremaine (Steven McDonald), from the Freedom School in New Mexico ventures to Hollywood only to discover his twin brother Johnny committed suicide after taking The Lovedolls to the top. Tracy Lea also returns, portraying the mother of She Devils' slain leader Tanya Hearst, Patricia Ann Cloverfield. Meanwhile obsessed fanatic Carl Celery (Jeff McDonald) lives in his own world of Lovedoll worship, only to carry out an assassination of Brews Springstien (Jordan Schwartz). With special guest appearances by Vicki Peterson (Bangles), Jello Biafra (Dead Kennedys) & Sky Saxon (The Seeds). With major rocking by Redd Kross, Sonic Youth, Meat Puppets, Dead Kennedys, & more! You can't kill a Lovedoll, babe… because Superstars never die!
---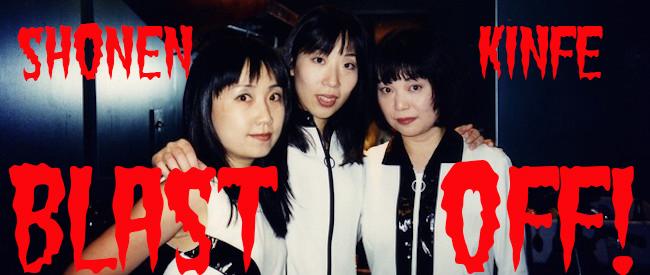 BLAST OFF!
Dir. Dave Markey, 1997.
USA. 90 min.
In English and Japanese.
WEDNESDAY, JUNE 1 – 10:00 PM
FRIDAY, JUNE 17 – 10:00 PM
WEDNESDAY, JUNE 22 – 7:30 PM
Travel the USA with Osaka Japan's beloved Shonen Knife, and see the sights through their eyes and hear the band at their best. Dave Markey hits the road with the band on their 1997 US tour and documents an amazing assortment of concerts, record in-stores, plus tons of behind the scenes footage. Join Naoko Yamano, her sister Atsuko Yamano, and Michie Nakatani on stage and off, performing "Explosion","Wind Your Spring", "E.S.P.", "Fruits & Vegetables", "Frogphobia", "Buddha's Face", "Lazybone" & more. Watch them win over American fans, and play to the biggest audiences of their career stateside .
---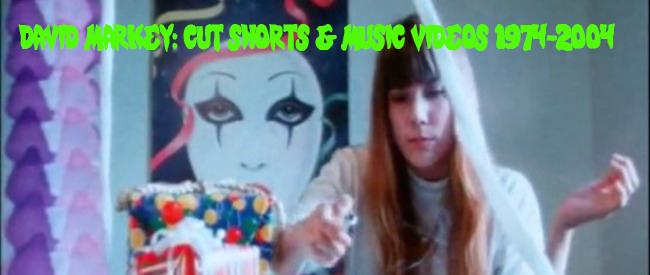 CUT SHORTS & MUSIC VIDEOS 1974–2004
Dir. Dave Markey, 1974–2004.
USA. Total running time: 90 min.
In English.
WEDNESDAY, JUNE 8 – 10:00 PM
SUNDAY, JUNE 26 – 5:00 PM
Thurston Moore, Kim Gordon, Jordan Schwartz, Jennifer Schwartz, & Sofia Coppola.
Music by Devo, Ciccone Youth, Sonic Youth, The Shaggs, The Posies, Eyes Adrift, Oddio Gasser, Algebra Suicide, & Abby Travis.
This collection represents a sampling of 30 years of work (and life) from Los Angeles native independent filmmaker David Markey. From his beginnings as a pre-teen experimental film auteur to his music videos for major labels, "Cut Shorts" displays Markey's unique and skewed view. From friends turned actors, to apartment buildings and alleyways turned backlot, a utilitarian surreal quality quickly surfaces. Certain masks, wigs, and actors appear throughout. The early work plays not unlike the music videos Markey would direct decades later (often shooting and editing himself.) Some are "Instant Films" conceived and shot within the same day. Others are warm-ups for feature films (DESPERATE TEENAGE LOVEDOLLS, LOVEDOLLS SUPERSTAR, and 1991 THE YEAR PUNK BROKE.)
Markey employs a frenetic documentary-style approach mixed with punk fiction on the dime (literally). Economic constrains don't deter Dave's creativity, but provide an aesthetic that weaves these 20 disparate pieces together. Fueled by the energy and brilliance of LA bands X, The Germs, Black Flag, Red Cross, and countless others, Markey feverishly produced these backyard films much like the Do-It-Yourself attitude found in punk zines and bands and a twisted sense of humor often at the expense of American Pop Culture.
---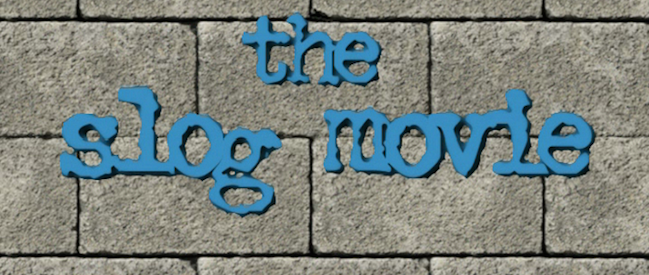 THE SLOG MOVIE
Dir. Dave Markey, 1982.
USA. 53 min.
In English.
with DINE-O-MITE
Dir. Dave Markey,1976–77.
USA, 5 min.
In English.
and MOVIE OF MOVIES
Dir. Dave Markey, 1978–79.
USA. 24 min.
In English.
SUNDAY, JUNE 5 – 7:30 PM
THURSDAY, JUNE 16 – 5:00 PM
WEDNESDAY, JUNE 22 – 10:00 PM
We Got Power Films presents David Markey's 1981/'82 homespun Super 8 documentation of the Los Angeles/Orange County early 80's hardcore punk scene. A unique look at an era, left of field even by it's peers The Decline Of Western Civilization and Another State Of Mind. Like a fanzine on film, THE SLOG MOVIE has an intimate fan/backstage/on-stage feel. Markey shot this film while he was editing We Got Power fanzine and playing drums in Sin 34. Interviews, incredible live performances, and humorous interludes with Circle One, Symbol 6, Wasted Youth, Red Cross, TSOL, The Cheifs, Sin 34, Fear, Circle Jerks, and Henry Rollins, Chuck Dukowski, Robo & Dez Cadena (Black Flag) . See glimpses of scenesters such as Pat Smear and DOA's Randy Rampage hanging out at Oki-Dogs; Jordan Schwartz as himself, Ted Nugent, & Nosferatu in a Black Flag skateboard commercial; gigs at the Whisky A Go-Go, Cuckoo's Nest, Bards Apollo, Club 88, and the Santa Monica Pier. The DVD includes a gig flyer gallery and a running commentary from David Markey, Circle Jerks' Keith Morris, the Minutemen's Mike Watt, and We Got Power's Jordan Schwartz. A history lesson from the So Cal early 80's hardcore underground. See the Los Angeles Hardcore scene explode, and in retrospect connect the dots from 1981 to 1991, THE YEAR PUNK BROKE.
---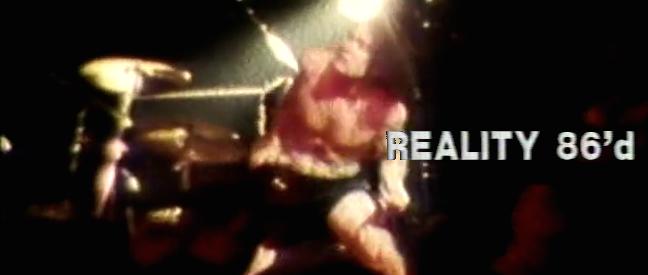 REALITY 86'D
Dir. Dave Markey, 1991.
USA. 63 min.
In English.
MONDAY, JUNE 6 – 10:00 PM
WEDNESDAY, JUNE 15 – 7:30 PM
FRIDAY, JUNE 24 – 7:30 PM

Three bands and crew (a combined total of 13 individuals), 2 Dodge Ram extended cab vans, one equipment truck, one PA system traverse the continental US for six months. A road documentary shot from the inside of the last Black Flag tour ever (the 1986 "In My Head" US tour.) Greg Ginn along with Henry Rollins, Cel Revulta, and Anthony Martinez comprise the final line up of the band. Featuring behind the scenes proceedings and live performances from Black Flag, Painted Willie, and Gone (Ginn's side project, then featuring Sim Cain and Andrew Weiss (later of the Rollins Band) . David Markey was along for the entire trip as the drummer / singer for Painted Willie (with Phil Newman & Vic Makauskas), documenting the six month tour with his Super-8 camera as it happened. Also features roadie Joe (Planet Joe) Cole, soundmen Davo Claasen and Dave "Ratman" Levine, and the tour manager who kept it all together, Mitch Bury. A crucial turning point in American underground rock. The end of the line for a trail blazing American band.