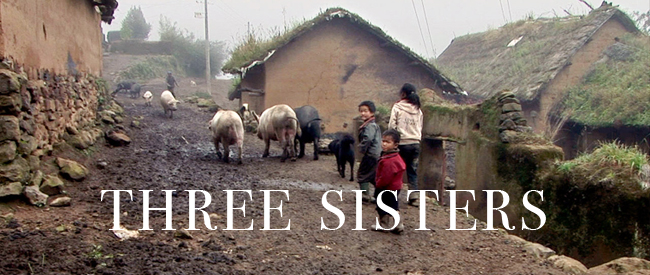 THREE SISTERS
Aka Sanzimei.
Dir. Wang Bing, 2012.
China. 153 min.
In Chinese with English subtitles.
WEDNESDAY, JUNE 8 – 7:00 PM
TUESDAY, JUNE 21 – 7:00 PM
SUNDAY, JUNE 26 – 7:30 PM
One of the most recognized Chinese independent filmmaker, Wang Bing has demonstrated a penchant for making unsually long and yet unfailingly captivating and critical documentaries (e.g. WEST OF THE TRACKS, CRUDE OIL, MAN WITH NO NAME). In THREE SISTERS, a work of pure direct cinema, Wang's camera follows the lives of Yingying (10), Zhenzhen (6), and Fenfen (4) in a rural village in Western China. Abandoned by their mother, the three young sisters live in extreme poverty and squalor alone as their father find work in a nearby city. With the patience like that of an ethnographer and the keen eyes of a seasoned artist for finding beauty and dignity even in the most destitute places, Wang Bing delivers a nuanced portrait of the poor and powerless in rural China as well as a harsh critique of the post-90s economic policies that left them behind.
THREE SISTERS is screening concurrently with the NYC theatrical premiere of Wang Bing's 2013 documentary, 'TIL MADNESS DO US PART (Feng Ai), at Anthology Film Archives.
Special thanks to Icarus Films.