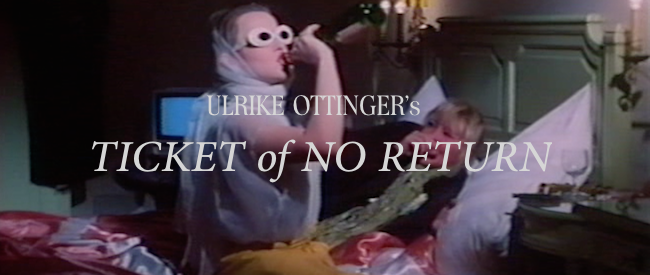 TICKET OF NO RETURN
Aka Bildnis einer Trinkerin. Aller jamais retour.
Dir. Ulrike Ottinger, 1979.
Germany. 108 min.
SATURDAY, JUNE 11 – 7:30 PM
SATURDAY, JUNE 18 – 7:30 PM
THURSDAY, JUNE 30 – 5:00 PM
One of the best known films from ever-prolific German auteur Ulrike Ottinger, TICKET OF NO RETURN is a topography of the booze-soaked streets of Berlin. Frequent collaborator Tabea Blumenschein stars as a silent stranger hiding out from her past via a one-way train trip to Germany, motivated by a singular passion for alcohol. Featuring Nina Hagen and an unforgettably unique sightseeing tour of the city of Berlin.