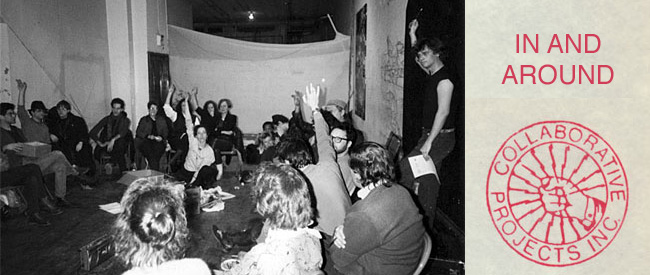 Organized by Laura Kenner and Rachel Valinsky
Spectacle is pleased to host this survey of film and video works generated in and around famed no-wave NYC artists' group Collaborative Projects, Inc., aka Colab. Organized by Laura Kenner and Rachel Valinsky, the series runs in conjunction with springtime programs at James Fuentes Gallery, ABC No Rio, The Lodge Gallery, and Cuchifritos Gallery + Project Space, commemorating Colab's 1980 exhibition/action The Real Estate Show.
The programs in this series include:
New Cinema Redux – Wed May 7 8PM
Text / Landscape / Object – Wed May 14 8PM
Girls Gone Wild – Sun May 18 7:30PM, Fri May 23 7:30 PM
Artists' Cable TV – Fri May 9, 10PM
"In and Around Collaborative Projects Inc." focuses on the tremendous output of film and video produced by a wide range of artists working within New York City's downtown alternative art scene in the late 1970s to mid 1980s. Loosely structured into four programs that seek to suggest the variety of styles and strategies distributed through cinema and cable television networks, the series presents work from over 50 artists working within, outside of, and around a hub of collective artistic activity better known as "Colab" (est. 1978). These screenings celebrate the low-budget, experimental grit of this brief span of underground filmmaking brought about by the availability of recording systems such as Super 8 film, Sony Portapak, and more importantly, the raw need to produce.
Showcasing an array of documentary and narrative film, poetic experiments, performance art videos, live programming, and independent news interventions, "In and Around" positions this filmic output as an intersecting and overlapping period of production that, despite all efforts, resists categorization. Rather, it reflects on the prolific conditions of the time, which encouraged an inclusive approach to independent and collaborative operations, recognized filmmaking as collective activity shaped though technology, and permitted an active engagement with the outside world.
---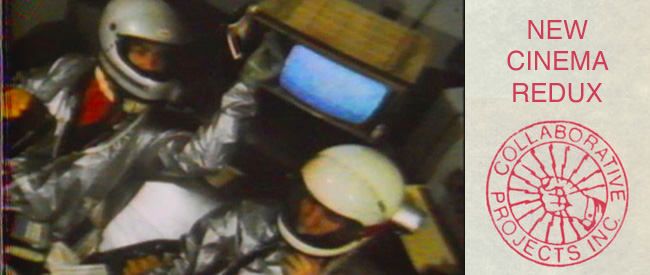 PROGRAM 1: NEW CINEMA REDUX

WEDNESDAY, MAY 7 – 8:00 PM

Special Guests TBA
"If we just made our own little movies, and showed our movies at so-called legit places, we would have disappeared in the general consensus of independent of avant-garde film. By creating the New Cinema and making movies in Super 8, and by showing them in rock clubs, we made the movies stand out." – Eric Mitchell
The New Cinema was a movie theater dedicated to screening a proliferation of low-budget, Super 8 narrative films emerging out of the downtown scene. Operating only for a brief period from 1978-1979, the project space provided numerous artists a way to showcase their work while announcing a new kind of cinema for a new kind of filmmaker. Founded by Eric Mitchell, Becky Johnston and James Nares, the New Cinema screened works at an astonishing rate matched only by the efficiency of simple moving picture technology and the creative drive of burgeoning downtown artists.
"New Cinema Redux" features three films originally shown and premiered at New Cinema during its short-lived existence at 12 St. Mark's Place: John Lurie's Men in Orbit (1979), Michael McClard's Motive (1979), and Eric Mitchell's Kidnapped (1978). All three of these films were shot on Super 8, transferred to and edited on video, and projected on an Advent screen at New Cinema. These films offer a glimpse at the rugged synthesis of downtown actors, artists, and no-wave musicians working in and around New York's underground punk scene in the late 1970s.
MEN IN ORBIT
Dir. John Lurie, 1979
USA, 40 min.
"The $500 budget prevented me from filming in space."
– John Lurie
A sci-fi povera film, with a DIY, expedient aesthetic, and shot on Super 8, Men in Orbit features Lurie and Eric Mitchell as tripped out, chain-smoking astronauts in a decrepit New York room (Lurie's apartment at the time) that has been transformed into a spacecraft. "Acting on LSD is not acting at all," commented Lurie, "is more the capturing of a weird event." With James Nares as cinematographer, the film achieves a visceral, weightless quality by floating the camera, constantly, above the scene. "Outer space" ambient noise fills the film – static pouring out of broken TVs and radios.
MOTIVE
Dir. Michael McClard, 1979
USA, 60 min.
Kathy Acker: Ahh, Michael, what was your motive in making Motive?
Michael McClard: That's really a terrible question Kathy.
– Interview in Bomb Magazine
First premiered at New Cinema in April 1979, Motive is a Super 8 feature film portraying a punk psycho-killer (Jimmy de Sana) as he plots to rig the Museum of Modern Art's men's room to electrocute random users. Produced by Michael McClard and Liza Béar.
KIDNAPPED
Dir. Eric Mitchell, 1978
USA, 62 min.
Eric Mitchell's Kidnapped (1978) follows a gang of chatty intellectual junkies/nightclubbing terrorists as they plot to abduct the real life owner of the Mudd Club, Steve Mass. Notably the first film screened at the New Cinema upon its opening, Kidnapped is a washed-out, cut up, no wave derivative of Andy Warhol's Vinyl that quickly became a staple in the theater's programming series.
"Kidnapped seems almost an homage to Vinyl, one of the few vintage Warhol's that's screen these days– but Mitchell's random compositions, on screen direction, and impoverished location shake the mothballs of the Factory aesthetic. Its actually witty when he stages a violently sadistic dance number to Devo's "Satisfaction," and the film's washed out, slightly warped images are well framed by the St. Mark's Place store front Eric Mitchell calls the New Cinema. The surrealists thought that all movie house should be afflicted with the same degree of decay as the films they showed. It's an equation that Kidnapped nearly balances."
– J . Hoberman, Village Voice, 1979
---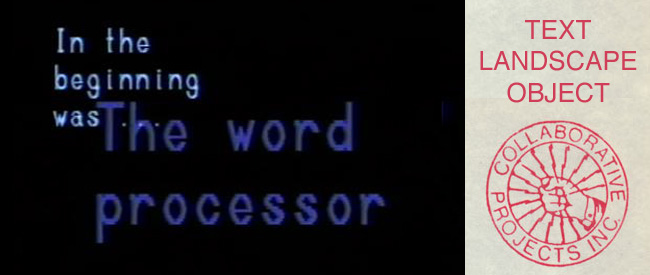 PROGRAM 2: TEXT / LANDSCAPE / OBJECT
WEDNESDAY, MAY 14 – 8:00 PM
Liza Béar, Andrea Callard, Coleen Fitzgibbon in attendance!
"Text / Landscape / Object" explores the poetic and personal short films of three distinct female filmmakers' works from the mid 70s to early 80s. Mining the relationships between image and text, landscape and object, Liza Béar, Coleen Fitzgibbon, and Andrea Callard each take a unique approach toward developing a highly personal idiom of the image in motion using both film and video. This program is roughly divided into three categories that often seep into one another: experiments in video poetics and communication (Béar) and examinations of found text and speech (Fitzgibbon); landscapes as real and imagined, dreamt and mirage-like (Béar and Fitzgibbon); and the relationship of everyday objects to bodies in space (Callard).
DICTIONARY
Dir. Coleen Fitzgibbon, 1975
USA, 4 min.
Filmed in several parts, Dictionary is a hyper-kinetic work, which runs through the R and the Un- sections of Webster's Dictionary, using a microfilm camera to photograph and preserve paper documents on a roll of 16mm film. Fitzgibbon contemplates: the yellow notebook and blade-less knife handle were missing when the blue car impacted the red car.
TIME (COVER TO COVER)
Dir. Coleen Fitzgibbon, 1975
USA, 9 min.
A schizophrenic look at the news: in Time, Fitzgibbon filmed, cover to cover, micro text film of the November 1974 issue of the US, English language monthly periodical, Time, overlaying rapid, constantly scrolling shots, with a muffled, cut-up voiceover soundtrack of Daniel Ellsberg interviewed by Tom Snyder on the Pentagon Papers.
EARTHGLOW
Dir. Liza Béar, 1983
USA, 8 min.
"In the beginning / Was the word processor." Liza Béar's Earthglow (1983) is a poetic film where words take the place of images to trace the artist/writer's inner monologue. Through changes in color, type, placement and movement of words within the frame (that foreshadowed digital fades, slides, and other transition techniques…). Béar's poetry, like a "Proustian sentence" takes the viewer/reader through warm Pacific suns, movie theaters, city streets (honking and street noise play in the background), recollections of a desert landscape, airplanes and deep sleep, always through the reflexive allusion to the process of writing. As "she strain[s] to remember her thoughts," a "story line or board" emerges. Electronic engineering by Bruce Tovsky.
"A city dweller attempting to write a poem about a desert trip is distracted by a recent argument. Earthglow, whose only images are words, uses character animation to convey the writer's internal dilemma through the shuttling of words across the screen, as well as color changes and ambient sound. Using an analogue character and switcher in a live edit, parts of the text are keyed in real-time and others are pre-recorded. On the score, an off-air burst from a Billie Holiday blues song (whose lyrics infiltrate the words of the poem) disrupts the strains of César Franck's Violin Sonata. Earthglow is a film about the writing state of mind; past and present perceptions are reconciled in the act of writing."
– Liza Béar
FOUND FILM FLASHES
Dir. Coleen Fitzgibbon, 1973
USA, 3 min.
Fitzgibbon's Found Film Flashes crafts an elliptical evocation of desire and sexual spectacle out of found footage. Strewn with fragments of black and white shots, Found Film Flashes is a collage of recurring speech fragments, where sound and image are particularly disjunctive. Voice over provides a commentary on an audiotape, while an obsessive, repetitious voice returns to the phrase, "It's about tonight, it's about tonight."
TRIP TO CAROLEE
Dir. Coleen Fitzgibbon, 1974
USA, 4 min.
Trip to Carolee runs quickly through still images of things passing: an apartment, a typewriter, a bridge, the road, as Marjorie Keller and Coleen Fitzgibbon drive to Carolee Schneeman's. Fitzgibbon paints an intimate portrait of the travel between the city and the country and back, tracing her surroundings in accelerated, yet attentive ways.
LOST OASIS
Dir. Liza Béar, 1982
USA, 10 min.
Shot in 1982 in a bizarre Californian landscape, Lost Oasis, is an ambulating narrative with the desert at its core. This short film takes on the airs of a mirage as a loosely structured and evocative drama unfolds. Lost Oasis sets up a strange parallel reality where time moves slowly through the desert, in search of a lost oasis. Starring Michael McClard.
FLORA FUNERA (FOR BATTERY PARK CITY)
Dir. Andrea Callard, 1976
USA, 4 min.
In Flora Funera (for Battery Park City), Callard explores intimate games and noises as she repeatedly tosses rocks against exposed stakes of rebar.
LOST SHOE BLUES
Dir. Andrea Callard, 1976
USA, 4 min.
In Lost Shoe Blues, Callard ventures outside her studio to survey the clover of Battery Park while singing a round with herself on the film's soundtrack.
FRAGMENTS OF A SELF PORTRAIT #1
Dir. Andrea Callard, 1976
USA, 2 min.
Callard clomps up flight after flight of stairs with giant white casts on her feet. Each pounding step echoes. When she finally removes the casts, they splinter and collapse and her bare feet emerge as though from cocoons. She enters her studio, abandoning the "fragments," and inviting the viewer to leave behind the carapaces she wears to protect and hide the self inside.
DRAWERS
Dir. Andrea Callard, 1974
USA, 12 min.
In Drawers, Callard playfully pulls the drawers of a white chest open, repeatedly hoisting a string of clothes and fabric tied together in a Rapunzel-like fashion out of the drawers until all have been emptied.
---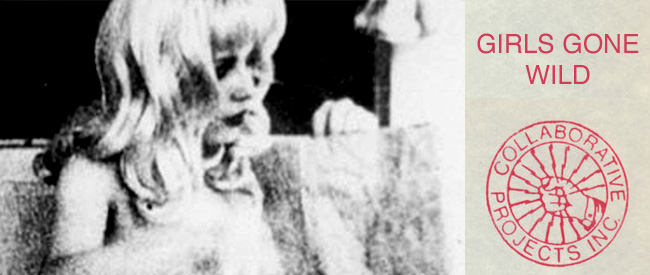 PROGRAM 3: GIRLS GONE WILD
SUNDAY, MAY 18 – 7:30 PM – Cara Perlman and Cave Girls in attendance!
FRIDAY, MAY 23 – 7:30 PM
"Girls Gone Wild" showcases a series of films that criticize stereotypical female roles through a literal embodiment of a motley crew of characters– Barbie dolls, Amazonian women, strippers, Neanderthals, and dominatrices. Featuring over 20 female filmmakers—and one brave man—these artists write their own definition of post-feminist practices with the crude sincerity of DIY techniques. Including: Tina L'Hotsky's Barbie (1977) and Snakewoman (1977), Cara Perlman and Jane Sherry's Topless (1979), Scott and Beth B's G-man (1978), and the prehistoric collaboration Cave Girls (1981).
BARBIE
Dir. Tina L'Hotsky, 1977
USA, 15 min.
Writer, filmmaker, and downtown New York club scene celebrity Tina L'Hotsky stars and directs in Barbie, a surrealistic portrait of the artist as a plastic doll. Coming home from a shopping trip, Barbie takes her groceries out of a bag and unwraps a Barbie doll. "She fries up the Barbie doll and eats it." L'Hotsky stated, "The end." Filmed in slow motion and set to a hypnotic soundtrack, Barbie is a slice of dark comedy that pushes the consumption of representation to the point of cannibalism.
SNAKEWOMAN
Dir. Tina L'Hotsky, 1977
USA, 30 min.
Snakewoman stars downtown legend Patti Astor as the woman who must conquer the wild after her plane crashes into the jungles of Upper Volta. Shot in a satirical 1940's styled adventure story with Marvin Foster, Eric Mitchell and David McDermott as the natives. "We shot Snakewoman entirely on location in Central Park for five hundred dollars" Astor said, "it's our homage to the 40's jungle movies."
TOPLESS
Dir. Cara Perlman, Jane Sherry, 1979
USA, 16 min.
Topless, a collaborative film by then roommates Cara Perlman and Jane Sherry, is a faux documentary tracing Jane's activities as a topless dancer in a New York City nightclub–where she was in fact working at the time. At once a humorous take on the subject and a serious attempt to examine the economy of flesh, Topless delves into the power play that defines the sex economy and its relation to the culture more widely. Combining fact and fiction through the mixing of real actors and cardboard cutouts of clientele, the film is a glimpse into the endless string of anonymous encounters and cash flow in the exotic dancing world. Shot in Super 8mm film, Topless is a bold, rebellious look at the limits of acceptable behavior, with a raw aesthetic, derivative of porn, and a soundtrack which includes the song, "Push-Push-in-the-Bush" and electronic video game noises.
G-MAN
Dir. Scott and Beth B, 1978
USA, 28 min.
Scott and Beth B.'s G-Man (1978) combines the real violence of global terrorism with the imagined violence of sadomasochism to produce an interwoven narrative of dependency and control. Retrospectively characteristic of the no-wave film aesthetics of its time, G-Man is part documentary/part narrative filmmaking with jolting cut-ups, a gritty mechanical soundtrack and shaky camera movements. The film follows anti-hero Max Karl (Bill Rice) as he splits his time between being commanding officer of the New York Arsons Explosive Squad and being commanded by a dominatrix at a whorehouse. Karl tentatively outlines his requirements in a contractual agreement between the Superior and the sub, stressing his need for "somebody that's really powerful, somebody that can dominate me. I'm in a situation where I tell someone what to do…and I want somebody to… (trails off)" Soon he is stripped naked in a wig and being humiliated on all fours. Between scripted segments, the B's insert photographic stills of homemade bombs and videos of explosions, zooming out of the image just enough to reveal its projection on a television screen–shifting the focus from what is being displayed to how it is being mediated and distributed. "One thing that we were trying to get at," Scott B. commented, "was the idea that essentially control is violence. Whether it's enforced with violence or with the threat of violence, that's the nature of power."
CAVE GIRLS
Dir. various, 1981
USA, 32 min.
"Tonight we are proud to present to you for the first time on television, evidence which will leave no doubt of the existence of Cave Girls."
– Opening Monologue, Cave Girls (1981)
Originally filmed for the "Potato Wolf" cable television series, Cave Girls (1981) is a collaborative work that seeks to establish a relationship between pre-historic women and the mediated image. Ghostly, hypnotic and blurred video of a tech-savvy tribe of women are interspersed with shots of crewmembers during the film's production, fuzzy SoHo hang sessions, mechanical apparatuses, and scenes from the overgrown backyard of ABC No Rio. Featuring music from Bush Tetras and Y-Pants, with artists Cara Brownell, Ellen Cooper, Ilona Granet, Marnie Greenholz, Julie Harrison, Becky Howland, Virge Piersol, Judy Ross, Bebe Smith, Kiki Smith, Teri Slotkin, Sophie VDT.
---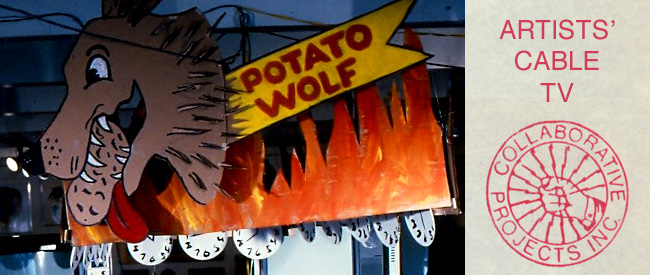 PROGRAM 4: ARTISTS' CABLE TV

FRIDAY, MAY 9 – 10:00 PM
Early on in its founding, Collaborative Projects' broad-based group produced weekly public-access cable TV series – or "artists' cable television" – in an effort to provide an alternative to mainstream media news programming. This screening showcases samplers and selections from just a few of these projects, including All Color News (1977-78), Potato Wolf (1978-84), and Communications Update, produced by the Center for New Art Activities, Inc (1979-1992, directed by Liza Béar and Michael McClard). Presenting a dizzying array of situational comedies, news, commercials, satirical skits, television allegories, "Artist's Cable TV" celebrates these programs' varied approaches to live theater, improvised events, and pre-recorded videotapes.
ALL COLOR NEWS SAMPLER
Dir. Colab/various, 1977
USA, 22 min.
"I just want to let you know that I was turning the channel changer and I came across your show a short while ago, and it is, like, the weirdest fucking show I've seen, like, recently."
"Well is that a compliment or an insult?"
"Well ya know it's both, like, its uh… I mean technically the worst thing I've ever seen but yet that's really kind of interesting, ya know it's an interesting change."
– Caller on "All Color News," 1978
In May 1977, members of the soon-to-be incorporated Collaborative Projects organized and produced All Color News, a video cut-up and radical alternative to mainstream news channels. The group aimed to present a wide range of gritty and provocative events habitually ignored or censored by public broadcasters—seeking stories on the streets of New York, conducting interviews with public officials and offering counter-positions to sensationalized topics. "Ordinary situations and events," reads one proposal, "by virtue of their commonness, tend to have greater social relevance than isolated, extraordinary occurrences. We make no pretense of objectivity." This particular sampler features John Ahearn's documentary footage of a crowded subway, Tom Otterness' gross-out exposé of health violations in a Chinatown butcher shop ("Is that a rat right there?" "Yeah, these are the trays where they keep the meat…") and Scott and Beth B.'s interview with an Arsons and Explosive Squad Inspector—a figure who would later be the inspiration for the lead character in the pair's no-wave classic G-Man. In programming a dizzying array of peripheral events where there is something for everyone, All Color News is an overlooked time capsule of an earlier New York that received little or no coverage.
COMMUNICATIONS UPDATE SAMPLER (selections below)
Dir. Various, 1982
USA
"The immediacy of a weekly outlet provides a good way of sharing an on-going investigation with those lucky enough to live in the right neighborhoods; it allows for an active role in the making of information as artists and as citizens."
– Liza Bèar, January 1983. Press release.
Running continuously from 1979 to 1992, Communications Update (later called Cast Iron TV) was a weekly artist public access series coordinated by Liza Bèar and produced by Center for New Art Activities, Inc. Spawning from an interest in both local and international communication politics, C-Update/Cast Iron TV ran parallel to and beyond All Color News and Potato Wolf, featuring artists and filmmakers collaborating across all three series. Organized by Liza Bèar for the 1982 Spring Series, this sampler includes: Ron Morgan and Milli Iatrou's The Reverend Deacon B. Peachy, Eric Mitchell's A Matter of Facts, Robert Burden and Ditelio Cepeda's Crime Tales, and Mark Magill's Lighter Than Air.
THE REVEREND DEACON B. PEACHY (Ron Morgan and Milli Iatrou), 4 min.
An eight sermon televangelist satire chronicling the self-conscious Southern Reverend's efforts to establish an electronic pulpit on New York TV.
"Does video destroy the preacher? Does the preacher destroy video? Do you want to buy the Brooklyn Bridge? Form-fiends beware—this is not for you." (Soho Weekly News, 1982)
A MATTER OF FACTS (Eric Mitchell with Squat Theater), 18 min.
Starting with a scene from Squat Theatre's "Mr Dead and Mrs Free" shot in their storefront theatre on West 23rd Street, Chelsea, New York, "A Matter of Facts" draws a parallel narrative which follows the characters from the theatre into real life.
CRIME TALES (Robert Burden/Dictelio Cepeda), 11 min.
On location in Union Square, New York; hard facts and hard humor about a hard way of life. Music by E.J. Rodriguez.
LIGHTER THAN AIR (Mark Magill), 14 min. (excerpt)
A scientific comedy on helium, buoyancy, nuclear fusion and lighter than air travel.
POTATO WOLF (selections below)
Dir. Colab/various, 1978-84
USA
Potato Wolf was a live, weekly half-hour public access cable television show on Manhattan Cable Channel C, produced by Collaborative Projects ("Colab"). Videos were originally created on now obsolete formats such as Sony Portapak, Super 8mm film, or ¾" U-Matic in the live cable studios of ETC (now Manhattan Neighborhood Network) and also at Young Filmmakers. Active from 1979 to 1984, Potato Wolf presented a variety of programs ("The Human Commodity," "Anybody's Show," "News News," "Nightmare Theater," to name a few), in which Colab members would participate, improvising with acting, set design, costumes, music, etc.
RAPTURES OF THE DEEP, 21 min.
"Live from outer space comes an image of the earth as it truly lives: an oceanic orb." With Alan Moore, Virginia Persol, Peter Fend, Kiki Smith, Ellen Cooper, Judy Ross, Jim Sutcliffe, Mitch Corber, Ilona Granet, Bobby G, Mindy Stevenson, Christy Rupp, Carol Parkinson, Robert Klein, Terry Mohre, and Peter Mohnnig
"Sizzling television. Another attempt at RAW FOCUS"
NEWS NEWS, 10 min.
Concept by Coleen Fitzgibbon; sound by Julie Harrison; stage manager: Cara Brownell. With Mike Robinson, Peter Fend, Taro Suzuki, Babs Egan, Jim Sutcliffe, and others.
NIGHTMARE THEATER, 7 min.
"Call in your nightmare."Directed by George Shifini; Produced by Alan Moore; Crew: Mary McFerran, Mitch Corber, Maria Thompson, Christy Rupp, Dan Asher, Julie Harrison, Tim Burns, Mindy Stevenson & Brian Piersol; music by Carol Parkinson; Cast: Bradley Eros, Nancy Girl, Peter Cramer, Sophie Viel, Lee Gordon, Jim Sutcliffe, Marcel Fieva, Maria Thompson, Sally White & Albert Dimartino