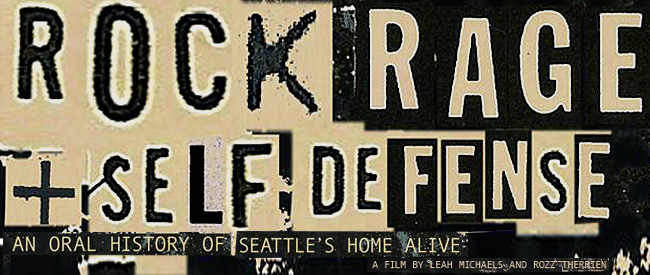 ROCK, RAGE & SELF DEFENSE: AN ORAL HISTORY OF SEATTLE'S HOME ALIVE
Dir. Leah Michaels and Rozz Therrien, 2013
USA, 60 min.
MONDAY, MAY 12 – 7:30 PM
Filmmakers Leah Michaels and Rozz Therrien in attendance! This screening will be followed by a Q&A with the filmmakers and a panel with local writers, artists and activists Rebecca Andruszka, Laina Dawes, Mikki Halpin and Tracy Hobson, moderated by the filmmakers.

Screenings also on:
FRIDAY, MAY 23 – 10:00 PM
MONDAY, MAY 26 – 8:00 PM

Special thanks to Mikki Halpin.
With no background in filmmaking but wholly inspired to share the story of a grassroots, self-defense collective called Home Alive, Leah Michaels and Rozz Therrien fund-raised about $10,000 to make the documentary ROCK, RAGE & SELF DEFENSE: AN ORAL HISTORY OF SEATTLE'S HOME ALIVE. While students at the University of Washington in a class called "Making Scenes, Building Communities: Girls and Boys Play Indie-Rock," Therrien and Michaels were assigned to build oral histories on two women, Cristien Storm and Zoe Abigail Bermet, founding members of Home Alive. While researching for their projects, they found there was almost no background information on Home Alive, except that it was formed in the wake of Mia Zapata's murder.
Therrien: It was just "this woman was murdered and some of her friends got together." There was no sense on how the community responded outside of her friends, and how it felt during that time. This is what we got when we did a general Google search and through Wikipedia. There was nothing about the theory or how they approached self-defense.
Michaels: There was no real information out there so when we had these interviews, both women were incredibly amazing and honest in their personal histories and about Home Alive. I think that both of us were both shocked and inspired and also a bit confused as to how we both didn't know about it. We were like, "How is this not a huge thing? How did people not really know about this at all?"*
In the aftermath of the brutal rape and murder of Mia Zapata, soulful lead singer of popular punk rock band The Gits, a group of Zapata's friends with other women in the Seattle arts and music community formed Home Alive, a collective turned non-profit that provided free or low-cost self defense classes. Home Alive was originally formed as a direct response to what happened to Zapata and an outlet for the grief, fear and rage of the people close to her. For the larger community, the collective served as an empowering and politicizing support network and a practical way to increase a sense of safety for women in the scene.
People shared stories and fears of stranger assault, but just as importantly, about other forms of violence as well. Childhood sexual abuse. Date rape. Intimate partner violence. Street harassment. It soon became evident that all these abuses were connected. The talk turned to ways to keep themselves and their communities safe.
The women tried out the self defense classes they could find locally, and found them lacking. First, they were expensive; second, they offered restrictive rules that the women experienced as unhelpful and unrealistic. For musicians and artists, for people employed as bartenders or sex workers, for those without safe and reliable housing, it wasn't useful to be told to dress conservatively and never walk alone at night. They realized that if they wanted relevant, affordable self defense training, they'd have to create it themselves. (From Home Alive's website)
Though they dissolved as a non-profit in 2010 due to financial ups-and-downs, Home Alive continues to operate once again as a volunteer collective, providing classes at high schools and various organizations. They also provide their entire curriculum through their website.
---
REBECCA ANDRUSZKA is Chair of the board of directors of RightRides for Women's Safety, which was founded 10 years ago by two women who decided to offer safe rides in direct response to assaults on women walking home by themselves late at night in northern Brooklyn. Currently on hiatus, RightRides is in strategic planning mode and seeking community feedback.
Rebecca is currently in a senior development position at a national advocacy organization, an active Activist Councilmember at Planned Parenthood of NYC Action Fund, and a regular volunteer for other local social justice organizations. She also authors monthly columns at The Daily Muse and ProfessionalGal about working in the non-profit sector.
---
LAINA DAWES is the author of What Are You Doing Here? A Black Woman's Life and Liberation in Heavy Metal (Bazillion Points Books, 2012). A music and cultural critic and concert photographer, her writings and photography can be found in various print and online publications such as Wondering Sound, Noisey, Flavorwire, MTV Iggy, NPR, The Root, The Wire UK, Bitch and Metal Edge magazine. She also runs the blog Writing is Fighting and is a contributing editor for Blogher.com's Race & Ethnicity section.
An accomplished public speaker, she has been a guest lecturer at colleges and universities and spoken at music and academic conferences in both the United States and Canada. Laina is currently a graduate student in the Liberal Studies department at the New School for Social Research in New York City.
---
MIKKI HALPIN is a writer, zine maker, and activist who supports independent feminist filmmaking. Halpin is the author of It's Your World – If You Don't Like It, Change It: Activism for Teenagers and The Geek Handbook. Halpin writes mainly on culture, pop culture, and politics and has contributed articles to numerous publications including Teen Vogue, Glamour and Wired. She is currently working on a new edition of The SCUM Manifesto by Valerie Solanas with The Feminist Press. More information is available at her website: http://mikkipedia.net/
---
TRACY HOBSON is the Executive Director of the Center for Anti-Violence Education. Ms. Hobson joined CAE as Board Co-chair in 2004, and stepped into her current role as Executive Director in 2005. In 2009, Ms. Hobson received a commendation from the Brooklyn Borough President in honor of Pride Month, for her leadership of CAE and the organization's vital role in Brooklyn's vast LGBT community. In the same year, she was also honored by LAMBDA Independent Democrats for contributions to Brooklyn's LGBT community. In 2012 Tracy received a commendation from NYC Comptroller John C. Liu for bringing change to the lives of New Yorkers affected by violence.
Previously, as Assistant Vice President within Diversity & Inclusion at Credit Suisse, Tracy created Employee Networks for women, people of color, working parents, and LGBT individuals. Other key accomplishments include adding sexual orientation and gender identity to the nondiscrimination policy, and providing domestic partner benefits to all employees globally. Tracy is a graduate of Smith College. She has also completed the Middle Management Program at Columbia Business School's Institute for Not-For-Profit Management. At CAE, Tracy has trained in goju karate for fifteen years and in tai chi for five years.
---
ABOUT THE FILMMAKERS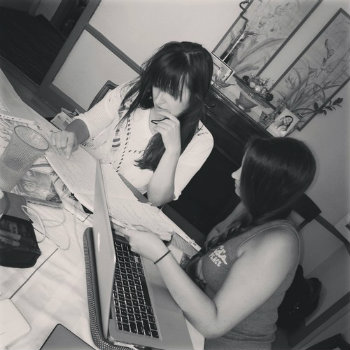 LEAH MICHAELS is a graduate of the University of Washington where she received her B.A. in History. Now based in Baltimore, Michaels has been working on completing her first film with co-creator Rozz Therrien. Michaels hopes the film will honor the story of Home Alive, and inspire the use of art with community action as a means to counter the culture of violence.
ROZZ THERRIEN is a recent graduate from the University of Washington where she majored in American Ethnic Studies. Now based in Boise, she has spent the past two years working on her first film with co-creator Leah Michaels. As the film reaches completion, Therrien hopes the film's message of community organizing will inspire a stronger sense of social responsibility. Therrien looks forward to exploring other avenues of D.I.Y. filmmaking and combining her passions of travel and film.
http://homealivedocumentary.tumblr.com/
ROCK, RAGE & SELF DEFENSE premiered in October of last year at the Musicians for the Equal Opportunities for Women (MEOW) Conference in Austin, Texas, and Spectacle is very excited to bring it to Brooklyn!
*Excerpt from an interview with Laina Dawes in Bitch Magazine. Read it here.