Struggling with post-G1 Climax depression? Is All In just not enough wrestling content for you? Need your fix of lariats, power bombs and suplexes? This September Spectacle brings a healthy dose of both puroresu and American heavyweight action in the form of three behind-the-curtain pro-wrestling documentaries.
---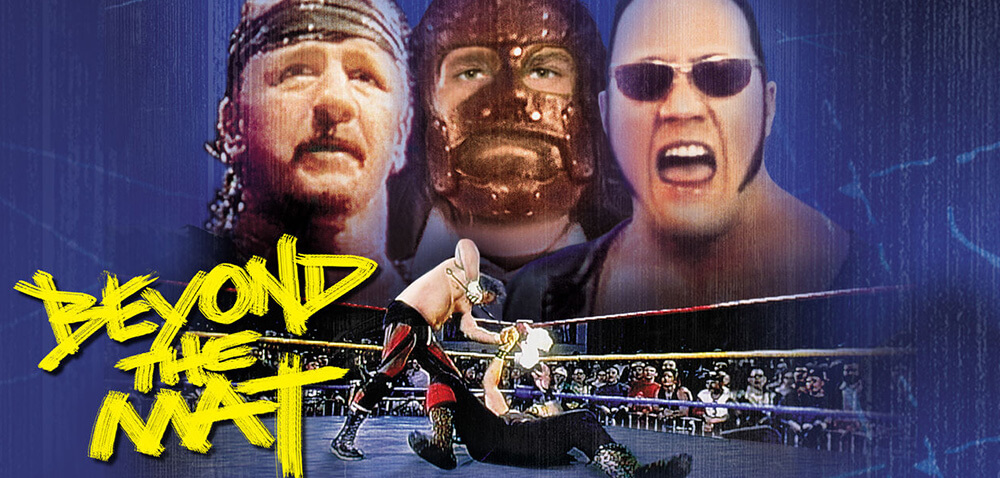 BEYOND THE MAT: Unrated Director's Cut
Dir. Barry Blaustein, 2004
USA. 108 min
FRIDAY, SEPTEMBER 14 – 8:00 PM (DIRECTOR Q and A!)

FB EVENT


FRIDAY, SEPTEMBER 14 – MIDNIGHT
MONDAY, SEPTEMBER 17 – 7:30 PM
TUESDAY, SEPTEMBER 25 – 7:30 PM
The film that Vince McMahon didn't want you to see. Possibly the most notorious documentary about professional wrestling ever made, not only for it's shocking content, but also the shockwaves it sent through the wrestling industry. Barry Blaustein (COMING TO AMERICA, THE NUTTY PROFESSOR) investigates his childhood love by getting unprecedented backstage access to an array of American wrestling promotions from the smallest independent outfits to the industry leading World Wrestling Federation, at the height of its "Attitude Era". Filmed over three years on the road, Blaustein follows multiple wrestlers at various points in their careers, from the burgeoning talents in local promotions hoping for try-outs, to those at the ends of their careers wrestling retirement matches as they deal with injuries, chronic pain, family issues, and aging out of a young man's game. Showing that while in the ring they appear as violent mad men, outside the squared circle they are kind, friendly and at points surprisingly normal. 
In this film you will see: Droz puke on command, Jake the Snake Roberts smoke crack in a hotel room, the ultra-violent New Jack audition at a Hollywood casting agent, Paul Heyman run an ECW pay-per-view from his mother's basement, and a gut wrenching scene showing Mick Foley's family scream in horror as he his repeatedly beaten over the head with a steel chair by a babyface (in terms of age, you smark) Dwayne "The Rock" Johnson with his hands cuffed behind his back—Foley then rewatches the footage of his grieving wife and two young children and takes stock in what it means to be both a good entertainer and a good father, and much much more!
---


FAKE IT SO REAL
dir. Robert Greene, 2012
USA, 94 min.
TUESDAY, SEPTEMBER 4 – 10 PM (Q AND A WITH DIRECTOR!)
SATURDAY, SEPTEMBER 8 – 10 PM
THURSDAY, SEPTEMBER 13 – 7:30 PM
MONDAY, SEPTEMBER 17 – 10 PM
SUNDAY, SEPTEMBER 30 – 7:30 PM
A total immersion in the world of bottom-of-the-barrel independent wrestling, FAKE IT SO REAL looks at the personalities involved with the Millennium Wrestling Federation (MWF) in Lincolnton, North Carolina. Greene joins the group over the course of a week as they prepare for a big show, highlighting both their in-ring abilities as well as the life of the working class in the South. With a non-existant budget, it's clear that like any DIY subculture, they are doing this purely because they love it.
Director Robert Greene will join us for a special event screening and Q&A on September 4th while he is in town for the opening of his latest feature, BISBEE '17, showing at Film Forum the 5–8th.
---


GAEA GIRLS
Dir. Kim Longinotto and Jano Williams, 2000
England/Japan.106 min
In Japanese with English subtitles.
SUNDAY, SEPTEMBER 2 – 5 PM
SATURDAY, SEPTEMBER 8 – 7:30 PM
THURSDAY, SEPTEMBER 20 – 10 PM
TUESDAY, SEPTEMBER 25 – 10 PM
Get your streamers ready.
Whether or not you're a fan of professional wrestling, GAEA GIRLS is a compelling look at the world of women's wrestling in Japan and the grueling training program that prospective performers must go through to break into the industry. The training, while discomforting to watch, makes sense when you see it in the context of what they are trying to do in the ring. Unlike American women's wrestling from the same time period, the Japanese women wrestle brutal fast paced matches with stiff strikes, kicks to the head, and nauseating headbutts
The film highlights the trainee Takuechi who receives the brunt of the ritual hazing and humiliation. Not for the faint of heart, the level of abuse Takuechi endures is so intense and cruel that just watching it makes other trainees give up, quit, and even run away. Can she do it? Will she make her profession debut and become on of the chosen few? Or will she succumb to the pressure and give up like so many others?