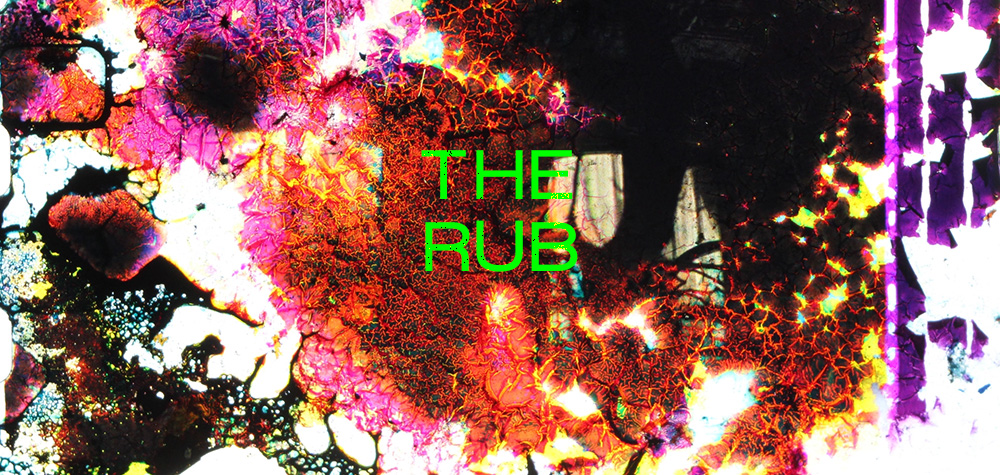 THE RUB
Dir. Péter Lichter & Bori Máté, 2018
Hungary, 60 min
In Hungarian with English subtitles
TUESDAY, SEPTEMBER 11 – 7:30 PM (DIRECTOR APPEARANCE!)

FB EVENT


WEDNESDAY, SEPTEMBER 12 – 10 PM (DIRECTOR APPEARANCE!)

FB EVENT
A flash, a glimmer, a familiar face glimpsed for a moment before being consumed by blight. A voice that stumbles through its lines, uncertain, ruminant. An audio-visual incantation, a mesmerism of projected light. A story familiar yet startling with each new-formed image.
THE RUB is Hungarian experimental filmmaker Péter Lichter's second feature, here in collaboration with Bori Máté, a kinetic reimagining of Hamlet as psychological collage. Following the landscapes of desolation Lichter explored in last year's post-apocalyptic FROZEN MAY, which played at Spectacle last October, here he returns to the found-footage sources of his earlier short films, while rapturously pushing the format as far as possible in all directions: here celluloid is destroyed, chemical washed, painted, overlaid, juxtaposed, and manipulated to its furthest visual possibilities.
The conceit may most obviously be that we are seeing Hamlet's inner world as he mulls over his existential soliloquies. But we may also find that we are diving into the unsounded depths of the cinematic collective unconscious, into the fragmented psyche of the recorded image itself. Even in through immaterial conceptions, and Hamlet's fleeting existence, the sheer materiality of film and video prevail, live on under duress and fragmentation. THE RUB is an elegant, ecstatic choreography of the bare electro-photo-chemical elements of memory, a self-reflection on form, and an almost tactile immersion in a classic story rewritten.
"Inner visions of the evolution and revolution of cinema. Péter Lichter and Bori Máté's experimental "The Rub" summons Shakespeare's "Hamlet", rubbing profound words against filmic material. Strips of celluloid distort popular images and dance around dismal digital views of empty cinemas – a somnambulistic film brimming with resistance."
–Berlin Critics' Week 2018