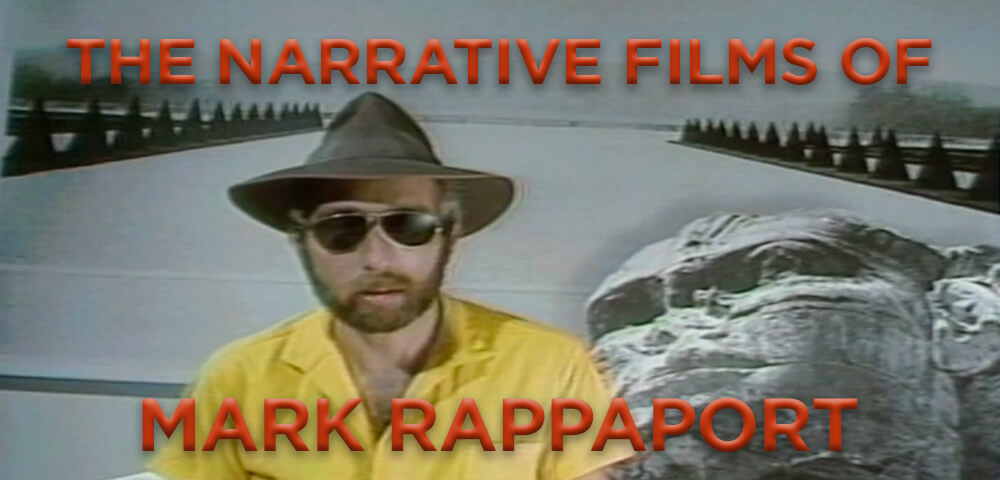 While often recognized for pioneering the video essay in the 1990s, the scope of Mark Rapport's film and video work is significantly more wide-ranging and amorphous than any critical superlative could ever let on. With a 40+ year long career that includes a feature length period musical, more than a dozen short-form video essays, an autobiographical TV special, and a jumbled up blue movie – Rapport's oeuvre can often feel as hard to define as the plot of one of his films.
This September and October catch up on a sampling of his eclectic output – his complete narrative features along with a few key narrative shorts. Starting in 1970s New York alongside such luminaries of the American underground cinema like Yvonne Rainer and Jonas Mekas, Rappaport quickly developed his voice through a string of micro-budget features shot primarily within the confines of his Soho loft. Conjuring an exhilarating body of work that can feel equal parts familiar and belonging to a world of its own, these films feature plots that turn Hollywood cliche into alienating mysteries; corny dialogue loaded with unexpected emotional and philosophical weight; staid blocking reminiscent of classical painting; and unreliable voice-over narrators speaking in droll monotones. October is Part 2 of this series, featuring THE SCENIC ROUTE, IMPOSTERS, and CHAIN LETTERS.
---
PART II: OCTOBER 2018
---


THE SCENIC ROUTE
Dir. Mark Rappaport, 1978
United States, 76 min.
In English
TUESDAY, OCTOBER 2ND – 7:30 PM
MONDAY, OCTOBER 8TH – 7:30 PM
THURSDAY, OCTOBER 18TH – 10:00 PM

"I wouldn't even tell you a lie, much less the truth."
Estelle (Rappaport regular Randy Danson) spends most of her time cruising for strangers and chancing upon murder victims in public places (yet somehow none of them are related to the double-barrel shotgun killer we keep hearing about). She gets involved with a man named Paul, but leaves him once her sister, Lena, returns home from the insane asylum (Lena killed a former boyfriend of Estelle). Once Lena starts bringing men to the house it isn't long before Lena brings Paul over and a love triangle develops.
Like the ever-changing array of wallpaper in Estelle's apartment (gold stars against American-flag blue, a 16th century painting, a blown up photograph of Lena and Paul kissing), THE SCENIC ROUTE is a meld of styles and forms that never quite settles into any one direction across its 75 minute runtime. Self-consciously staid framing, recurring references to the orpheus myth through painting and opera, and repetitive unreliable voice-over are just a few of the devices Rappaport uses to capture the romantic malaise that haunts the characters.
Mark Rappaport on THE SCENIC ROUTE:
"Two sisters. And the man who is caught between them. Love, jealousy and revenge. All the standards components of melodrama – but a very dry melodrama. Expectations are thwarted and rechanneled. Instead of explanations and motivations, visual counterparts are offered. The film slides back and forth between passion and an irony which redirects it but doesn't dilute it. A film about myths and mythmaking, about the Madame Bovary in each of us, about delusions and romance in a fragile world where violence erupts randomly and unexpectedly. The film was made very cheaply in and around New York where violence is a way of life and everyone always talks of going away."
SCREENING WITH:
POSTCARDS
Dir. Mark Rappaport, 1990
United States, 25 min.
In English
Set against kitschy green-screened images taken from the backs of postcards, Rappaport's first experiment with digital video shows the director taking his fascination with artifice and canned emotion into new aesthetic dimensions to tell a story of two lovers separated by the American highway system.
---


IMPOSTERS
Dir. Mark Rappaport, 1979
United States, 105 min.
In English
SUNDAY, OCTOBER 7TH – 5:00 PM
WEDNESDAY, OCTOBER 17TH – 10:00 PM
TUESDAY, OCTOBER 30TH – 10:00 PM
"All bourgeois dreams end the same way – marry royalty and escape."
Winner of best first feature at the Chicago International film festival despite being his fifth, IMPOSTERS was described by Rappaport as "the unholy union of The Maltese Falcon with (parts of) Remembrance of Things Past." The film concerns a pair of murderous three stooges-esque magicians who always wear the same outfit and are on the search for a mysterious stolen jewel; an upper-class man (who is also secretly a werewolf) bent on possessing a promiscuous magician's assistant by taking her photograph and buying her Victorian dresses; and more half-truths, miscommunications, doppelgangers, and queer undertones than any summary could ever do justice. With a greater attention paid to dialogue than in his previous films, IMPOSTERS often feels like a distant cousin to the anarchic comedies of Hollywood greats like The Marx Bros. and W.C. Fields with their rat-a-tat dialogue and irreverent stance towards genres.
"Each couple and/or two-way pattern threatens and comments on every other, so that straight and gay sensibilities, male and female characters, and passive and aggressive roles seem perpetually at loggerheads, fighting their way through insults and betrayals into bitter, neurotic stalemates. […] A lot of the time, it's difficult to know whether to laugh or scream, and like certain other obsessive directors, Rappaport often tries to have it both ways."
– Jonathan Rosenbaum
---


CHAIN LETTERS
Dir. Mark Rappaport, 1985
United States, 96 min.
In English
FRIDAY, OCTOBER 5TH – 10:00 PM
MONDAY, OCTOBER 8TH – 10:00 PM
TUESDAY, OCTOBER 30TH – 7:30 PM
"Everything is plot. It's just not always clear what it is."
A chain letter telling the reader to send pictures of their favorite things to ten people they know links nine New Yorkers in Mark Rappaport's last narrative film. As a tapestry of torpid affairs, passive aggression, and repressed violence builds across the characters, their lives start to intersect in labyrinthian and only slightly meaningful ways. In true Rappaportian fashion various non-sequiturs occur throughout, including but not limited to: a made-up tv series about a government conspiracy to plant micro-chips in people's brains that tell them to buy frito lays and be polygamous; the completely unexplained murder of a postman by a masked man; a reoccurring pair of blonde prostitutes named babra and abraca-debra; and a life-size connect the dots porn sketch.
SCREENS WITH:
EXTERIOR NIGHT:
Dir. Mark Rappaport, 1993
United States, 36 min.
In English
Using brightly colored characters set against black and white backdrops ripped from classical noirs like THE BIG SLEEP and MILDRED PIERCE, EXTERIOR NIGHT tells the story of a teenager solving the mystery of his grandfather's murder in what might be Rappaport's most straightforward narrative, despite its period-blurring intertextuality.
---
PART I : SEPTEMBER 2018
---


LOCAL COLOR
Dir. Mark Rappaport, 1977
United States, 116 min.
In English
FRIDAY, SEPTEMBER 7 – 7:30 PM
SATURDAY, SEPTEMBER 15 – 7:30 PM
SUNDAY, SEPTEMBER 16 – 5 PM
WEDNESDAY, SEPTEMBER 19 – 7:30 PM
WEDNESDAY, SEPTEMBER 26 – 10 PM
Running through the full gamut of soap opera devices – including psychically connected twins, suicide, incestous desire, and more affairs than you can shake a stick at, LOCAL COLOR's many protean narratives resemble something like a dream (as hinted at by the film's opening series of pans across the eight main characters fast asleep). As Rapport himself has described:
"LOCAL COLOR is a film about eight people whose lives overlap and touch the lives of several others among the eight, in strange and sometimes unexpected configurations. Familial ties, sexual involvements, an inescapable past, shared dreams – these are some of the links that bind them to one another. They inhabit a universe of coincidence and chance, excessive emotionalism and dry irony. Flamboyant melodrama in dreary, desperate lives – operatic passions ground underfoot by the crushing flatness of daily existence. It is melodrama stripped bare, drained of the heavy breathing we associate with soap opera. Told with elliptical conciseness it combines the heavy, fruity passions of old cinema with the understated, often unstated, chilliness of the new cinema. The plot itself is too complicated to synopsize with any degree of coherence. In a sense, the movie is the plot and the plot is the movie. Except that the plot is irrelevant. Suffice it to say that there is enough of it to choke a horse. And of course there is a gun which figures prominently in the proceedings."
– Mark Rappaport
---

MOZART IN LOVE
Dir. Mark Rappaport, 1975
United States, 99 min.
In English
THURSDAY, SEPTEMBER 6 – 7:30 PM
SUNDAY, SEPTEMBER 9 – 7:30 PM
THURSDAY, SEPTEMBER 13 – 10 PM
SUNDAY, SEPTEMBER 30 – 5 PM
"This is the story of three loves, perhaps four."
Like a bizzaro version of Danièle Huillet and Jean-Marie Straub's CHRONICLE OF ANNA MAGDALENA BACH as filtered through the voice of a Woody Allen-esque nebbish new yorker, Rappaport's MOZART IN LOVE is a treat for fans of rom-coms and classical opera alike. Recounted in sparse epistolary voice-over, the story concerns the mainly true tale of Mozart's affair with a trio of sisters and the various romantic dramas that ensued. Plot, however, takes second place to long unbroken chunks of actors lip-syncing Mozart's arias in painterly static compositions set against artificial backgrounds that range from rear-screen projections of classical images to bright single-colored mattes. With sporadic jumps into the modern world (one character watches TV in her living room, another goes for a long car ride, and at one moment Mozart is swapped out with a song from GENTLEMEN PREFER BLONDES); costumes that are as frequently surrealist as classical; and alienating shifts between polished recordings and amateur renditions of the music; Rappaport delivers a host of Brechtian devices that dissect our notions of love, representation, and social codes.
---

CASUAL RELATIONS
Dir. Mark Rappaport, 1974
United States, 80 min.
In English
WEDNESDAY, SEPTEMBER 5 – 7:30 PM
FRIDAY, SEPTEMBER 7 – 10 PM
MONDAY, SEPTEMBER 10 – 7:30 PM
SATURDAY, SEPTEMBER 29 – 7:30 PM

"Shortly after Susan got up, she decided she would watch television all day."
A vampire movie, a skin flick, a murder mystery, a structuralist film, and a soap opera all rolled into one – Rappaport's first film, CASUAL RELATIONS, is a formidable exercise in the narrative ambiguities that would dominate many of his films to come. Rappaport casually moves from one sequence to the next, leaving the viewer no tools to understand the relationships between the various stories. Yet the casual relations of the film's title proves to be significantly more than a simple structural clue — the characters that we encounter through the film's episodes all seem to exist in a pointless sort of casualness to their environment that is equal parts droll and melancholic. Some notable characters we meet include a woman so intent on staring into space all day that she refuses to acknowledge her ringing phone, a different woman who is resigned to watching TV all day after no one picks up her phone calls, two former lovers who share a long wordless drive to a motel while Mick Jagger sings on the radio, a man trying to pick up another man at a screening of disaster footage, a skin flick actress posing naked while listening to her photographer berate his wife and kids, and a man obsessed with a photograph of the ocean. Shot in pieces over a year and a half, CASUAL RELATIONS is an important testament to the inventiveness of DIY filmmaking and the underground New York film scene of the 1970s.