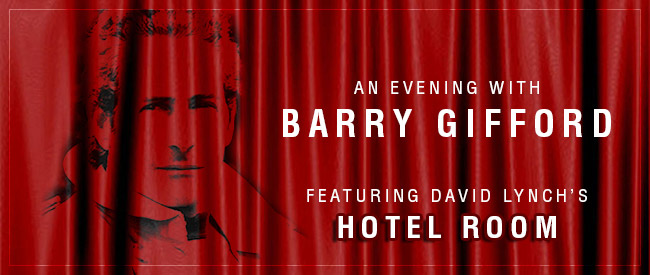 AN EVENING WITH BARRY GIFFORD
Including two episodes of the HBO television series HOTEL ROOM, written by Gifford and directed by David Lynch
THURSDAY, OCTOBER 17 – 8:00 PM (With Gifford Intro/Q&A)
THURSDAY, OCTOBER 17 – 10:00 PM (With Gifford Intro)
Both shows are SOLD OUT. There will be NO standby or standing room for the 8:00 pm show, but there will be VERY LIMITED additional admission at the 10:00 PM show. Show up early, and we will let a few people on standby in around 10:15 pm.
Co-sponsored by Vice Magazine, Book Thug Nation, and Seven Stories Press.
Join renowned author Barry Gifford for a very special evening of literary discussion paired with an exclusive screening of two rarely seen episodes from David Lynch's HBO series HOTEL ROOM, both written by Gifford. In 'TRICKS,' the uneasy meeting of two men and a hooker at the Railroad Hotel has deadly repercussions. In 'BLACKOUT,' a power failure is the catalyst for strange revelations between a husband and his ailing wife in a New York hotel. Following the screening Gifford will discuss his career as a poet, author, and screenwriter as well as his long-running collaboration with David Lynch (WILD AT HEART, LOST HIGHWAY).
Following the screening, Gifford will sign copies of his latest book, The Roy Stories. Spanning time and space—the Southern and Midwestern United States from the 1940s through the 1980s—The Roy Stories chronicle the personal history of Gifford from Chicago to Miami in a Hemingway style Nick Adams story. Emotional, exploratory, and brimming with photographic realism, these stories capture a Beat-inspired sense of time and place and a record of the attitudes and the language of the time.
Before the show, from 6:30 to 7:30 pm, Gifford will also appear at Book Thug Nation (100 North 3rd Street between Berry Street and Wythe Avenue) for a reading and reception for The Roy Stories.
Barry Gifford, called "a master of the short story" by the New York Times Book Review, is the author of more than forty published works of fiction, nonfiction, and poetry, which have been translated into twenty-eight languages. Gifford's most recent prose works include Sailor & Lula: The Complete Novels, Sad Stories of the Death of Kings, and Memories from a Sinking Ship: A Novel. His first full-length novel, Landscape with Traveler, will be back in print for the first time in fifteen years this October from Seven Stories Press.