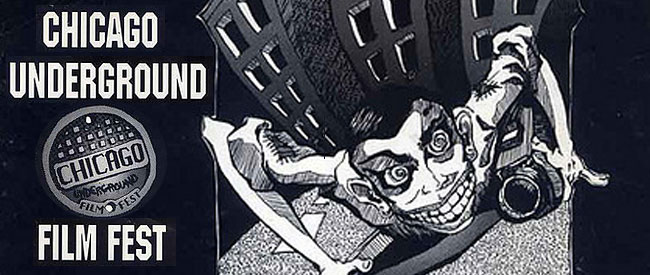 20 YEARS OF CUFF
Chicago Underground Film Festival is the longest running underground film festival in the world. Founded the same year as the now defunct NYUFF, it remains a vibrant & evolving home for radically dissenting filmmaking, and the defining example for underground film events all over the world. This program brings together legendary shorts from the festival's first twenty years.
TUESDAY, SEPTEMBER 17 – 8:00 PM
FRIDAY, SEPTEMBER 27 – 8:00 PM
LINEUP & NOTES FROM FESTIVAL DIRECTOR BRYAN WENDORF:
LIGHT FUSE GET AWAY Dir. Ivan Lerner, 1994, 17 min.
When we began work on the first Chicago Underground Film Festival one of the first things we did was place a call for submissions ad in the Film Threat Video Guide which in those pre-internet years was THE source for info on contemporary underground film. We also sent submission info to every film reviewed in the magazine including this video by former Screw editor and current Spectacle programmer Ivan Lerner.
MONDAY 9:02 AM Dir. Tyler Hubby, 1995, 11 min.
Tyler Hubby was one of many graduates of George Kuchar's Electro-graphic Sinema classes at the San Francisco Art Institute who was a regular fixture during the early years of CUFF. This 16mm film, comprised of a single unedited 11-minute take shot from inside a second-floor apartment is inspired by the idea Michael Snow's avant-garde classic Wavelength. Although if my memory is correct Tyler didn't actually actually see Wavelength until AFTER making this. Today Tyler lives in Los Angeles and has edited a number of great independent documentaries like The Devil and Daniel Johnson.
CLIT-O-MATIC: THE ADVENTURES OF WHITE TRASH GIRL
Dir. Jennifer Reeder, 1996, 8 min.
Chicagoan Jennifer Reeder made a name for herself in the 90s underground film scene with this Waters/Kuchar inspired feminist super-hero series she produced as a student at the School of the Art Institute of Chicago. She still lives in Chicago where she's constantly inspiring new generations of image makers as Associate Professor Moving Image at the University of Illinois Chicago. She continues to screen her experimental narratives around the world including CUFF.
DANCE HABIBI DANCE Dir. Usama Alshaibi, 1998, 3 min.
Usama Alshaibi was a graduate of Columbia College Chicago when he produced this video inspired by Richard Kern's Submit to Me series. His work has followed two distinct strains exploring his Iraqi heritage and his interest in transgressive sexuality. In 2006 he directed the feature length documentary Nice Bombs about his journey back to Iraq after the fall of the Hussein regime. He is currently pursuing his masters degree at Boulder Art Institute and is completing a new documentary feature American Arab produced with Kartemquin Films.
THE BATS Dir. Jim Trainor, 1998, 8 min.
Jim Trainor was a Manhattan bartender when he made his first amazing animated film The Fetishist which had its world premiere at CUFF in 1997. He followed up with The Bats which firmly established him as one the great contemporary underground filmmakers working in animation. He lives in Chicago now and teaches at the School of the Art Institute and is currently completing his first live action film using human actors to portray the mating habits of wasps.
MEAT FUCKER Dir. Shawn Durr, 1999, 32 min.
Shawn Durr had a brief but important place in the late 90s Chicago underground. Meat Fucker was his best known film. Following in the Kuchar tradition of over the top queer melodrama but upping the ante on the ridiculous. NYUFF's Ed Halter once referred to his work as "Kuchar on crack" while Chicago experimental film critic Fred Camper compared Meat Fucker favorably to Kenneth Anger's Fireworks. Shawn followed Meat Fucker with the features Fucked in the Face and The Last Fuck before retiring from filmmaking. He still lives in Chicago.
THE PSYCHOTIC ODYSSEY OF RICHARD CHASE Dir. Carey Burtt, 1999, 6 min.
Another New York filmmaker who was a regular at CUFF at the turn of the millennium. When we showed this film in 1999 to notoriously prickly Chicago Reader film critic Fred Camper at a press screening I remember him looking at me as the film ended and asking "Did you like THAT?" "yes" I nervously responded, "Good, because I think its GREAT!" replied Camper. Camper's printed review said "The film's antiliteralism is a wonderful rebuke to our glut of graphically violent movies… Burtt's playful depiction of the gruesome story encourages us to think about it rather than wallow in it."
THE FABULOUS STAINS: BEHIND THE MOVIE
Dir. Sarah Jacobson & Sam Green, 2000, 11 min.
The importance of San Fransisco filmmaker Sarah Jacobson to CUFF in our early years can't be overstated. After attending the festival's inaugural year with her short I Was a  Teenage Serial Killer, Sarah became a one woman word of mouth PR machine for the festival. Spreading the word about us everywhere she went and encouraging filmmakers she met to send us their work. In our third year we opened with the world premiere of her feature Mary Jane's Not a Virgin Anymore and in 1998 she presented the first public screening in 15 year's of Lou Adler's proto-riot girl comedy Ladies and Gentlemen, The Fabulous Stains. Footage of that screening appears in this documentary co-directed by another SF based CUFF alumnus Sam Green (The Rainbow Man/John 3:16 and The Weather Underground) and originally produced for Jon Pierson's IFC series Split Screen. Sadly, Sarah died of cancer in 2004 but her legacy lives on through a grant program for women filmmakers set up by Sam and Sarah's mother.
WUSTENSPRINGMAUS Dir. Jim Finn, 2002, 3 min.
Jim Finn also studied at Columbia College where he was part of the same graduating class as Usama Alshaibi. Wustenspringmaus combines his love of animals and his interest in marxist political theory. Themes he continued to explore in his "Communist Trilogy" of features; Interkosmos, The Juche Idea and La Trinchera Luminosa del Presidente Gonzalo. Today he lives in Boston and is an Assistant Professor at Pratt Institute in New York.
AMERICA'S BIGGEST DICK Dir. Bryan Boyce, 2005, 4 min.
San Francisco's Bryan Boyce first attended CUFF in 1997 with a little seen comedic short called Lard but he soon became internationally known for his critiques of American culture using appropriation and found footage. He continues to screen his work at festivals like CUFF and Ann Arbor but also releases work directly through his YouTube channel in order to keep his satire timely and fresh.
HOLD ME NOW Dir. Michael Robinson 2008, 5 min.
This karaoke video by prolific experimental film and video artist Michael Robinson was originally produced for the sadly defunct Portland Documentary and Experimental Film Festival (better known as PDX). We showed it at CUFF soon after where it won an award for best music video. For best results sing along.
THE ETERNAL QUARTER INCH Dir. Jesse McLean, 2008, 9 min
Jesse McLean began screening her work at CUFF while she was a student in Pittsburgh. PA but I didn't actually meet her until she moved to Chicago to pursue her master's at UIC. Upon graduating she relocated to Iowa City where she continues to be a fixture on the international experimental and underground film and video scene. Her work looks at the intersection of culture, technology and human behavior using a combination of found footage and original material.
THIS IS MY SHOW Dir. Lori Felker, 2009, 15 min.
Chicago based media artist Lori Felker has worn many hats with CUFF over the years. Co-programming and coordinating the festival, serving as projectionist and technical director as well as participating as a filmmaker herself. This video is part of a series of works that celebrate and spoof cable access television. Lori had to leave the projection booth during the 2009 festival to participate in the Q&A after this piece screened. It also received an honorable mention from the jury that year. Lori recently scaled back her CUFF duties to focus on her new position as Visiting Assistant Professor at the University of Illinois, Chicago.
THE STORY OF THE EYE Dir. Nicole Jefferson Asher, 2012, 12 min.
This feminist musical adaptation of the infamous transgressive novel by Georges Bataille screened at the 20th CUFF this past March. It stars and features music composed by performance artist Kevin Blechdom–Kristin Erickson, a member of the faculty of The Herb Alpert School of Music at CalArts and was directed by Nicole Jefferson Asher who has numerous credits in theater, film and television, creating projects for HBO, MTV, Nickelodeon Movies and Spike Lee's 40 Acres and a Mule Film Works. She is currently writing and directing her first feature Betty, the story of funk singer Betty Davis, the second wife of jazz musician Miles Davis.
TRIGGER WARNING: STROBE EFFECTS