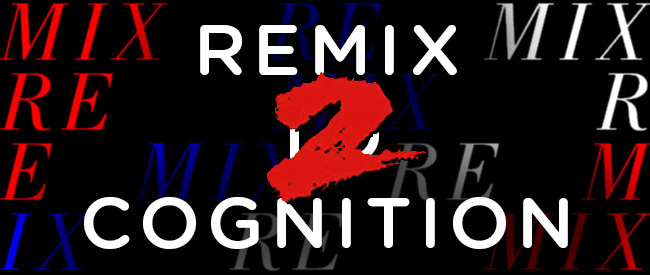 ONE (LONG) WEEKEND(ISH) ONLY – OCTOBER 16 – 22
Following the success of last year's inaugural REMIX TO COGNITION series, we present to you its sequel – REMIX 2 COGNITION. What better way to describe this experience than to resurrect and edit last year's text?
REMIX 2 COGNITION is a long-weekend serving of work that was conceived by/associated with Spectacle Theater's all-volunteer staff roster, with a focus on the repurposed and remodeled. 100% of ticket profits and donations go directly to supporting the space.
In its four years, Spectacle has often functioned as a creative space, offering its screen to amateur and established editor-filmmaker-curators as a means of exploring new ways of engaging with the moving image. Evoking the traditions of New York arthouses, third-world videotheques, and the high school stoner basement, Spectacle has never shied away from dismantling the cinematic canon, puzzling at its the parts, and feverishly reassembling, hoping Dad doesn't notice. Since the cinematic form's inception, artists have drawn inspiration from rejiggering the constituent parts of the apparatus. In recent years, international video sharing, increased bandwidth, and the ready proliferation of digital moviemaking tools have all provided unprecedented material, accessibility, and ease – of making movies like WORLD WAR Z totally new and better.
Likewise, though Big Cinema exhibition is not likely to be outpaced for long, we are presently at a moment where the gap in audience-perceived quality between a $152,550 D-Cinema system and a "prosumer" enthusiast purchase is relatively small. Therefore, as we have crested the digital conversion, DIY HD remixes are capable of carrying as much screen-authority as the video content projected at hallowed cinema grounds; simultaneously the textures of "obsolete" video mediums are now a prized ingredient in the visual stew. When interviewed by intrepid boy-reporter Keanu Reeves in the 2012 documentary SIDE-BY-SIDE, Fox Filmed Entertainment CEO Tom Rothman portentously cautions that we are entering an era in which "anyone can make a movie." REMIX 2 COGNITION is probably what he's sad about. Join us in salting the wound.
THE LINEUP
SHR INK MAN: A LIVE SCORE BY MIL KDU DES AND LOUIS PIQUETTE
THURSDAY, OCTOBER 16 – 8 and 10 PM

STRONG–THING (b/w TENDER PREY)
FRIDAY, OCTOBER 17 – 8 and 10 PM
SOUTH THIRD STREET FOREVER: AIM FOR THE TRASH CAN
FRIDAY, OCTOBER 17 – MIDNIGHT
***CANCELLED*** PARIS GROUP INTERNATIONAL PRESENTS P3: PASSION, POWER, AND PROFIT
SATURDAY, OCTOBER 18 – 7:30 PM ***CANCELLED***
YOUR GENIUS ON THE BIG SCREEN: A SPECTACLE GROUP SHOW
SATURDAY, OCTOBER 18 – 10 PM
THE SIMPSONSSSSSSSSSSSSSSSSSSSSSSSSS
SATURDAY, OCTOBER 18 – MIDNIGHT
ANTI-BANALITY UNION PRESENTS: STATE OF EMERGENCE
SUNDAY, OCTOBER 19 – 8 and 10 PM
SPED: A LIVE SCORE BY SCRIMPY
WEDNESDAY, OCTOBER 22 – 8 and 10 PM
======RRRRRRR222222CCCCCC======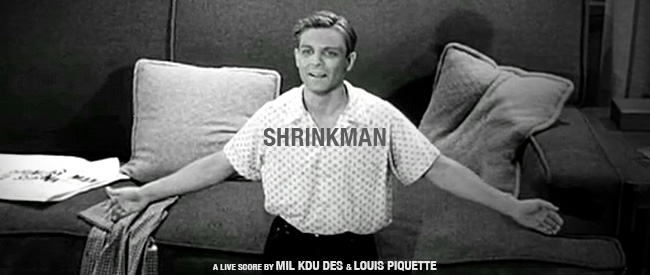 SHR INK MAN
Edited by Louis Piquette, Live Music by MIL KDU DES, 2014
USA, 42 min.
THURSDAY OCTOBER 16 – 8 and 10 PM
MIL KDU DES (aka Mark Freado Jr. and Steve Pellegrino, with the hired bow of Erin Routson), having previously live-scored UNIVERSE: I SEE NO GOD UP HERE, and THE SOUND STAGE MASSACRE (based on the cult Italian horror gem STAGE FRIGHT: AQUARIUS), will tackle SHR INK MAN, a melancholic re-imagining of THE INCREDIBLE SHRINKING MAN. In addition to the milky walls of Spectacle, MIL KDU DES have also hauled a s s e s to the Cinefamily in LA, and the Museum of Arts and Design in NYC.
First premiered during Spectacle Theater's residency in the abovementioned museum's NYC Makers: A MAD Biennial, Louis Piquette's edit on SHR INK MAN directs the live score as an added monstrous presence, threatening the cinematic walls of diegesis. As the titular protagonist inversely scales to the increasing size of his troubles, MIL KDU DES paws and nibbles at, and then eventually swallows the entire soundtrack from the original film.
======RRRRRRR222222CCCCCC======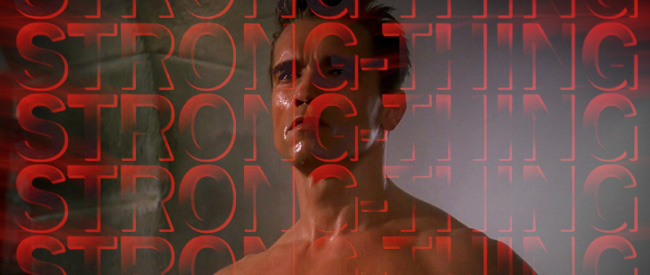 STRONG-THING and TENDER PREY
by H.A. Campbell & Jon Dieringer
FRIDAY OCTOBER 17 – 8 PM and 10 PM
Following its explosive premiere at The Museum of Arts and Design this summer, STRONG-THING flexes its guns at Spectacle alongside the premiere of TENDER PREY, a harrowing parable about the toxic atmosphere of pedophilia in Hollywood.
STRONG-THING
Dir. H.A. Campbell & Jon Dieringer, 2014
USA, 30 min.
STRONG-THING is a mythic meditation on the biographical, on-screen, and celebrity personae of Arnold Schwarzenegger that presents a master narrative built with material repurposed from the entire breadth of his pre-gubernatorial filmography. Hysterical, lucid, action-packed, and elegiac, the journey of the Strong-Thing from lab-engineered specimen through interplanetary exile, arrival on Earth, discovery of its means to success, and rise through the ranks of celebrity and power mirrors the parallel allegorical threads running through virtually all of Schwarzenegger's filmography as well as his personal rise from Austrian immigrant to unlikely leading man and governor of California. Free of dialogue, STRONG-THING is a nimble work of uniquely character-driven cinematic détournement cycling through incisive narrative drive and surreal interior interludes exploring the Strong-Thing's feelings of ambition, loss, vindictive determination, alienation, and fear. This eisegetical voyage is accompanied by sound design/composition by artist C. Spencer Yeh (Burning Star Core).
TENDER PREY
Dir. H.A. Campbell & Jon Dieringer, 2014
USA, 14 min.
TENDER PREY restructures the 1985 werewolf film SILVER BULLET, starring Corey Haim, into a parable concerning the toxic atmosphere of pedophilia surrounding child actors in Hollywood. Radically abridged and shuffled, the film now tells the story of an All-American Boy living in perpetual fear of a sexual predator, a narrative horrifically parallel to Haim's own experience as a preteen Hollywood coverboy. Meanwhile, his guardian, Gary Busey, is portrayed as hopelessly complicit for his unresponsiveness, manifest in his repeated sublimation into alcoholic stupor. Both characters retreat into anxious fantasia as they recognize their inabilities to cope with the cycles of abuse and denial in which they are enmeshed. Juxtaposed then synthesized, unspeakable acts of on- and offscreen predation violently scratch away the veneer of child stardom.
======RRRRRRR222222CCCCCC======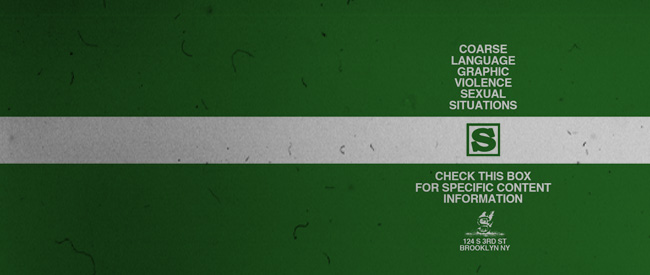 SOUTH THIRD STREET FOREVER: AIM FOR THE TRASH CAN
Dir. Various, Compiled by C. Spencer Yeh, 2014
USA. 82 min.
FRIDAY, OCTOBER 17 – MIDNIGHT
Following warm on the heels of SOUTH THIRD STREET FOREVER: APPROVED FOR ALL AUDIENCES (as seen at the Museum of Arts and Design's NYC Makers: A MAD Biennial), a survey of custom-edited movie trailers compiled from the over-700 created since Spectacle's scrappy beginnings, comes SOUTH THIRD STREET FOREVER: AIM FOR THE TRASH CAN. Whereas ALL AUDIENCES attempted a broad overview, strategically edited for the museum's broad audiences, TRASH CAN kicks a 180 and lures all the nasty exploitation, howling horror, and explosive action-packed genre trailers out of the Spectacle gutter into one seamy vacation package. This 82 minute-long shitty cruise traverses all the rank detours and volatile twists and turns you might've missed unless you've spent mad N.I.S.S. (Nights In Spectacle's Service). Spoiler alert – the calls are coming from inside the trash can and this boat never left the sewer.
Various versions of the SOUTH THIRD STREET FOREVER trailer compilations have screened at Pittsburgh's Three Rivers Film Festival, the Kinomuzeum festival at Muzeum Sztuki Nowoczesnej w Warszawie. Yeh has also presented his own trailers to LAMPO at the Graham Foundation in Chicago, and the Museum of Modern Art in our very own NYC.
Warning: graphic violence, sexuality, and other adult subject matter
======RRRRRRR222222CCCCCC======
PARIS GROUP INTERNATIONAL PRESENTS P3: PASSION, POWER, AND PROFIT
***CANCELLED*** CHECK OUR LISTINGS FOR LATEST NEWS ***CANCELLED***
SATURDAY OCTOBER 18 – 7:30 PM
======RRRRRRR222222CCCCCC======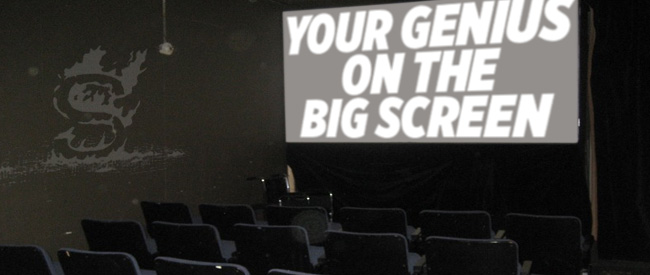 YOUR GENIUS ON THE BIG SCREEN: A SPECTACLE GROUP SHOW
SATURDAY OCTOBER 18 – 10 PM
The intimate epicenter of the REMIX 2 COGNITION series, YOUR GENIUS ON THE BIG SCREEN invites all Spectacle Theater volunteers near and far to contribute short-form efforts into one massive collective mess. In some cases these shorts are seeing sun for the first time ever. We aim to flatter and flatten our moonlights/dayjobs/daydreams in this night of show-and-show around the glow and warmth of the burning "S."
Running order is TBD –
THE MASKS WE WEAR
Dir. Aaron Schimberg, 2014
USA, 7 min.
"Dr. Arthur Newman suggests that "we all wear masks, metaphorically speaking" as a means of adopting a "socially acceptable image." Are masks really a metaphor? Can we choose the masks we wear? Can we remove our masks at will? Are these masks always socially acceptable? These questions may or may not be answered, or posed, using sound and image from two films, Peter Bogdanovich's MASK (1985), a biopic about Rocky Dennis, an affable Southern California teenager, and Charles Russell's THE MASK (1994), concerning the adventures of Stanley Ipkiss, a hapless bank-clerk from Edge City."
PRETY WOMAN
Dir. Annelise Ogaard, 2013
USA, 1 min.
"THE MOVIE THEY DON'T WANT YOU TO SEE. These days "Hollywood" is too caught up in things like "major stars" and "production quality" to recognize what really matters: a good heart. We turned to grassroots fundraising to pursue our vision, but Kickstarter declined our pitch for not "being" a "real thing." Starring Elspeth K. Walker, Sean, and the inimitable Mehron Cantusehislastnameforemploymentreasons, PRETY WOMAN is Garry Marshall's 1990 classic like we've never seen it before—and you never will again!!"
BABY'S BOTTOM I
Dir. Ventriloquist, 2012
USA, 4 min.
Enthusiastic new parents are over-sharing too.
TONE BANK
Dir. Spcl Ntrst, 2013
USA, 12 min.
All a/v samples in TONE BANK are sourced from the origin tape.
A THING IN SPACE
Dir. Zack Hall, 2014
USA, 3 min.
DYNAMITE BOSS
Dir. Brady Welch & Colin Sonner, 2014
USA, 5 min.
TWO RATS
Dir. Maya Edelman and Nate Dorr, 2013
USA, 3 min.
"A music video for "Two Rats" by Fables."
BATTLE HYMN OF THE REPUBLIC
Dir. LJ Frezza, 2013
USA, 5 min.
"A series of prayer scenes from Hollywood films produced about and/or during World War II. A consideration of ideological and technological othering."
._
Dir. Vanessa McDonnell, 2014.
USA, 5 min.
"John Boorman's 1967 film POINT BLANK is reconstructed as a dream experienced by Lee Marvin, wherein his anxiety and remorse are given expression and his unconscious desires fulfilled."
YOUR NEXT: Live Wardrobe Fail [PSA+] R2c c3.haptic COG-OCT
Dir. Chris Byler, 2014.
USA, 10 min.
"Recent unpaid works by Chris Byler."
???
Dir. C. Spencer Yeh, 20??.
USA, ?? min.
???
Dir. Darren Bauler, 2014.
USA, ?? min.
======RRRRRRR222222CCCCCC======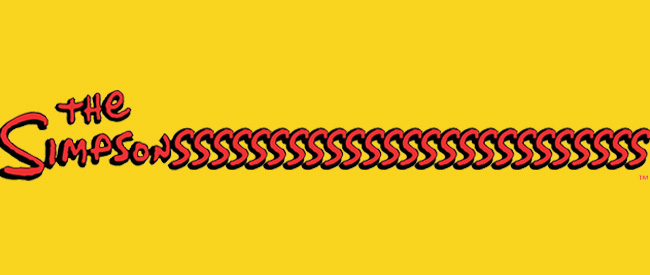 THE SIMPSONSSSSSSSSSSSSSSSSSSSSSSSSS
Dir. Lenora Jarrett, 2013
USA, 60 min.
SATURDAY, OCTOBER 18 – MIDNIGHT
Every aired moment of The Simpsons—from Ullman through the movie and up-to-date— sped up roughly 20,000% to fit comfortably into one truly hysteric viewing experience.
What more do you need to dohhhhhhhhhhhhhhhhhhhhhhhhh?
======RRRRRRR222222CCCCCC======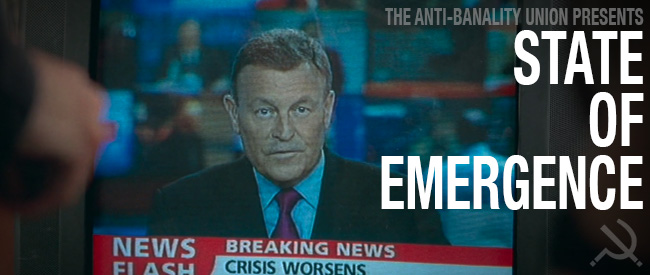 STATE OF EMERGENCE
Dir. The Anti-Banality Union, 2014
USA. 60 min.
SUNDAY, OCTOBER 19 – 8 and 10 PM
STATE OF EMERGENCE is a zombie movie without zombies.
Society asks: Who is the enemy? From where does he attack? How do we distinguish him from one of our own, and how do we immunize ourselves against him?
But it's too late for these questions. The illness that society feels victimized by has metastasized to an irreversible degree. It can't be cured with surgery, heavy medication, or even wholesale amputation. "Stability at all costs! No life-support machine is too expensive!" But the virus is becoming stronger than its host, and its hostility is irrepressible.
The Anti-Banality Union is an amorphous pack of movie critics. The movie they never tire of criticizing is the one we all live in, and if they ever write anything, it'll be its end credits.
The Anti-Banality Union is not a fixed collective. Everyone who has experienced enough narrative closure through Hollywood to know from the signs all around us that the story of Western Civilization is coming to an end is a member.
======RRRRRRR222222CCCCCC======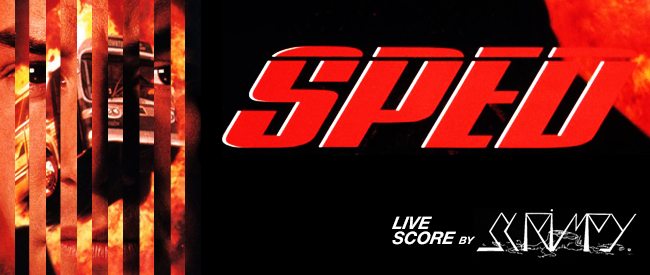 SPED – A LIVE SCORE BY SCRIMPY
WEDNESDAY, OCTOBER 22 – 8 and 10 PM
SPED
Dir. 20th Century Fox Film Corporation, 1994–2014
USA, 50 min.
"Speed is the hope of the West."
–Paul Virilio
Twenty years ago, when millions flocked to see SPEED, they got there as fast as they could. Subways and cabs were too slow—people ran across the hoods of cars stuck in traffic. Imagine their disappointment when they got there: Keanu has to keep the bus going at 50 mph. Fifty!? That's below the freeway speed limit everywhere in the USA. Without Mark Mancina's pulsing score, we would've fallen asleep after the first explosion, maybe waking up for the famous leap across the void and the Benghazi-reminiscent bus-plane collision.
If SPEED thrilled viewers back then, it certainly doesn't anymore. The smug complacency of the 90s has been replaced by a need for speed more desperate than ever, an urge to stifle the uneasiness we feel about our unstoppable momentum toward the abyss. We can't be expected to have patience for long, slow, boring movies—we don't have enough time left for that. French producer Marin Karmitz once said that runtimes of over 110 minutes are a sign of contempt for the viewer. At 116 minutes, SPEED is an insult.
By accelerating it to twice its original velocity, we've made SPEED adequate to its essence. Having banished Mancina's orchestral deceptions, we'll be convoyed by the electro-psychedelic warriors of Scrimpy as we rip through Los Angeles at 100 mph. "There's enough C-4 on this thing to put a hole in the world!"