SATURDAY, MARCH 1: MORON MOVIES
FRIDAY, MARCH 7: LET ME DIE A WOMAN
SATURDAY, MARCH 8: EVERYTHING IS TERRIBLE
FRIDAY, MARCH 14: A NIGHT TO DISMEMBER
SATURDAY, MARCH 15: SLAYGROUND
FRIDAY, MARCH 21: THE BRUTE MAN
SATURDAY, MARCH 22: ORIGINAL SINS
FRIDAY, MARCH 28: GO DOWN DEATH
SATURDAY, MARCH 29: GO DOWN DEATH
---

Feeling left out? Can't find common ground with your kids during those long, awkward dinners of meatloaf and self-loathing? Criminally unversed in the works of David A. Prior? Missing all those CANDY SNATCHERS references around the water cooler? Be honest, would you even be able to recognize an INTREPIDOS PUNK if you saw one?
Feeling woozy, it's getting dark, this is the end…
NOT QUITE.
Spectacle Presents MANDATORY MIDNIGHTS (aka Turkish Netflix)! Fall in love for the first time or all over again with the best of Spectacle Midnights! Every month The Spectacle is showcasing one of our beloved midnight classics like ROCK N ROLL HOTEL, KILLER WORKOUT, HOLOGRAM MAN and so many MORE!!! Don't yawn your way through another screening of Rocky Horror, half heartedly throwing rice and lip syncing through tears of boredom. Come get kicked in the chest by the AMERICAN HUNTER and lose a quart of blood to a BLOODSUCKER FROM OUTER SPACE!
You haven't seen a Spectacle Midnight until you've seen it twice! Come Get Weird and Stay Weird at MANDATORY MIDNIGHTS!
MANDATORY MIDNIGHTS presents: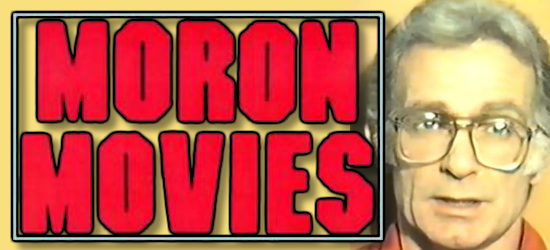 MORON MOVIES
Dir. Len Cella, 1985
USA, 58 min.
SATURDAY, MARCH 1 – MIDNIGHT
Sometime between "The Table's Turned on the Gardener" and "The Hangover" came Len Cella's MORON MOVIES. These really short films prefigure YouTube while recalling the gag films of early cinema. Originally shown on the Tonight Show and eventually on TV's Bloopers & Practical Jokes, MORON MOVIES constitute an unparalleled cinematic joke book. Len Cella stars in his own micro masterworks (most clocking in under a minute) and imbues each with his own curmudgeonly outlook and grouchy charm. Crude, absurd, clever, brief, and absolutely hilarious — The Spectacle is proud to present the work of a great American humorist and filmmaker, Len Cella's MORON MOVIES.
---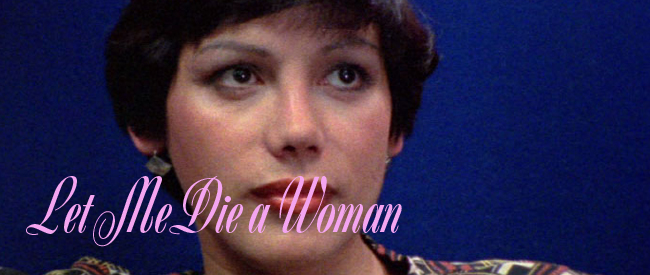 LET ME DIE A WOMAN
Dir. Doris Wishman, 1977
USA, 79 min.
FRIDAY, MARCH 7 – MIDNIGHT
Wishman's sole foray into non-fiction is a disorienting, explicit, forward-thinking time capsule of sex-changes in the 70s. Combining interviews with noted surgeon Dr. Leo Wollman and his patients, soft porn dramatic re-enactments, and graphic surgery footage, LET ME DIE A WOMAN manages to be both exploitive and enlightening. Amidst its sleazy shocks and ramshackle sets, the subjects' sincere desire to tell their story earns our genuine empathy. Like all of Wishman's films, WOMAN is one of a kind, and must be seen to be believed.
Courtesy of Something Weird Video.
---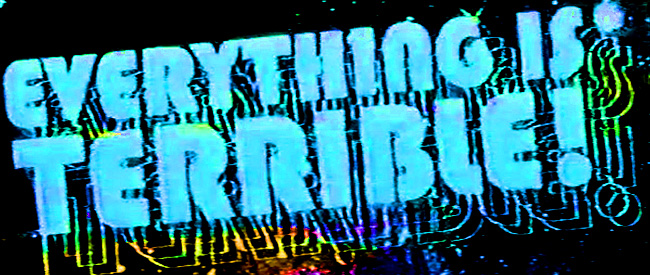 THE RISE AND FALL OF GOD
Dir. Everything is Terrible!, 2013
USA, 60 min.
SATURDAY, MARCH 8 – MIDNIGHT
In our short time on this planet, Spectacle has played host to a veritable Who's Who of Who On Earth? type guests – bodybuilding computer hackers, stop-motion royalty, literal Oscar winners, sonic gurus, political revolutionaries, etc. – and now, we can add one more to that list as we welcome the found footage titans of EVERYTHING IS TERRIBLE! for the New York premiere of their cut-and-paste sermon THE RISE AND FALL OF GOD!
Join us for an evening of deep spiritual reflection as we examine the apocalypse, eternal punishment, images of the divine in everything from snack food to slop buckets. EVERYTHING IS TERRIBLE! takes the wheel for an entire evening of guilt and death bed recanting.
See you in Hell.
Everything Is Terrible! is this world's only psychedelic found footage comedy website that tours the earth with face-melting live shows that include puppets, Jerry Maguires stacked to the heavens, and adoring cloaked followers begging EIT! for more!
Find DVDs, the Daily Terrible, and more at everythingisterrible.com
---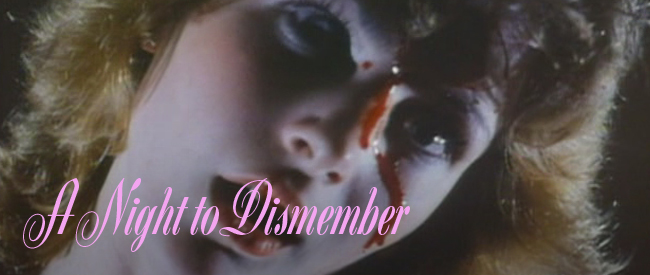 A NIGHT TO DISMEMBER
Dir. Doris Wishman, 1983
USA, 69 min.
FRIDAY, MARCH 14 – MIDNIGHT
It's almost impossible to adequately explain the effect A NIGHT TO DISMEMBER has on the brain. Wishman had completed her first foray into 80s horror when the processing lab declared bankruptcy and a disgruntled employee destroyed most of the footage. Contractually bound to distributors, she finished the movie by any means necessary – using every frame of the remaining footage, re-writing the script, and shooting new scenes. What remains is a singular achievement in the history of motion pictures. It's a non-stop, blood-soaked, nudity-packed assault on the senses, and like all great train wrecks, it's impossible to look away.
---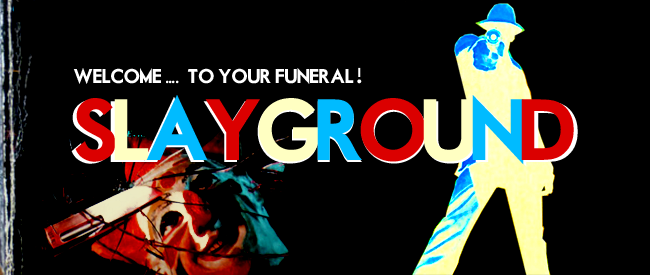 SLAYGROUND
Dir. Terry Bedford, 1983
US/UK, 89 min.
SATURDAY, MARCH 15th – MIDNIGHT
Kinda-but-not-really adapted from a novel by noir hero Donald Westlake (alias Richard Stark), you can see three different movies cannibalistically clawing at each other in Terry Bedford's Slayground : a gritty potboiler, a moody midlife relationship drama, and a slasher picture. After putting undue faith in an untested getaway driver who ends up flip-crashing into an Oldsmobile carrying an innocent young girl, Stone (Peter Coyote) flees the United States. But the victim's industrial hockey magnate father calls up some dodgy underworld contacts, and soon the worst of the criminal worst are seeking retribution for her life. It doesn't take long for Stone to realize he's about three names down the list.
Stone successfully fakes his own death, but it makes no difference. As he hides out in the UK, the screenplay assumes Stone's struggle to find the meagerest shred of an identity – any identity, let alone one worth preserving. The final showdown takes place at a derelict amusement park, where Stone's estranged friend Terry (Mel Smith) leads him in the hopes that the men will be able to reconnect – but they're not alone. Between the lines of dialogue conspicuously missing from the characters' conversations – probably cut to make more room for car chases and murder scenes – and the intensity of its jerry-rigged brutality, Slayground adds up to a breathtaking monument to grotesquerie, hopelessness and nihilism. Like a giallo remake of Fritz Lang's Scarlet Street vomited through an old VCR, the film will linger in your mind late at night for its bookending, psychedelic-action set pieces.
---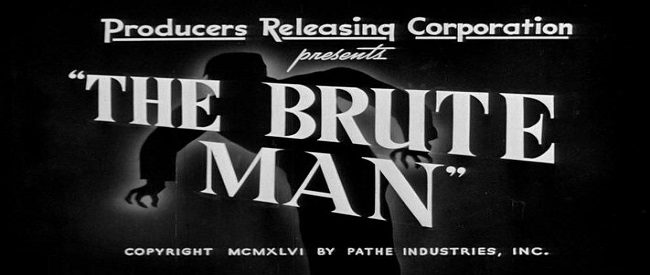 THE BRUTE MAN
Dir. Jean Yarbrough, 1946
USA, 58 min.
FRIDAY, MARCH 21 – MIDNIGHT
Never has the callous disregard for human tragedy backfired so magnificently. Hired to play the eponymous lead character because of his grotesque facial deformities, star Rondo Hatton winds up delivering a subtle, soulful performance—the actor adding much shading and depth that was obviously not in the script compared to the rest of the movie.
Hatton is the only character who feels "real"—everyone else is a wiseacre (especially the cops), a stiff bourgeois suburbanite, a saint, or a damn fool. Meanwhile, like with all good serial killer flicks, The Brute Man stacks the deck against the victims: Never are they kind or decent people, but snooping and meddling jerks that deserve to get their necks snapped.
In this bleak (but fun) noir-horror mash-up, a series of brutal murders—with the victims' spines crushed—has paralyzed a city with fear, and the police are clueless. They know the killer is 'The Creeper', but have no idea where the hideously ugly maniac could be. When the majority of victims are found to be old college pals, the authorities suspect someone from their past seeking revenge…
Like Tod Browning's FREAKS or Michael Winner's THE SENTINEL or some of Coffin Joe's movies, 1946's THE BRUTE MAN is sleazy and exploitative—in other words, wonderful—in how it uses genuine human deformity for our entertainment and sick fascination, if not our empathy and relief.
In this case, star Rondo Hatton (RIP, 1894-1946), whose infamous mug was courtesy of the disease acromegly (a pituitary gland disorder), had acting ability that was genuine, guileless and directly from the soul. His inner pain turns the tables, making the murderer the most sympathetic character in the film.
Hatton's character's authenticity is solidified by his 'mad love' for a blind chick he meets while hiding out in her apartment. His dialog with her is contradictory and obtuse, but the way it is delivered is exquisite: dopey scripting approaches the level of intricate Mamet inarticulateness, and the overall screenplay begins to feel as if Charles Bukowski had a hand in it, with Hatton's merciless assassin coming off like a slightly more-homicidal/less-alcoholic Henry Chinaski, a lonely, ugly but sensitive slob/everyman (living below Skid Row!), at odds with the world and only wanting to be left alone—left alone so he can kill!
Meanwhile, the flick's zero budget engenders an artlessness that becomes a strict formalism—a dream-like aspect increased by the relentless use of stock (or recycled) footage in a variety of neo-montages. And at only 58 minutes, man-oh-Manischewitz, does this picture move! Blink, and you'll miss the ending!
The last film of Rondo Hatton's long career, THE BRUTE MAN was originally produced by Universal, but unceremoniously dumped by the studio after the actor's death. They were already under fire for 'exploiting' Hatton's deformity, and didn't want any more hassles.
Celebrate B-movie deity Rondo Hatton at the Spectacle at Midnight! Or else The Creeper might get you….
---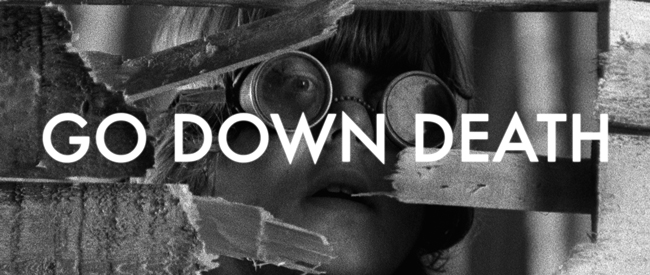 GO DOWN DEATH
Dir. Aaron Schimberg, 2013
USA, 87 min.
ONE WEEK WORLD THEATRICAL PREMIERE RUN!
FRIDAY, MARCH 28 – THURSDAY, APRIL 3, 2014
CLICK HERE TO PURCHASE TICKETS
FRIDAY, MARCH 28 and SATURDAY, MARCH 29
10:00 PM (Filmmakers in attendance!) and MIDNIGHT (In SMELL-O-VISION!)
For its first–and only?–narrative feature run, Spectacle is pleased to present Aaron Schimberg's staggering debut feature GO DOWN DEATH. Acclaimed as one of the most distinctive, visually stunning, and greatest undistributed films of the past year, it sits uneasily among rote indie festival programming. Naturally, we feel we make a great pair.
GO DOWN DEATH is a wry, sinister realization of a strange new universe, a cross-episodic melange of macabre folktales supposedly penned by the fictitious writer Jonathan Mallory Sinus. An abandoned warehouse in Greenpoint, Brooklyn, stands in for a decrepit village haunted by ghosts, superstition, and disease, while threatening to buckle under rumblings of the apocalypse. Soldiers are lost and found in endless woods; a child gravedigger is menaced by a shape-shifting physician, a syphilitic john bares all to a young prostitute, and a disfigured outcast yearns for the affections of a tone-deaf cabaret singer. Highlighted by offbeat narrative construction, stunning black-and-white 16mm cinematography and immaculately detailed production design, GO DOWN DEATH is a distinctively original film informed by American Gothic, folk culture and outsider art.
Accompanying the weeklong run will be appearances by writer/director Aaron Schimberg, producer/editor Vanessa McDonnell, and other surprises and performances including a pair of live SMELL-O-VISION midnights concocted specially for Spectacle's audiences.
---
CRITICAL PRAISE FOR GO DOWN DEATH
#1 Best Undistributed Film of 2013
– Christopher Bell, IndieWire's The Playlist
"An astonishing, out-of-nowhere film. Amidst all the cookie-cutter indies, Aaron Schimberg's GO DOWN DEATH casts a mysterious spell. A dreamy, highly stylized affair recalling early David Lynch. Highly recommended."
– Scott Macaulay, Filmmaker Magazine
"A unique, strange, unforgettable film, a half-remembered dream that will trouble and beguile the subconscious long after you've moved on. (A-)"
– Gabe Toro, IndieWire's The Playlist
"One of the best films of the year! An uncompromising feast of vision and atmosphere."
– Kentucker Audley, NoBudge
"Robert Altman meets Tod Browning…an immaculate, offbeat triumph. Rarely do homespun independent filmmakers convey such a distinctly original vision."
– Jon Dieringer, Screen Slate
"Irresistible! Evokes the great novels of William Faulkner, even as GO DOWN DEATH offers us a resolutely modern filmic experience. Schimberg appropriates the language of cinema and obeys only the rules he sets out for himself. The result is a thrilling leap into the unknown."
– Simon Laperrière, Fantasia
"GO DOWN DEATH is as eccentric and daring as American indie cinema gets."
– Matthew Campbell, Starz Denver