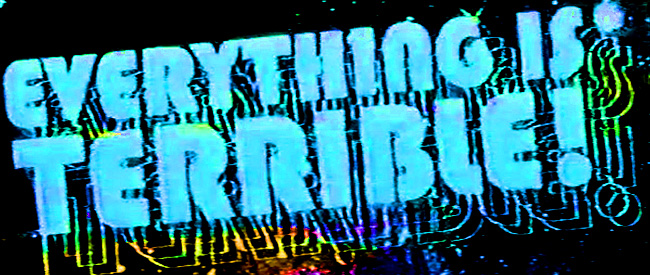 THE RISE AND FALL OF GOD
Dir. Everything is Terrible!, 2013
USA, 60 min.
ONE NIGHT ONLY!
SATURDAY, MARCH 8 – 10 PM & MIDNIGHT!

In our short time on this planet, Spectacle has played host to a veritable Who's Who of Who On Earth? type guests – bodybuilding computer hackers, stop-motion royalty, literal Oscar winners, sonic gurus, political revolutionaries, etc. – and now, we can add one more to that list as we welcome the found footage titans of EVERYTHING IS TERRIBLE! for the New York premiere of their cut-and-paste sermon THE RISE AND FALL OF GOD!
Followed by a special EIT! Midnight Mass the likes of which you have never seen!
Join us for an evening of deep spiritual reflection as we examine the apocalypse, eternal punishment, images of the divine in everything from snack food to slop buckets. EVERYTHING IS TERRIBLE! takes the wheel for an entire evening of guilt and death bed recanting.
See you in Hell.
Everything Is Terrible! is this world's only psychedelic found footage comedy website that tours the earth with face-melting live shows that include puppets, Jerry Maguires stacked to the heavens, and adoring cloaked followers begging EIT! for more!
Find DVDs, the Daily Terrible, and more at everythingisterrible.com