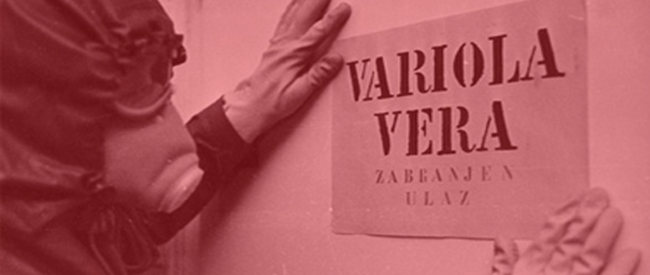 VARIOLA VERA
Dir: Goran Marković, 1982
Yugoslavia, 104 min.
In Serbo-Croatian with English subtitles.
FRIDAY, OCTOBER 9 – 7:30 PM
SATURDAY, OCTOBER 17 – 10:00 PM
WEDNESDAY, OCTOBER 28 – 10:00 PM
A profoundly chilling dramatization of the true events surrounding a smallpox epidemic that hit former Yugoslavia in 1972, VARIOLA VERA presents a terrifying situation of how panic-stricken individuals and governments respond to an outbreak.
A pilgrim visiting a distant land returns to Yugoslavia with a flute and an infectious disease within it. His sickness grows and he ends up at Belgrade General Hospital, amongst a staff of doctors and nurses who seem more concerned with work gossip than saving the man's life. The disease spreads throughout the hospital and soon enough, everyone is sealed off and locked inside the building in quarantine while the government desperately tries to find a solution.
Despite featuring a grisly plot line, director Goran Marković keeps the film from sliding into mere sensationalism, instead grounding it in tense realism and acute human drama, which makes it all the more startling once the body count begins to rise.
A potent mixture of body horror and disaster film, VARIOLA VERA is one of the most frightening 'virus' films ever made.