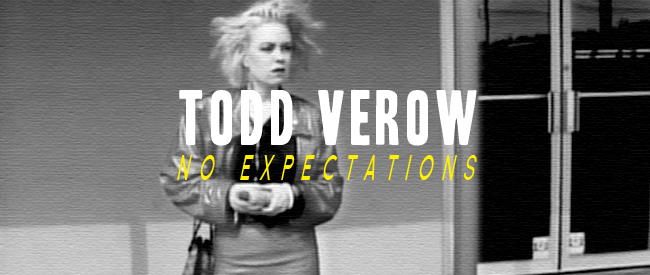 TODD VEROW IN ATTENDANCE FRIDAY, NOVEMBER 22nd!
Todd Verow did and does what a lot of people talk about doing – he makes movies. AND he does it often, with no excuses. Spectacle is proud to present four early works by the "once and future king of DV".
A veteran of punk and queer cinema, Verow is the eye behind the detached yet dynamic compositions which comprise the playfully nihilistic work of Jon Moritsugu. But where Moritsugu's films spend most of their time in vacuous tableaus, and revel in a kind of expectation quashing, antagonistic stillness, Verow's early punk works are hyperactive all nighters of DV ADD. Verow has a glitter-soaked map of Nowhere, and his films manically careen from one soul crushingly small apartment to another in search of pills, booze, sex, but most of all – a place to crash.
Verow's camera is wild, unpredictable, too close (everyone needs a close-up), too dark (who needs lights?), and too bright (that morning sun can hit like a ton of bricks). In short, it's exciting and beautiful and like his characters, it never stops moving. These wild, restless films about addiction and the perils and pleasures of living nakedly in the moment manage to stay quite surprisingly upbeat; even in the lowest lows there is a tender and charming optimism, all furnished by Verow's own stable of superstars and chameleons, some low key (Bill Dwyer) and some outrageous (Eric Sapp, Philly).
Club kids, undiscovered punk legends, wannabe stars, junkies, real losers, users, drag queens – they're still here down on the exhausted LES (out in the wastelands of suburbia too), still searching, still laughing, still smiling and partying with no expectations. Verow is the only filmmaker who can keep up with them.

---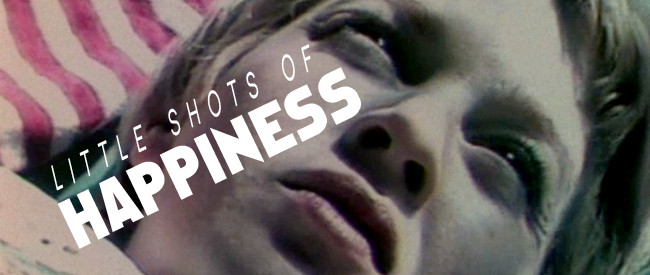 LITTLE SHOTS OF HAPPINESS
Dir. Todd Verow, 1997
USA, 83 min.
SATURDAY, NOVEMBER 9 – 7:30 PM
FRIDAY, NOVEMBER 22 – 7:30 PM (with Verow in attendance!)
Bonnie Dickenson plays Frances, a cubicle clock watcher with a secret – instead of going home at night to her Jack Torrance-esque husband and their stultifying suburban home, she does a quick costume change in the office bathroom and hits the town in search of sex, booze, and, most importantly, a place to spend the night. Little Shots Of Happiness is a gleeful, sexy, sometimes goofy, sometimes scary and unpredictable journey of one woman who has decided it's worth some weirdness to see what's out there.
Spring boarding from the idea of making a movie with just a camera, no lights and direct sound, this perfectly absurd yet oddly realistic premise (a woman living out a suitcase in her office) allows Verow and his crew to sketch another characteristically wild, aesthetically restless, raw, funny little movie. Bonnie Dickenson provides the charming, understated heart of Little Shots – taking sex, drugs, and violence all in stride, even with smiling good humor. Shot in Boston and featuring the early Verow regulars, this one is so stripped-down that while it evokes the episodic narrative adventures of the nouvelle vague, its minimalist humanism might be more akin to their spiritual father, Roberto Rossellini, with more techno, sex and drugs.

---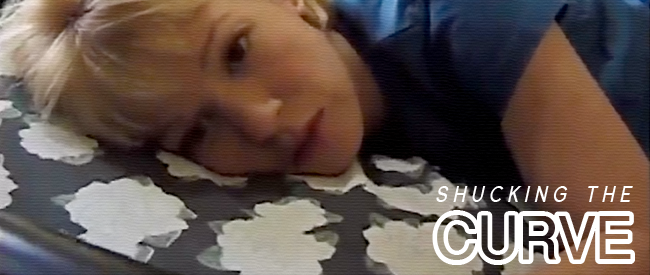 SHUCKING THE CURVE
Dir. Todd Verow, 1998
USA, 89 min.
SUNDAY, NOVEMBER 17 – 5:00 PM
FRIDAY, NOVEMBER 22 – 10:00 PM (with Verow in attendance!)
In Shucking The Curve, Verow finds the perfect premise for his most wildly gleeful exploration of negative capability – a New York City apartment hunt.
Suzanne Fountain (Bonnie Dickenson) has just arrived in New York City with a sort of perfunctory dream of being an actress and accumulating some experiences. But soon after arriving at an old friend's apartment, who promptly hits her up for cash and then disappears, she finds herself in one bizarre and desperate situation after another in
her search for a new place to stay, and discovers that the city is more dangerous, tempting and duplicitous than she might have expected.
Like La Dolce Vita on DV, Curve traces a Dantesque course through the LES ranging from grotesquely beautiful (and hilarious) scenes of debauchery to delicate moments of human connection to the stark and grim realities of being broke and addicted. In quick, unadorned fashion, with his outlandish cast of regulars, Verow creates a fast and exhilarating tribute to those days and nights that go on and on, before the your body catches up to your spirit.

---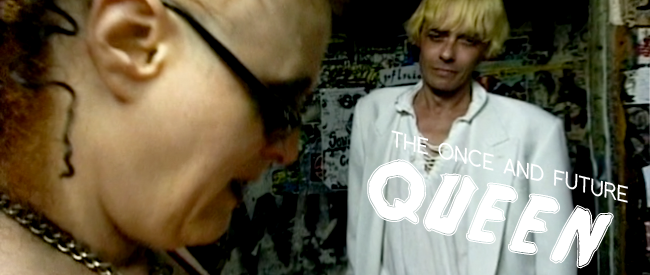 ONCE AND FUTURE QUEEN
Dir. Todd Verow, 2000
USA, 76 min.
SATURDAY, NOVEMBER 16 – 10:00 PM
WEDNESDAY, NOVEMBER 27 – 7:30 PM
It's not easy being a legendary genius no one knows about, but it's sure fun to watch one try and make everyone understand that – especially when it's Aunty Matter (Verow regular Philly), a walking talking punk rock id, whose stage antics fall somewhere between Edith Massey and G.G. Allin.
In typical Verow fashion Aunty Matter crawls across lower Manhattan looking for pills, booze, sex and a place to crash. She's struggling to keep her band together and to stay high and alive – it's not easy though -because after all, a lovable pariah is still a pariah. Follow the Once And Future Queen as she bounces from bedroom to bedroom, bathroom to bathroom, gobbling pills, guzzling booze, pissing everyone off, all in search of what else? More.
Queen is a fast and ugly, rough and hilarious downward spiral which showcases Philly, Verow's compulsively watchable Divine -a philosophy spewing punk rock queen who you can't help but love and root for. It's also filled with lot's of nasty, raw punk and some lofi visual passages that explore the possibilities of grainy, free form video poetry.

---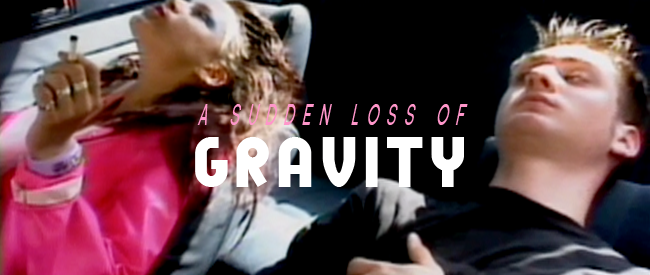 A SUDDEN LOSS OF GRAVITY
Dir. Todd Verow, 2000
USA, 90 min.
TUESDAY, NOVEMBER 5 – 10:00 PM
SUNDAY, NOVEMBER 24 – 5:00 PM
A Sudden Loss Of Gravity is Verow's sprawling love letter (hate mail?) to small town life, where self destruction and boredom go hand in hand, and being weird and wasted is the only way to survive.
Set in Bangor, Maine (Verow's hometown and the inspiration for his own Bangor Films), Gravity is the most ambitious and complex -narratively and temporally – of Verow's early works. This makeshift period piece weaves multiple characters, narratives, past and present events, digressions and strange dead ends into a meditation on suburban angst and the terror and the beauty of burning hot and bright. Along the way though, there are quiet odes to human connnection and what at first comes on like a ragged, trash odyssey through the heart of teenage nihilsm turns out a measured, multi-faceted picture of longing, regret, rage and second chances.
Made with the detailed care and knowledge that comes from hometown filmmaking, this one is for anyone who ever loved and hated their own small town, and felt the desire to share the particular flavor of their own experience with someone else – a task Verow transforms into his own brand of poetry.