FRIDAY, NOVEMBER 1: NEKROMANTIK
SATURDAY, NOVEMBER 2: NEKROMANTIK 2
FRIDAY, NOVEMBER 8: EVIL TOWN
SATURDAY, NOVEMBER 9: PICK-UP
FRIDAY, NOVEMBER 15: SATAN'S SCHOOL FOR GIRLS
SATURDAY, NOVEMBER 16: BELLADONNA OF SADNESS
FRIDAY, NOVEMBER 22: THE BRIDE OF FRANK (HOSTED BY SCOOTER MCCRAE!)
SATURDAY, NOVEMBER 23: THE PROWLER
FRIDAY, NOVEMBER 29: SLASHG/V/NG: BLOOD RAGE
SATURDAY, NOVEMBER 30: SLASHG/V/NG: HOME SWEET HOME

---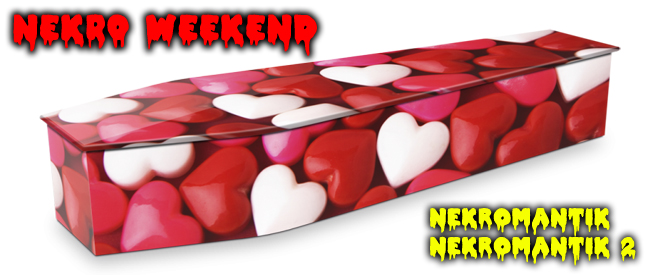 In the wake of Halloween, as Thanksgiving and the Holiday Season approach, it is not uncommon to feel a sinister wave of nostalgia for late-October's frightful ceremonies and gleeful celebrations of the macabre.
At Spectacle we understand this feeling—we experience it too, particularly in the wake of our yearly SPECTOBER programming—and that's why this first weekend of November is dedicated to a tradition of dark desire all too infrequently celebrated in today's culture: necrophilia.
Also called 'thanatophilia' or 'necrolagnia,' necrophilia—a word derived from the Greek etymons 'nekros' ("dead") and 'philia' ("love")—is the sexual attraction to corpses. A rare yet potent paraphilia, the record of its existence has persisted throughout human history; it can be found in the most ancient of Egyptian and Greek texts as well as in today's newspaper at your local corner store. Jeffrey Dahmer was a vocal proponent; wild animals love it.
Yet few depictions of necrophilia in popular culture are as humanizing and romantic as those found in pioneering transgressive German filmmaker Jörg Buttgereit's two "NEKRomantik" films, from 1987 and 1991. With a limited budget and unlimited audacity, Buttgereit depicts marginalized characters without judgement or ridicule, left to their circumstances with a realism and directness that startles, perplexes and remains lodged in the brain.
Join us for two consecutive midnights immediately following All Hallow's Eve in which we highlight two severe works that feature not only the most sacred act between man and corpse, but groundbreaking and challenging depictions of the extremity of the human condition.
Special thanks to Nico B., Jörg Buttgereit and Cult Epics in their cooperation with this program.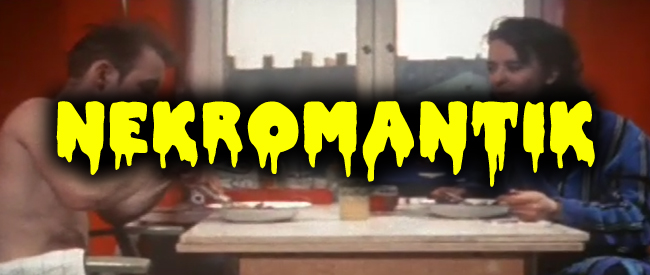 NEKROMANTIK
Jörg Buttgereit, 1987.
West Germany. 71m.
In German with English subtitles.
FRIDAY, NOVEMBER 1ST – MIDNIGHT
ONE NIGHT ONLY!
[TRIGGER WARNING: This film contains scenes of explicit sexual contact, mutilation, rear female nudity, violence, frontal male nudity, dark humor, disembowelment, nihilism, decapitation, deviant sex, depictions of murder, frontal female nudity, a depiction of the actual killing of an animal, ejaculation, mental illness, rear male nudity, criminal mischief, dismemberment, sexual perversion, blood, adult language and necrophilia.]
"What lives that does not live from the death of someone else?" -V.L. Compton
Rob and Betty are a perfect match: they bathe in blood, collect body parts and share a fetish for unresponsive flesh that neither can adequately satisfy for the other. Rob has a dream job working for Joe's Cleaning Company, removing dead bodies from the scenes of public accidents. One day he brings home the mother lode and the couple's sexual dynamic is changed forever… but paradise is fleeting.
Upon its release in 1987, NEKRomantik was of course immediately banned in virtually every country that became aware of it (across four separate continents). Although never officially banned in the UK—it even played at a number of film festivals, including Leeds in 2012—it was nevertheless confiscated repeatedly during bootleg video raids and customs inspections.
---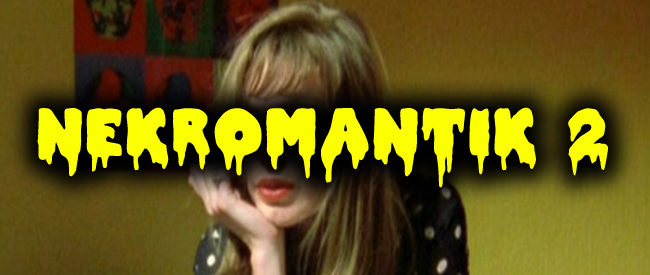 NEKROMANTIK 2
Jörg Buttgereit, 1991.
Germany. 102m.
In German with English subtitles.
SATURDAY, NOVEMBER 2ND – MIDNIGHT
ONE NIGHT ONLY!
[TRIGGER WARNING: This film contains scenes of explicit sexual contact, mutilation, rear female nudity, violence, frontal male nudity, dark humor, disembowelment, nihilism, decapitation, deviant sex, depictions of murder, frontal female nudity, a depiction of the actual killing of an animal, ejaculation, mental illness, rear male nudity, criminal mischief, dismemberment, sexual perversion, blood, adult language and necrophilia.]
"I want to master life and death." -Ted Bundy
Picking up right where its predecessor left off, NEKRomantik 2 continues the saga of Rob and Betty while also focusing on like-minded grave-robber Monika. Once Monika strikes up a romance with Mark, a nebbish man who dubs soundtracks for porn films, the extent to which he is able to understand and tolerate her proclivities is tested.
Boasting a longer run-time and marginally greater production values than NEKRomantik, Buttgereit's sequel remains, uh, not at all for the squeamish. Considerably higher-profile and therefore more controversial upon release, NEKRomantik 2 was confiscated by Munich police just 12 days after its premiere.
According to an interview with Buttgereit in 2006, "my films are not banned anymore in Germany. They are totally legal now and officially labeled as 'art.' We spent two years in court to get my films back on the market."
In 2009, Hermann Kopp's terrifying music for both NEKRomantik films—as well as Buttgereit's 1990 film Der Todesking (The Death King)—was released on the vinyl LP compilation 'Nekronology,' released by Aesthetic Records.
NEKROMANTIK 2 (Jörg Buttgereit, 1991) NSFW from Spectacle Theater on Vimeo.
---


EVIL TOWN
Dir. Curtis Hanson, Larry Spiegel, Peter S. Traynor, Mardi Rustam, 1977
USA, 88 Min.
FRIDAY, NOVEMBER 8 – MIDNIGHT
A cult movie in search of a cult. This insane movie mash-up concerns young men and women who amble into the titular evil town (pop. 666 – that is not even a joke) and befall a multitude of bizarre deaths. There are psycho yokels capturing young women and using them as sex slaves, killer old people, and a doctor trying to experiment on the pituitary glands of (obviously) unwilling patients looking to unlock the secrets of youth.
Featuring some of the most mind-numbing dialogue, incredulous kill scenes, violence against old people, and a doctor who can't correctly pronounce the word pituitary – which is central to his experiments – this is one of those cases of a film that needs to be seen to be believed.
---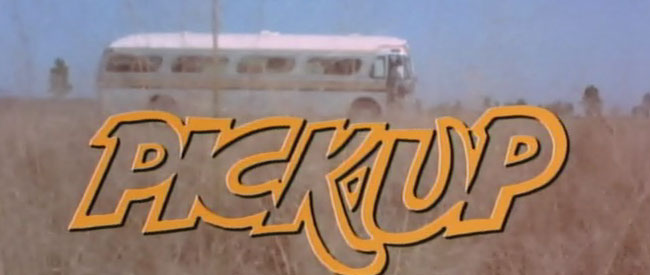 PICK-UP
Dir. Bernard Hirschenson
USA, 80 min.
SATURDAY, NOVEMBER 9 – MIDNIGHT
"It's sure gonna be a bad trip. I can feel it."
Chuck is delivering a mobile home through Florida when he stops and picks up Carol and Maureen. Despite Maureen's reservations, they board, only to get stuck in the Everglades, where they wander through the swamp, come across characters out of a Firesign Theater album, are visited by gods and clowns and, through a series of flashbacks, discover the plans fate has for them. A definite rural Florida freakout and at times close to a drive-in Fellini film, Pick-up was the only movie made by the majority of the cast (including all the main actors) and moves with the logic of a hash dream, combining tarot readings, modular synth and indian percussion songs, a *lot* of nudity and a constantly shifting vibe moving between bucolic hippie love-in and exploitation dread, Pick-up covers a lot of ground during its 80 minutes and offers something for every midnight movie fan.
[Trigger Warning: This film contains a scene of a church molestation and an implied rape & murder.]]

---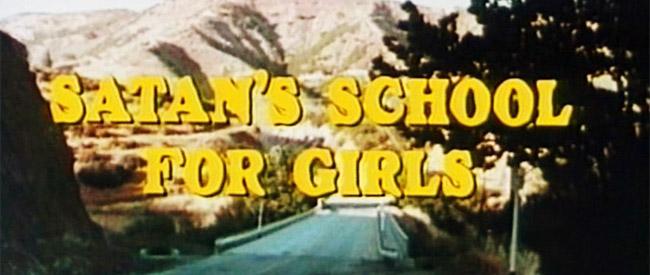 SATAN'S SCHOOL FOR GIRLS
Dir. David Lowell Rich, 1973.
78 min. USA.
FRIDAY, NOVEMBER 15 – MIDNIGHT
One day a screenwriter asked himself, "What would it be like if there existed a school for girls — run by Satan?" He turned this idea into money, and this movie is the result.
---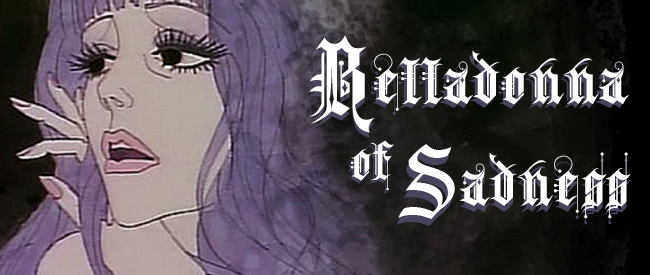 BELLADONNA OF SADNESS
(aka: Kanashimi no Belladonna, The Tragedy of Belladonna)
Dir. Eiichi Yamamoto, 1973
89 min. Japan.
In Japanese with English subtitles
SATURDAY, NOVEMBER 16 – MIDNIGHT
WARNING: This film contains scenes of animated sexual and bloody violence as well as persistent flashing colors which may be triggering to some viewers.
Shortly after marrying her beloved Jean, Jeanne is raped by a vicious baron in the rural village where she lives. Though she returns home to Jean who encourages her to move on with him and look towards their future together, Jeanne can't escape these demons…literally. Soon she begins to be visited by a shape-shifting being whispering in her ear to seek revenge on the baron who treated her so cruelly. Jean has become a tax collector but when he can't gather enough to make his quota, the baron has his hand cut off as a form of payment. Jeanne slips deeper into her hallucinations as visions of time and other worlds fly by her eyes, pushing her towards her ultimate goal. Driven away from the village and even turned away by her beloved – Jeanne makes a pact with a spirit in the woods (Spoiler alert: it's the devil) and gains immense magical powers which she then uses against those who have wronged her.
Yamamoto's swirling, hypnotic, visionary film seems to, at times, almost melt off the screen. So too will your brain as you witness this colorful and fluid masterpiece. Think of Fantasia by way of Pinku on the best drugs you've ever done and then add and funky psychedelic soundtrack and you're getting close. Based loosely on a 19th century French tome called La Sorcière by Jules Michelet this brain-bender will transport you to places unknown and then back in time for Sunday brunch…but will you be the same? (No.)
---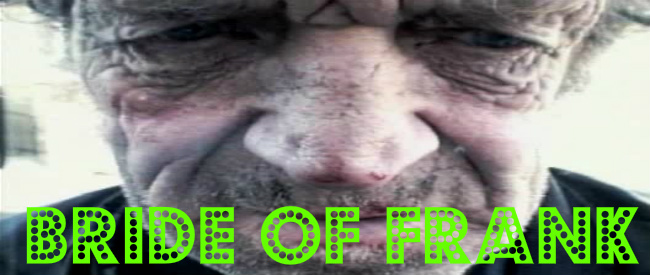 THE BRIDE OF FRANK
Dir. Steve Ballot, 1996.
USA. 89 min.
Hosted by Scooter McCrae!
FRIDAY, NOVEMBER 22 – MIDNIGHT
In some shadowy nether zone fluctuating between neorealism and surrealism is where you'll find Steve Ballot's one-and-only feature length excursion into the realm of SOV madness, THE BRIDE OF FRANK. Using non-actors and the warehouse location he was working at during the time he shot FRANK, writer and director Ballot paints an unforgettably Boschian panorama of hilarious atrocities that leave a viewer simultaneously laughing, shaking their head in disgust and nodding in empathetic understanding as the haplessly homeless hero of this epic tale, Frank, searches for his one true love amidst acts of killing, maiming and – most memorably of all – making good on his promise to rip off a head and shit down somebody's neck (don't worry, they deserve their fate). From the opening scene where a little girl is bludgeoned to death and had her brains eaten until the catchiest, most toe-tapping end credits song you'll ever bop in your seat to, this is truly a movie NOT LIKE ANY OTHER. Offensive on every possible level while also retaining a charmingly warm view of the human condition under the most dire of circumstances, THE BRIDE OF FRANK needs to be seen and deserves to be elevated from the relative obscurity in which it has languished for too many years. Screening will be hosted by low budget stalwart Scooter McCrae, who will provide his own uncanny insights into SOV moviemaking and self-deprecating good humor to make the night unforgettable.
TRIGGER WARNINGS: Violence, abusive language, rape.
---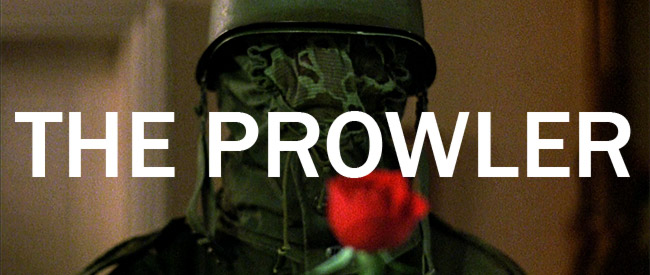 THE PROWLER
Dir. Joseph Zito, 1981.
USA. 89 min.
SATURDAY, NOVEMBER 23 – MIDNIGHT
June 28, 1945: having sent a Dear John letter to her soldier boyfriend, Rosemary attends the Avalon Bay annual graduation with her new squeeze — but before they can hit the punch bowl, a ghastly soldier plunges a pitchfork through the pair. Thirty-fire years later, the town prepares for its first dance since the tragedy: is the trauma due to repeat itself? This standout slasher is noteworthy for being described by legendary make-up artist Tom Savini — whose combat experience is an avowed influence on his work — as his proudest moment. Made at a time when more mainstream slashers were reeling back, THE PROWLER is a shocking bloodbath.
---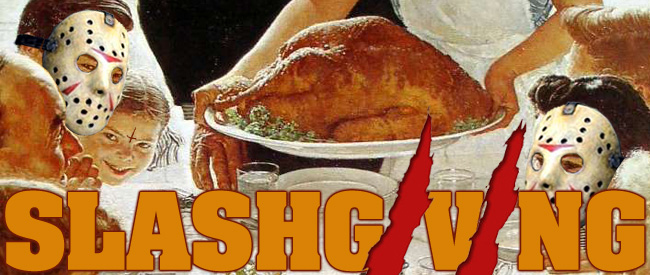 SLASHG/V/NG: BLOOD RAGE (1987) & HOME SWEET HOME (1981)
When it comes to holiday horrors there's no shortage of slasher films that have left their bloody mark on the calendar of our collective memory: HALLOWEEN, SILENT NIGHT DEADLY NIGHT, BLACK CHRISTMAS, MY BLOODY VALENTINE, UNCLE SAM, hell — even APRIL FOOL'S DAY! So where's the Thanksgiving slasher film? Eli Roth teased us in GRINDHOUSE and THANKSKILLING valiantly attempted to CARVE out a place in holiday horrordom, but there's just something different about an anthropomorphic talking turkey that doesn't quite provide the same satisfaction as an offensive caricature of a mentally ill murderer slicing and dicing teens in bloody and ritualistic fashion with pseudo-psychological underpinnings.
What Spectacle is offering up are two forgotten slashers set on TURKEY DAY! Come stuff yourself with a big ol' sandwich loaded with the detritus of pop culture! CINEMATIC LEFTOVERS, lukewarm and soaked in mayonnaise baby!
---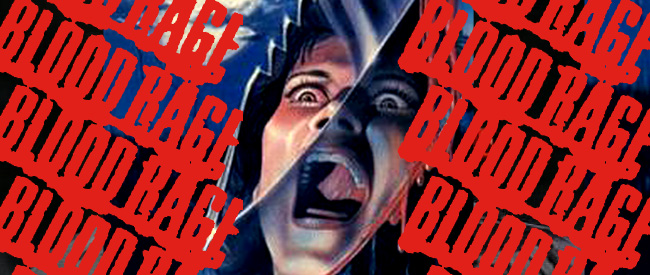 BLOOD RAGE
John Grissmer, 1987
USA, 84 min.
FRIDAY, NOVEMBER 29 – MIDNIGHT
"It's not cranberry sauce."
Louise Lasser turns in a subtle, sympathetic performance in this otherwise ridiculous and notoriously gory slasher. This one has to be seen to be believed!
10 years ago one of two twin brothers, Todd and Terry, committed a violent murder, the problem is the authorities locked the wrong one up! Now Todd has escaped and is coming home for Thanksgiving dinner while his brother Terry is up to his old tricks, slashing and maiming like a low rent Patrick Bateman with popped collar and chilling preppie affect, and blaming Todd for his bloody handiwork. So now, it's up to Todd to stop his murdering sibling before he fucks up Thanksgiving for everyone … PERMANENTLY.
Seen in a heavily cut version, BLOOD RAGE (NIGHTMARE AT SHADOW WOODS) is a slice of Florida shot weirdness that reaches new levels of jaw dropping, hyperactive bloodletting. Odd, bloody, laughably "psychological", claustrophobic and heavy on the synth – this is one forgotten slasher treat worth giving thanks for.
---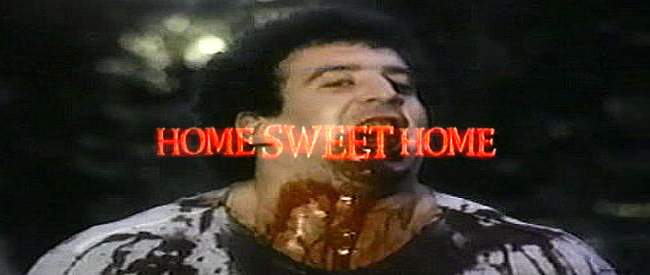 HOME SWEET HOME
Nettie Pena, 1981
USA, 85 min.
SATURDAY, NOVEMBER 30 – MIDNIGHT
This one might as well be called BODY COUNT BY JAKE because our insane slasher is played by none other than fitness guru and Family Channel icon Jake Steinfeld!
It's Thanksgiving and an escaped mental patient jacked up on PCP is on a gleeful, cackling rampage in southern California, and he's making his way toward a Thanksgiving dinner at a secluded ranch populated by characters straight out of a shitty improv class.
Seriously, this one is from another planet.
HOME SWEET HOME was directed by porn veteran Nettie Pena and features ILSA director Don Edmonds, so the latent sleaze factor on this slasher is pretty high. Painful improv, confused characterizations, and a mime-faced magician with a backpack guitar amp running around, shredding and pissing off everyone — audience included. Sound weird? It is.