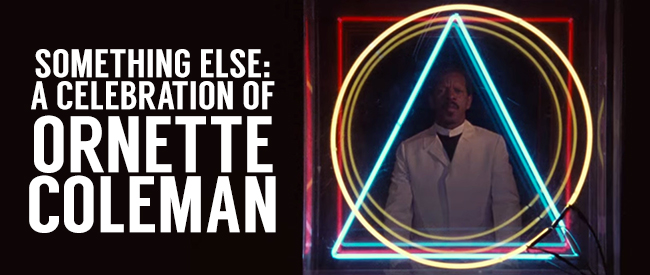 You can't see outside yourself, but we do have imagination. The expression of all individual imagination is what I call Harmolodics. Each beam of imagination is their own unison and there are as many unisons as there are stars in the sky. — Ornette Coleman
ALL WEEK LONG from July 17 – 23!
Spectacle presents a special tribute to the great ORNETTE COLEMAN beginning July 17th, featuring a week-long run of Shirley Clarke's recently preserved ORNETTE: MADE IN AMERICA. Artist C. Spencer Yeh will present his original rendition of Conrad Rooks' 1966 film CHAPPAQUA with Ornette Coleman's original score – there is no existing version of the film with this score in place. We'll also be screening ALL MAGIC SANDS/CHAPPAQUA by experimental filmmaker Andrew Lampert, which combines Ornette Coleman's The Chappaqua Suite with a lost and found feature-length Christian children's adventure film shot the same year The Chappaqua Suite was recorded.
---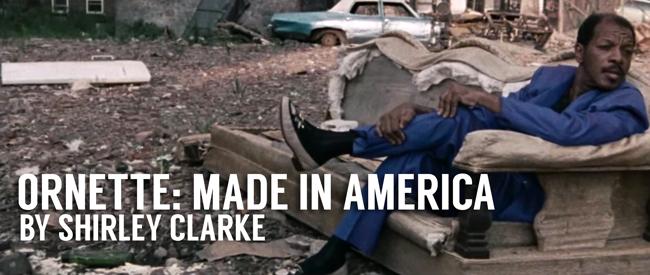 ORNETTE: MADE IN AMERICA
Dir. Shirley Clarke, 1985
USA, 85 min.
FRIDAY, JULY 17 – 7:30 PM
SATURDAY, JULY 18 – 10:00 PM
SUNDAY–TUESDAY, JULY 19–21 – 7:30 PM
WEDNESDAY–THURSDAY, JULY 22–23 – 10:00 PM
Advance tickets available here.
Ornette Coleman told his bandmates not to follow him, but to be with him. Shirley Clarke's documentary eschews conventions to create a fittingly free-form portrait of one of the most original innovators of all time. Clarke began filming with Ornette Coleman in the 60s, and her film documents the evolution of his life and work over three decades, incorporating performance footage, conversation with his friends and fellow musicians, his return to his boyhood home, recreations of his childhood, and experimental riffs that could only result from a deep and fertile creative connection between filmmaker and subject.
Friends, collaborators and admirers appearing in the film include Don Cherry, Ed Blackwell, Charlie Haden, William S. Burroughs, Brion Gysin, Buckminster Fuller, Yoko Ono, Robert Palmer, Jayne Cortez, George Russell, Denardo Coleman and John Rockwell.
Special thanks to Milestone films.
---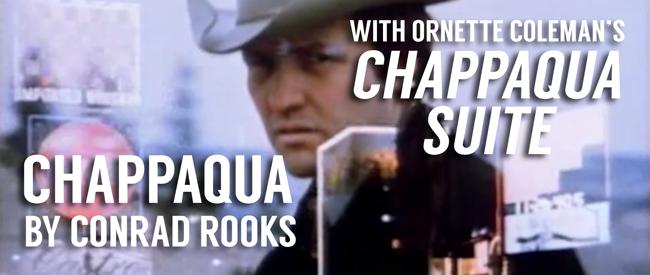 CHAPPAQUA with Ornette Coleman's CHAPPAQUA SUITE
Dir. Conrad Rooks, 1966 | Remixed by C. Spencer Yeh, 2015
USA, 48 min.
FRIDAY, JULY 17 – 10:00 PM
SUNDAY, JULY 19 – 5:00 PM
TUESDAY, JULY 21 – 10:00 PM
THURSDAY, JULY 23 – 7:30 PM
Advance tickets available here.
C. SPENCER YEH PRESENTS HIS OWN RENDITION OF CONRAD ROOK'S CHAPPAQUA WITH ORNETTE COLEMAN'S ORIGINAL SCORE THE CHAPPAQUA SUITE.
Conrad Rooks wrote, directed and starred in this psychedelic cult film based on his own experiences with drug and alchohol addiction and his therapeutic use of psychedelic drugs to treat that addiction. CHAPPAQUA features appearances by Ornette Coleman (credited as "Peyote Eater"), William S. Burroughs, Jean-Louis Barrault, guru Swami Satchidananda, The Fugs, Allen Ginsberg, Moondog and Ravi Shankar.
Conrad Rooks originally commissioned Ornette Coleman to score CHAPPAQUA, resulting in Coleman's Chappaqua Suite. Upon hearing it, Rooks allegedly decided that the piece would overshadow his film and decided not to use it. In a tribute to Ornette Coleman, Spectacle presents its own rendition of CHAPPAQUA with Ornette Coleman's original composition in place.
Special thanks to Milestone films.
SCREENING WITH:
POPULATION EXPLOSION
Dir. Pierre Hébert, 1968
Canada, 14 min.
A product of the first world's population panic of the 60s and 70s, Pierre Hébert set his cut-out animation to a score by Ornette Coleman. He suggests that in many countries, freedom from famine and disease has created the new problem of overpopulation and that wealthier nations should increase all forms of aid to struggling nations.
Special thanks to the National Film Board of Canada.
---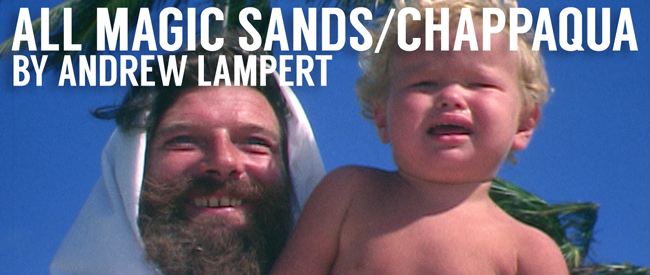 ALL MAGIC SANDS/CHAPPAQUA
Dir. Andrew Lampert, 2012
USA, 80 minutes
SATURDAY, JULY 18 – 7:30 PM
MONDAY, JULY 20 – 10:00 PM
WEDNESDAY, JULY 22 – 7:30 PM – FILMMAKER IN ATTENDANCE!
Advance tickets available here.
June 15-17, 1965. Ornette Coleman's trio featuring guest Pharaoh Sanders and a small string orchestra records the soundtrack for Conrad Rooks' in-progress feature film CHAPPAQUA. Upon listening, Rooks recognizes the exquisiteness of Coleman's boisterous music, but believes it will overpower his imagery and instead hires Ravi Shankar to compose the score. Coleman's unused recording is issued that same year as the double LP set CHAPPAQUA SUITE.
July 1965. Nashville TV bigwig Al Gannaway produces a 16mm Christian children's adventure movie with the working title ALL MAGIC SANDS. The story centers on an orphaned quartet (boy, two girls, a baby) washed ashore on a desert island in what just might be the Bahamas. There, they encounter a pile of branches that transforms into a dubious Jesus-esque bearded man, as well as a doppelganger family of naked black children. A failed epic that is equal parts semi-professional production and curiously cruel home movie, the original footage was left sitting untouched for many decades in a lab that went out of business.
ALL MAGIC SANDS/CHAPPAQUA (2012) synchronizes reels from an unfinished film with a rejected soundtrack, both of which were originally created within a month of each other. Lampert acquired all the known camera footage for ALL MAGIC SANDS and has assembled the intact reels (takes, mistakes and re-takes included) into a sequence that, rather serendipitously, is nearly the exact same length as Coleman's classic score. A darkly funny and deeply strange chance discovery that feels, in ways, tailor made, this unexpected pairing of exact opposites makes for strangely ideal company. Coleman's emphatic performance infuses the eye-popping color footage with sorrowful undertones and mysteriously sympathetic resonances. Filled with flashbacks, fast-forwards, circular starts and loose ends, ALL MAGIC SANDS/CHAPPAQUA is a feature-length film made of just middle.