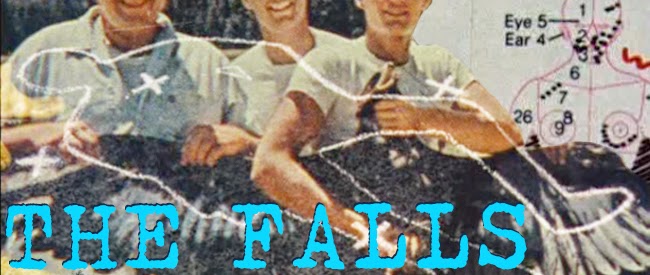 THE FALLS
dir. Peter Greenaway, 1980
UK, 195 min
SATURDAY, DECEMBER 2 – 8:00 PM *SCREENING AND TRIBUTE*


SUNDAY, DECEMBER 17 – 5 PM
Earlier this year, the Spectacle family lost one of our volunteers, Chris Knudsen. When he started volunteering with us, one of the first things Chris shared was his love of Peter Greenaway's films; he even had the tattoo based on A Zed and Two Noughts to prove it.
This December, we'll be re-presenting the first film that Chris helped us program: Greenaway's The Falls. We hope you'll join us to pay tribute to our dear friend.
"A sprawling science fiction microbudget epic, Peter Greenaway's THE FALLS is one of the more successful experimental features in accessibility and one that lasts 3 plus hours to boot. Known as Peter Greenaway's favorite film of his own work, THE FALLS goes through a catalog of 92 individuals whose last name starts with the word "Fall" that were victimized by an event known as the VUE or the Violent Unknown Event. It's told in a deadpan mock documentary style with numerous narrators, has a strange narrative current that somehow ties these characters together, can be seen as a mutated sequel to Alfred Hitchcock's THE BIRDS, and boasts a playful score from Michael Nyman to wrap it all together.
Manic and mechanical, THE FALLS keeps you in focus with its absurdities and allows you to to solve the encyclopedic mystery with comic redundancies and run-ons. Indulgent in the best way possible, it's truly mad in execution and in thought." – CK
Special thanks to Zeitgeist Films.
And here is the poster for the original screening, it is a beauty: