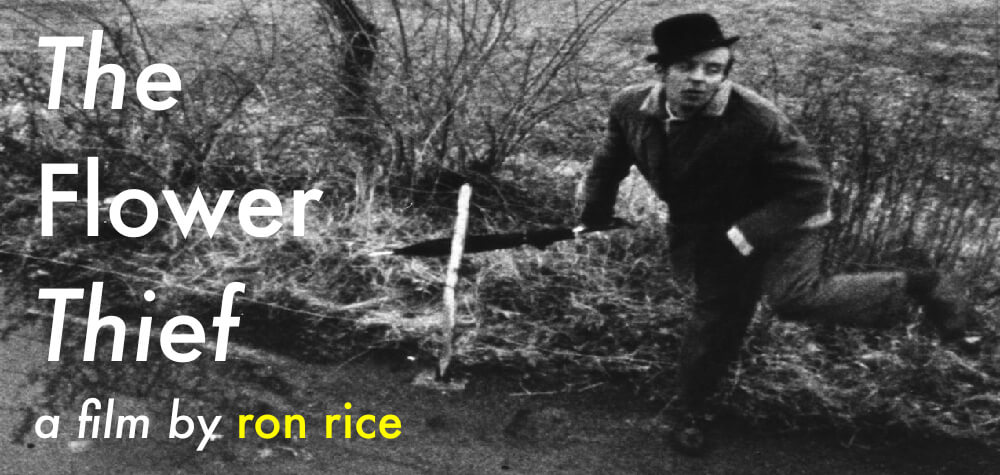 THE FLOWER THIEF
dir. Ron Rice, 1960
59 min, USA
In English
FRIDAY, DECEMBER 1 – 10 PM
SUNDAY, DECEMBER 3 – 5 PM
FRIDAY, DECEMBER 8 – MIDNIGHT
SATURDAY, DECEMBER 16 – 07:30 PM
Special thanks to the Filmmakers Coop!
Spectacle favorite Taylor Mead (NO SUCH THING AS GRAVITY, CANDY AND DADDY) stars in Ron Rice's ode to meandering afternoons – THE FLOWER THIEF.
Mead wanders around the city getting in scrapes with kids, literally stopping to smell the flowers, and eventually kidnapped by cowboys all set atop the grain of surplus 16mm film – rumored to be leftover from the army's ariel-machine-gun-camera stock.
Rice and Mead met in sunny/smokey San Francisco and together, sometimes along with Jack Smith, made a number of dharma-bum/beat pics before Rice's untimely death at only 29. Parker Tyler compared Rice's romps to that of the Marx Brothers. In a perfect summation Light Industry's Ed Halter quips – "Today, Mead's Flower Thief uniform—tight hoodie, button-down shirt, three-stripe tennis shoes, and beat-up jeans—can be seen on many an L-train habitué, en route to neo-Bowery facsimilies of post-war cafés, and so the parody has been reversed; such are our own meticulous restorations of the fantasies of other people's youth."
---
A BUCKET OF BLOOD
Roger Corman, 1959.
USA, 66 min.

MONDAY, DECEMBER 4 – 7:30 PM
SUNDAY, DECEMBER 10 – 7:30 PM
FRIDAY, DECEMBER 15 – MIDNIGHT

"Life is an obscure hobo, bumming a ride on the omnibus of art."
Chump janitor Walter Paisley spends all day surrounded by beatniks, jazz musicians, artists and their groupies at hip coffee shop The Yellow Door. He desperately aspires to the life of an artist, but hasn't got an ounce of talent. What he does have is an accidentally dead cat, a lump of clay, and a vague idea…. When Walter's new 'sculpture' makes him an overnight sensation, all the rats come out of the woodwork to get a piece of the action, and Walter's forced to find more 'subjects' for his art. It's a fast-paced Corman classic that manages sympathy for its hapless murderer while skewering the art world around him.
---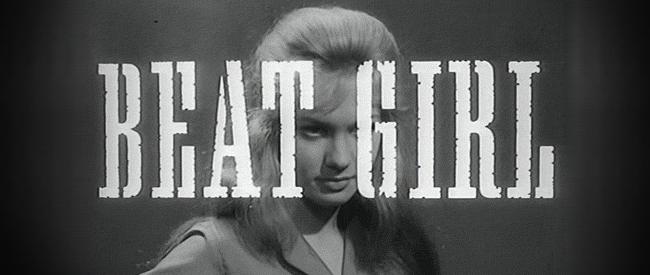 BEAT GIRL
AKA Wild For Kicks
Dir. Edmund T. Gréville, 1960
UK, 85 min.
SUNDAY, DECEMBER 3 – 7:30 PM
THURSDAY, DECEMBER 7 – 10:00 PM
TUESDAY, DECEMBER 12 – 10:00 PM
SATURDAY, DECEMBER 16 – MIDNIGHT
Beat goes to England in this over-the-top tale of a poor little rich girl rebelling against her wealthy dad's remarriage. Why does the local stripper seem to recognize her new stepmom? Will the strip-club owner (played with oily perfection by Christopher Lee) get his hands on the young wildcat? Are drinking and fighting really for squares? With plenty of music, kicks, and nihilism for the disillusioned kids who survived the Blitz.