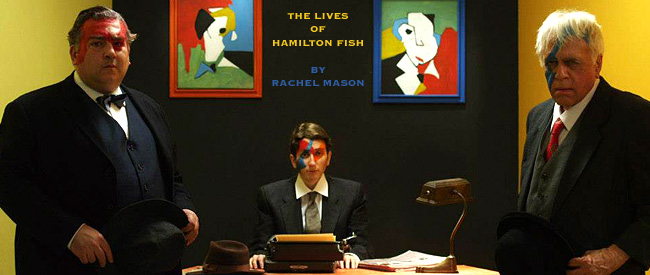 THE LIVES OF HAMILTON FISH
Dir. Rachel Mason, 2013
USA, 85 min.
FRIDAY, MAY 30 – 7:30 and 10 PM – BOTH TIMES SOLD OUT
NEW YORK CITY PREMIERE! ONE NIGHT ONLY!

ARTIST IN ATTENDANCE AS PERFORMER / PERFORMANCE TO ACCOMPANY EACH SCREENING
ADVANCE TICKETS AVAILABLE HERE –
http://www.brownpapertickets.com/event/663498
Spectacle is pleased to collaborate with artist Rachel Mason in presenting the NYC PREMIERE of her magnum opus, THE LIVES OF HAMILTON FISH. After its international premiere at the PIneapple Underground Film Festival in Hong Kong, Mason brings this unique "karaoke rock opera" to the intimate Spectacle Theater for a special evening of hybrid screening/performance.
In addition to Mason, HAMILTON FISH features onscreen performances from Theodore Bouloukos, Bill Weeden, Shana Moulton, Geo Wyeth, Sarah Baskin, and Vincent William Cooper. Mason will be joined by special live guest performers this evening, including Camilla Padgitt-Coles.
"THE LIVES OF HAMILTON FISH is a cinematic rock opera inspired by a true story.
A serial killer and a statesman – both named Hamilton Fish – die on the same day; Hamilton Fish II, a descendant of one of the most prominent families in New York State and Hamilton "Albert" Fish, a psychopath and a most notorious child murderer. A newspaper editor becomes obsessed with this coincidence after publishing their obituaries on his front page. The film's story is told entirely through songs in the editor's voice, as a surreal tale unfolds where supernatural events and historic facts merge in a wild, musical journey.
Scenes were filmed at historic sites including Sing Sing prison where Mason was a volunteer art teacher from 2005-2010 and the Jumel-Morris Mansion the house of Aaron Burr who shot the film's namesake, Alexander Hamilton. Real locations intercut with fabricated sets imagined as abstract paintings, mimicking the makeup style of the actors. The character of the newspaper editor is played by Rachel Mason (who herself is the film's editor), telling the story as Mason developed it in real life – compiling facts from newspaper clippings over a period of years.
THE LIVES OF HAMILTON FISH aims to be a new kind of multimedia storytelling, combining music, cinema, performance and an exhibition into a theatrical experience with its foundation in art and song. The film's score is intended for performances with a live band playing in the presence of the audience as in a silent film." – courtesy of the artist
ABOUT THE ARTIST
Rachel Mason wrote, directed and produced the Lives of Hamilton Fish. Mason is a sculptor, songwriter and performer. She has recorded ten full length albums, toured, exhibited sculpture, video and performance at galleries and museums internationally. She has shared stages and collaborated with artists who include Josephine Foster, Prince Rama, Ed Askew, Dynasty Handbag, Hennessey Youngman, Kath Bloom, Joan of
Arc, Alex White, Mirror Mirror, Joan Jonas, Shana Moulton, Geo Wyeth. She has presented multi-media performances in museums, galleries, rock clubs, bars, nature preserves, farms, universities, parking lots sometimes commissioned and sometimes unauthorized. In two different performances ten years apart, Mason scaled an eight-story building in Los Angeles and rappelled down a building on Broadway in New York landing into the arms of the NYPD.
She has exhibited and performed at the Whitney Museum, Queens Museum, Detroit Museum of Contemporary Art, School of the Art Institute in Chicago, Henry Gallery in Seattle, James Gallery at CUNY, University Art Museum in Buffalo, Sculpture Center, Hessel Museum of Art at Bard and Occidental College, Kunsthalle Zurich, The New Museum, Park Avenue Armory, Art in General, La Mama, Galapagos, Dixon Place, and Empac Center for Performance in Troy among other venues. Reviews include New York Times, Village Voice, Los Angeles Times, Flash Art, Art in America, Art News, and Artforum. And she frequently performs with her band, Little Band of Sailors.
http://www.livesofhamiltonfish.com/
http://www.rachelannmason.com/